The Michelin Guide just released their inaugural Toronto selection of restaurants receiving the coveted honour of a Michelin star (or two), but that's not all. Included in their selection is a second list known as the Bib Gourmand – a designation that gives recognition to restaurants that offer great food at great value. 17 restaurants in Toronto received a Bib Gourmand designation, which looks for restaurants where a diner can have two courses and a glass of wine or dessert for less than $60.
Looking for a Michelin-worthy restaurant to eat at without spending an arm and a leg? These are the 17 Toronto restaurants that have been given the Bib Gourmand stamp of approval by the Michelin Guide.
This Roncesvalles restaurant housed in a restored 1950s diner serves up incredible brunch menu, with some major highlights including a seasonal french toast with brioche bread, rhubarb and strawberries compote and vanilla bean whipped ricotta and huevos rancheros with braised black beans and smoked cheddar. Their dinner menu changes every Wednesday and Friday, so follow them on Instagram for a menu preview.
Chef-owner Anna Chen previously fine-tuned her skills at Figo, Buca Yorkville and Scaramouche, and brought a mix of Indian, Hakka Chinese, French and Italian influences into Alma. They shine throughout the restaurant's small menu, with items such as steamed cod with dashi corn and doubanjiang relish and parmesan tapioca fritters.
Grant van Gameren and Robin Goodfellow, of the superb Bar Isabel, opened Raval to mimic the tapas bars of Barcelona. Its look is pure Gaudi, mahogany carved into great swooping curves and cutouts, a triumph of gorgeous whimsy. It's a bar. You stand. No cutlery save for a tiny fork, mostly finger food — pintxos — small bites either speared on toothpicks or on great bread.
Tortillas are the foundation of a good taco, and when it comes to tacos, Campechano does not mess around. Importing the corn from Mexico, soaking and grinding the masa fresh daily and grilling each tortilla to order, the restaurant is serious about making fresh and delicious (and now Michelin-recognized) tacos. Owners Raena Fisher and Daniel Roe (previously of the Black Hoof and La Carnita) converted what was once Sadie's Diner's space into a vibrant and rustic space that puts Mexican street food at the forefront. The menu is concise, featuring one ceviche, guacamole, a handful of tacos, quesadillas and one dessert.
Set in a former bank, this barbecue house offers counter service of pit-smoked meats prepared over live oak fires. You'll find everything from brisket to smoked chicken to baby back ribs and a mouth-watering list of sides.
On a trip to Nashville, husband and wife Matt and Carolyn fell in love with the city's crispy, moist chicken and decided to bring it back to Canada. Named after their late yellow lab, Chica's offers the couple's own version of Nashville hot chicken, made with grain-fed, 100 per cent Halal chicken from local farmers. Each piece is dry brined in homemade spices and left to sit for two days to ensure the centre bite is just as delicious as the outside. In addition to the fan favourite, The OG Sando Combo, the restaurant's menu offers boneless chicken bites, wings, and half chicken meals. With six spice levels ranging from Plain to Hot AF, Chica's lets you decide just how much heat is too much.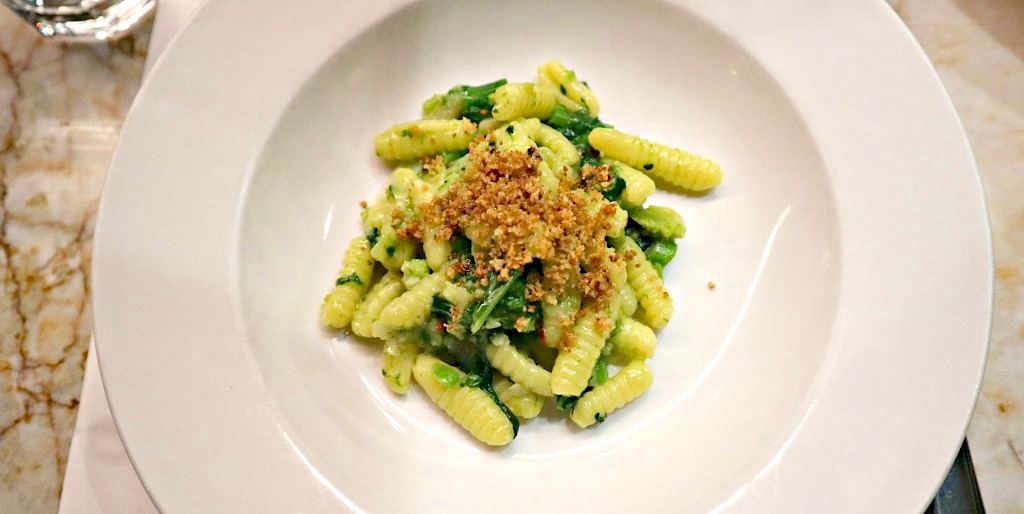 Little Portugal stalwart Enoteca Sociale has been a west-end go-to for housemade pastas, quality wines, and cosy vibes for a decade. Rather than resting on its laurels, however, the much-loved Italian restaurant recently underwent a revamp to celebrate its 10th year in business. Fortunately for existing fans of the long-running restaurant, it's not a massive overhaul. The interior has been gussied up with a few tweaks, but the ambiance is as charming as ever. Led by Chef di Cucina Kyle Rindinella, Enoteca Sociale's menu has an emphasis on traditional Roman dishes made with seasonal, southern Ontario-sourced ingredients.
Fat Pasha serves Israeli, Ashkenazi and European Jewish flavours; owner Anthony Rose cites chef Yotam Ottolenghi as an inspiration. Rice is fried in butter, then hit with chickpeas, peas, mushrooms and a myriad of spices such as cinnamon, cloves and pepper, then topped with crispy fried onions ($18). Hummus is topped with braised chick peas and chicken shawarma ($28).
After opening Paris Paris, Bar Fancy and Superpoint, owner Jonathan Poon was inspired to open a Thai BBQ spot after his Garden Garden event in 2019. The backyard wine party served natural wines and Thai BBQ in a secret courtyard across from Paris Paris on Dundas West. After the success of the event, the conceptualization of Favorites Thai BBQ was born. With Poon behind the restaurant, you can expect big flavours that pack a punch – like a charcoal grilled duck in red curry with Ontario asparagus, lime leaf and coconut.
"Fonda" is a term used in Mexico to describe a family-run restaurant, making it the perfect name for this restaurant concept inspired by a love for travel and the authentic cuisine and culture of Mexico. On the menu, you'll find all your favourite Mexican comfort foods from guacamole to quesadillas to tacos. Customers can't get enough of the cheesy quesabirria con consome, a tortilla filled with beef birria, cheese, onion and cilantro. With colourful counter tops and high bar stools, Fonda Balam offers a cozy dining space, decorated with small cactus plants to give it a full Mexican experience.
It goes without saying that Jen Agg is a polarizing figure. Love her (she's a badass woman in a tough industry) or love to hate her (she's snark personified), it's hard not to fall for her restaurants. At Grey Gardens, the seasonal menu can be dubbed new North American, yet refuses to settle on one culinary region. Fancy snacks (for fancy prices) are the name of the game here. Scallops arrive with green strawberries, strawberry vinegar and cucumber for a refreshing end-of-summer small plate.
Said to be a tribute to the coffee houses that used to be found all over India, Indian Street Food Co. offers a massive selection of classic Indian street foods. Crowd favourites include the paneer tikka and the fish thali (a traditional way of eating in India that includes curry, vegetables, dal, raita, padapum, pickles and a salad in a platter).
This plant-based Mexican restaurant will convert even the staunchest of meat lovers. La Bartola makes everything in-house (that means no mock meats), such as the green chorizo and cactus tacos wit sautéed buckwheat, cremini and marinated with mole verde sauce.
Seafood-focused Mexican food is the highlight at Puerto Bravo. Try the pulpo al carbon (grilled octopus tacos with onions, pablanos and two types of salsa) or one of their many tostada varieties (the tropical trout looks especially inviting) for a taste of the sea.
Another outstanding restaurant for the Oliver & Bonacini group, R&D is a perfect representation of high end modern Canadian Chinese cuisine. Esteemed chef  and Masterchef Canada judge Alvin Leung, who made a name for himself in Hong Kong at his three-Michelin-star restaurant Bo Innovation, founded this restaurant with mentee Eric Chong at this fine dining establishment. With backgrounds in engineering, both chefs have a unique perspective when it comes to creating dishes. Their Canadian take on traditional Chinese dim sum is accompanied by larger plates that elevate traditional comfort meals, like a Korean-style fried chicken with an umami cheese crust or a whole roasted Peking duck.
When your Montreal smoked meat cravings hit and you need instant gratification – look no further than Sumilicious. Owner Sumith Fernando once worked at the famed Schwartz's Deli in Montreal for all the skeptics out there. The goods (smoked meat) range from lean to extra fatty. Sandwiches come on rye bread with a healthy dose of yellow mustard. The smoked meat plates make for a great dinner-for-two; essentially a kind of DIY sandwich deal. Those looking for the ultimate dish can dare to take on the smoked meat poutine with Sumi's special seasoning and cheese curds ladled with gravy.
Two words: Handmade pasta. And that is just the beginning of the mouth-watering options chef and owner Jeff Bovis is cooking up at his Michelin-honoured restaurant, Wynona. Located in the ever-charming Leslieville neighbourhood, enjoy a delicately cooked fish on Wynona's patio with a bottle of wine from the extensive and totally unique wine list. The restaurant space is organized in a sleek and modern open concept way, which is emphasized by its high ceilings and a huge front window, to give diners an airy and fresh atmosphere to match their food.