Although spring officially sprang back in March, as all Canadians know, the real kick-off happens on Victoria Day, otherwise fondly known as "May two-four" weekend.
And, with all that warm sunshine finally beaming down on us, the birds, the bees, the leafy trees and people all across the country eagerly emerging from hibernation to embark upon their cottage country adventures, May's long weekend is the weekend we've all been waiting for.
But, wait – did some of you miss the memo on that last part? Perhaps you procrastinated a bit too long or got caught up in the daily grind?
With many cottage escapes still available, it's not too late to join in on the fun and ring in the best time of year with a jaunt to cottage country for the long weekend (or week).
And, to help you start planning for your last-minute (but soon-to-be-amazing) long weekend, here's a mix of classic and off-the-radar Ontario cottage destinations within driving distance from Toronto.
So, get booking, get packing and don't forget to pick up some fireworks and a two-four!
Parry Sound
Do you hear that sound? It's the sound of peace and quiet – a.k.a Parry Sound.
Offering plenty of classic cottage experiences at the ready, visitors will fall in love with this special Canadian landscape of rugged terrain dotted with pristine waters and unique wildlife.
Two and ah half hours from Toronto, this Georgian Bay inlet is part of Ontario's impressive 30,000 island freshwater archipelago – a UNESCO site of impressive beauty.
With a public beach around the corner and a newly renovated interior, this Lynx Lake cottage with three bedrooms, two bathrooms and space for eight guests will help you make the most of the long weekend.
Click here to book this stay, or choose a Parry Sound cottage weekend of your own here.
Havelock-Belmont-Methuen
This part of Ontario truly is yet to be discovered. But, as with all great things, it won't be long before it's at the top of the cottage country charts.
Enjoy a scenic two-hour drive from Toronto heading to Peterborough county's Havelock-Belmont-Methuen region where you'll find a cottage lover's haven tucked away among lovely towns, scenic countryside and lakes as calm and smooth as glass. Here, the only thing you need to do is lounge in a sun-dappled hammock and enjoy the evening echo of the loon.
There's room for six guests, three bedrooms and one bathrooms in this charming waterfront cottage in Havelock. An added perk (if you're prepared to take the leap) – with little to no cell service, you can really commit to unplugging and unwinding!
Book your stay at this cottage here, or snag your Havelock-Belmont-Methuen cottage retreat of your own choosing here.
Prince Edward County and the Sandbanks
People love day-tripping PEC. After all, it's arguably one of the prettiest, most charming regions in Southern Ontario within two hours. But have you ever considered turning your day trip into a weekend getaway?
With many fabulous sandy beaches (including Sandbanks National Park), picture-perfect scenery and postcard-worthy views at every turn, this part of Ontario is the perfect place to spend a few nights out of the city roasting marshmallows to your heart's content.
If you're not too interested in lounging in the water this weekend but are on the hunt for a cool place to chill with plenty of outdoor space to enjoy, this Prince Edward County vacation home will do it! Three bedrooms, one bathroom, space for six guests and a sprawling backyard sounds like the perfect recipe for a long weekend of relaxation.
Book this home here, or find a Prince Edward County cottage escape of your own here.
Haliburton and the Algonquin Highlands
Located about a three-hour drive from Toronto, Haliburton offers the quintessential cottage experience without the hype. Perfect for outdoor enthusiasts looking to fish, hike, stargaze or just get some fresh air, this part of Ontario is not only scenic but is full of fun things to do. Lounge lakeside or explore Algonquin park, discover the surreal world of the Haliburton Sculpture Garden, or go boating with friends and family – there's lots to do here.
Check out this three-bedroom, two-bathroom rental that sleeps eight. With a large tiered dock, waterfront access and upper and lower decks, you'll get to relax to the max this weekend.
Click here to check rates and book your stay.
The Kawarthas
Known for their ice cream, gorgeous lakes, and the Tragically Hip's anthem Bobcaygeon, the Kawarthas is a cottage country must-visit. While it's certainly not off-the-beaten-path, being a mere hour and a half from Toronto's city limits makes it a perfect long weekend spot.
Spend your time boating, relaxing, exploring or, as the song goes, "watching the constellations reveal themselves one star at a time." However you spend your time here, you'll discover that you don't need to travel far to find world-class cottage life.
This cottage in Trent has been renovated top-to-bottom, featuring one bedroom and an additional bunkie with two beds, one bathroom and a hot tub with stunning views of the water.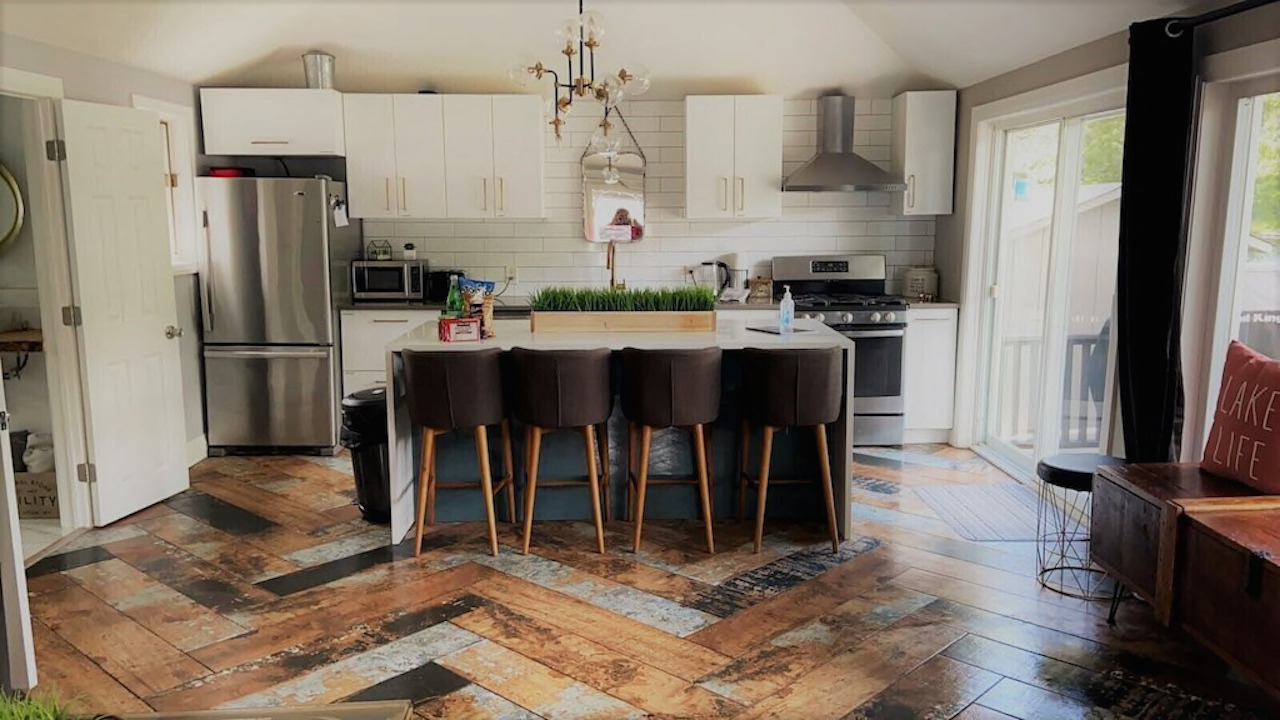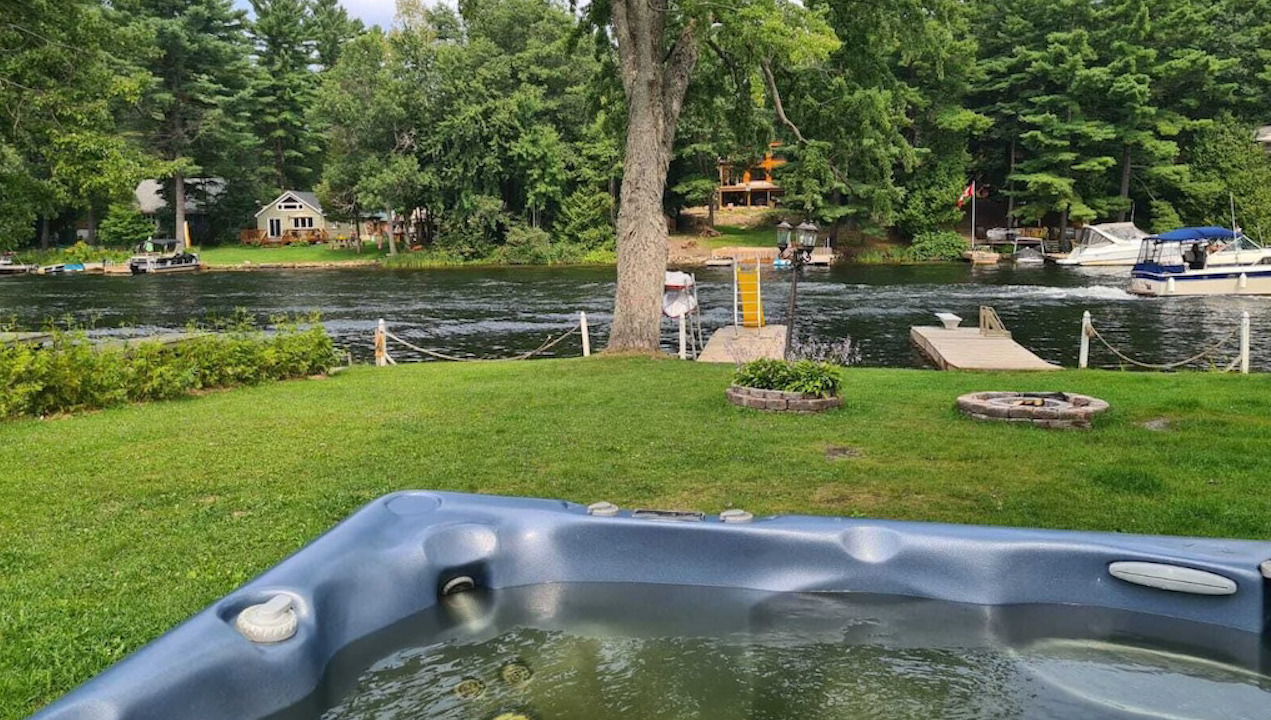 Book it here or find your own Kawartha Lakes cottage on here.