Stock T.C
Restaurant Categories
About the Restaurant
Stock T.C represents a partnership between two of the biggest household names in Toronto's food scene. The one-stop shop in the historic Postal Station K is an amalgamation of the no-waste and made-from-scratch philosophies behind Stephen Alexander's Cumbrae's and Cosimo Mammoliti's Terroni empire. The building dates back to 1936, and although the relationship between these two partners didn't come along until much later, you can feel the respect for the site's history embedded into its freshly painted walls.
Starting from humble beginnings, both entrepreneurs have put their heart and soul into the collaboration. The pair, who started businesses in Toronto in the early '90s, have waited years to work together on a project.
"We'd sit out on Queen Street and watch customers with a Sud [Forno Terroni] bag and a Cumbrae's bag going into Terroni to eat. We'd watch and go, isn't that a beautiful thing? And now look at this. This [Stock T.C] is the future," says Mammoliti.
After spending almost four years creating this new project, Mammoliti and Alexander have blended their collective visions into one multi-level bar, lounge, butcher and grocery store.
"It's a beautiful space, but we wanted to make sure it was super accessible. We want to have something at every budget," says Alexander.
Blending the emerging hustle and bustle of Yonge and Eglinton with the familial and residential feel of the surrounding neighbourhood, Stock T.C is unlike anything else in the area. The new concept combines a fine foods grocer, wine cellar and grade A butcher with an upstairs bistro and third floor rooftop patio.
"Whether it's Tuesday night 5 o'clock pizza with the kids or a late-night glass of wine with the girls at the bar," Alexander insists Stock has it all.
The Food
Stock T.C has many facets of both brands coming together under one roof. The main level enters into a first floor grocer, butcher and bottle shop. Here, patrons will find artisanal breads, fresh pasta to go, pantry items, packaged goods and a curated selection of the best meat, poultry and fish all sealed with the Stock T.C emblem.
The cheese counter has a variety of Ontario, Quebec and Italian cheese on display. There are also grab-and-go options on this level. Plus patrons will find a Roman-style stirata pizza bar, a pastry case overflowing with cornetti and cannoli and a gelato bar with an array of the best and freshest flavours, all made on site.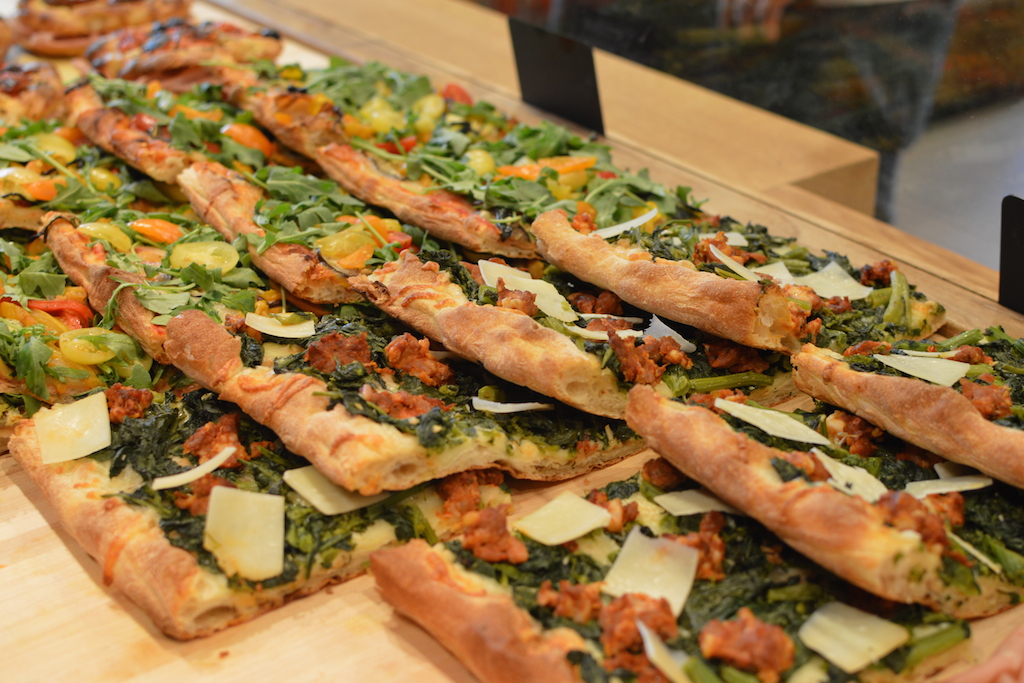 Offerings include a mortadella and pistachio stirata slice ($6.50) with mozzarella. Sud Forno's funghetto salad ($6) is also on the menu, made with bow tie barley, freekeh, celery, oyster and button mushrooms, pecans, parmigiano and piave, baby kale, lemon and extra-virgin olive oil dressing.
"Whatever you're in the mood for, whether it be a coffee in the morning or a late-night cocktail and everything in between, if you want to come in and prepare a meal from scratch, if you want to cook for five to six hours, you can do that. You don't want to do anything at all? You just want to go upstairs and have someone take care of you, that's the reality," says Alexander.
The main production kitchen is a step down from the grocer and is where all the prepared foods await. It has a rotation of fresh salads, a sandwich bar and an array of precooked options such as roasted duck breast and rotisserie chicken. This section also carries all Stock T.C's house-made sauces, pies, lasagnas and soups, all pre-packaged and ready to take home.
The Drinks
Stock T.C also has an incredible selection of wines. Imported through Terroni's wine agency, Cavinona, the bottle shop houses a unique collection that you'll be hard-pressed to find anywhere else in the city. The new bottle shop and upstairs Stock Bar will also house a selection of wines from Europe and Ontario, once they open in the coming months.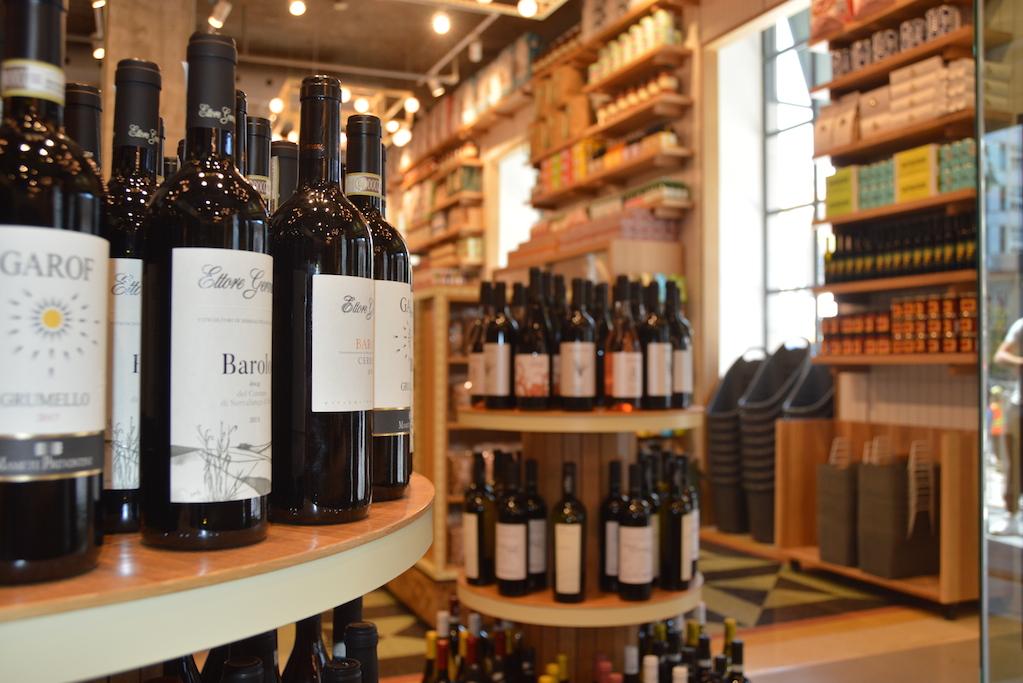 The Space
The building itself was the first step in the birth of Stock T.C.
"When you're making a place, I feel it's great to fall in love with it," says Mammoliti. "To actually see yourself in a space with your families eating, when you get that feeling, you know it's right."
The multi-level limestone building at Yonge Street and Montgomery Avenue is separated into three different levels. The first floor is vibrant with high ceilings and is separated into sections for bread, produce, dairy and the butcher stocked to the brim with stunning cuts and charcuterie. This level also has a 150-seat streetside patio.
The second level will house Stock Bar, the first collaborative restaurant from Terroni and Cumbrae's. The bar is decorated in brass tones and moody greens with accents of vintage decor, such as the mustard yellow banquets. The space is a nod to the history of the building with postage stamp detailing in the oversized lampshades and mailboxes fitted in the wood panelling.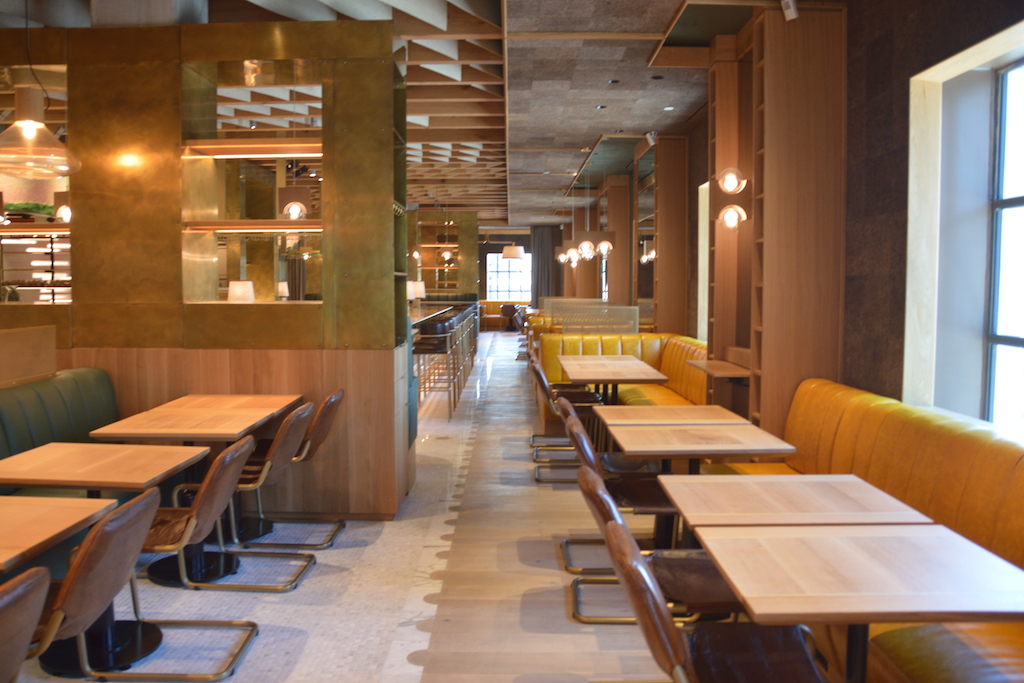 The must-see feature upstairs is a beautiful mosaic of the Ontario countryside. The glass tiles were all hand mounted giving it a rustic yet elegant feel.
The wraparound bar will be slinging out custom cocktails, and the exposed kitchen will be serving family-style American bistro hits with a few Terroni classics.
"There's going to be funghi, margherita but also steak frites, whole rotisserie chickens, a burger royale and butchers cuts," says Mammoliti.
The new restaurant will also serve a weekend brunch.
The third floor has a completely different vibe. Encapsulating Alexander's Australian roots, the Melbourne-inspired lounge is an event and dining space with wicker details and tons of natural light. The bar is a highlight, engulfed in a massive circular lampshade with chrome and marble accents.
The third floor wouldn't be complete without a rooftop patio (reminiscent of Terroni's). The outdoor space boasts impressive city views and an outdoor bar. It's just another example of how the collab keeps the best of both brands, transforming it all into something midtown has never seen before.
"It's 10 years every day, talking, travelling, and it was never preconceived. It was always just the things we loved, finally just coming to life," says Alexander.
By: Nicole Richie, Aug. 29, 2020