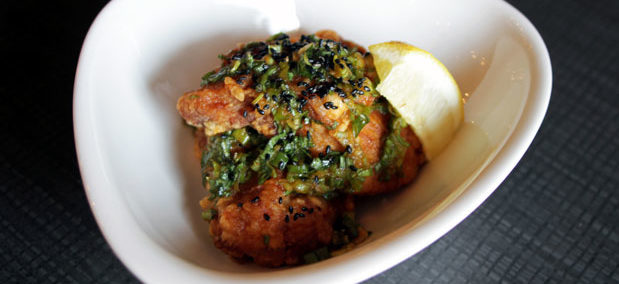 Touhenboku - Yonge
2459 Yonge St,
Toronto, ON M4P 2H6
Categories
About the Restaurant
Residents of North Toronto no longer have to head south of Bloor for a decent bowl of ramen. On May 29, Touhenboku Ramen opened its second location on Yonge Street at Erskine, just north of Eglinton.
Touhenboku's ramen menu, identical to the one at their Queen West location, is available from opening until 3 p.m.. After they reopen at 5:30 p.m. the space converts to an izakaya and serves up small plates that pair well with sake, shochu cocktails and beer.
Touhenboku stands out from other Toronto ramen spots because their broth, made in the Kyushu style, is thicker than usual and based on chicken stock. It's available in several varieties, including original, spicy, garlic, and light. All ramen bowls are topped with either pork or chicken chasu, half a boiled egg, wood ear mushrooms, and scallions.
When Touhenboku's owner Zuimei Okuyama found the space, he knew that local residents would be looking for more than just a straight ramen joint and brought in chef Michi Tanaka to design a dinner menu. The result? Izakaya-style plates that range from goma-ae (boiled asparagus and spinach, $5.50) to the Godzilla's Egg (a soft-boiled egg wrapped in ground beef and deep-fried, $6.50).
Since the point of an izakaya is to offer casual, after-work beverages, with the food usually getting lower billing, Touhenboku's drinks menu was designed with care. It features sake from Japan's award-winning Miyanooyuki brewery ($21-$80 per bottle, or $7-$12 by the glass) served both cold and warm, as well as their well-regarded shochu ($45-$80 per bottle).
All of the cocktails begin with a shochu base, and are dressed up with trendy ingredients such as yuzu jelly and green tea powder. For those craving beers, Sapporo, Hofbrau and Mill Street's Organic lager fit the bill.
In Tokyo, izakayas can be rather raucous, smoke-filled affairs, but the plan for Touhenboku is clearly to cater to the neighbourhood's ample supply of single professionals and young families. Touhenboku is open seven days a week.
By David Ort
Published: June 6, 2014