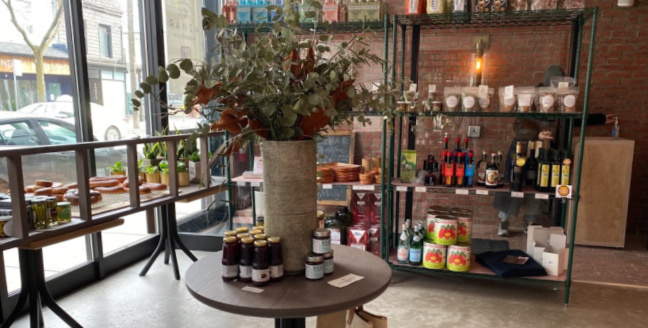 Azhar
96 Ossington Ave,
Toronto, ON M6J 2Z4
Restaurant Categories
About the Restaurant
Azhar has been turning heads on the Ossington strip. The brainchild of partner and executive chef Stuart Cameron, this new marketplace marries Middle Eastern influences with local ingredients, all prepared in a state of the art wood-fired oven. Cameron, who is no stranger to Middle Eastern cooking, is focusing on sustainability and authenticity with this new project.
With its wood-fired baked breads, Middle Eastern sauces, hand-mixed spice blends and dips and spreads, Azhar is giving its clientele a taste of what's to come when its full dine-in services are able to open. Cameron is taking the curveball of the second lockdown in stride. By rotating their menu and experimenting with new creations every week, Azhar is able to test and tease future dishes to see how they resonate with the community. "We wanted to get things that are different and exciting, even in the COVID times," says Cameron.
Along with its collection of freshly prepared items, Azhar is also partnering with Middle Eastern artisans and local brands. Carrying a bounty of local cheeses and meats, loose-leaf teas, wine and beer, as well as hand-crafted artisanal products, this one-stop-shop is the west end's new mecca for Middle Eastern treats.
The Food
"Everything is based around the wood-fired oven," says Cameron. When partnering up with Janet Zuccarini's Gusto 54 Group, Cameron already had a vision of the colossal oven being the centrepiece of his new kitchen.
"It takes a lot to get used to, this is a lot more hands-on, you're spraying water in the oven, you're adjusting the temperature, you have to mop out the decks — it's a lot of TLC," he says. Fire roasting eggplants and red peppers to create their dips and baking all their bread in-house, the marketplace at Azhar is showcasing the many facets of Cameron's culinary imagination, as well as preserving his grass-roots inspiration for the restaurant.
"For us, the highlights are the ingredients," says Cameron. With beautiful imported products like fig leaves from Israel and red walnuts from California, Cameron is creating simple yet robustly flavourful dishes. The Muhammara, a red walnut and fire-roasted red pepper dip infused with house-made sourdough croutons, cherry molasses and confit garlic, is a perfect example of Cameron's dedication and craftsmanship. The marketplace allows customers to see the versatility of Azhar's products.
Experimenting with the wood-fired oven, baker Hunter Glaude is working with overnight fermentations of sourdoughs and potato breads to create rustic baked goods with better digestibility and unmatched flavour.
The Drinks
Carrying the sustainable philosophy of the kitchen into their drink program, Azhar's wine list is focused on low-intervention vino from smaller producers across the Mediterranean and Europe.
Azhar has partnered with Leslieville's Avling Brewery to create a symbiotic brew featuring the restaurant's leftover sourdough. "We partnered up with them to make the twice baked beer. We actually donate all our sourdough at the end of each day that doesn't sell, over to their brewery where they ferment it," says Azhar's general manager Matteo Floris.
Azhar Marketplace has also got you covered for non-alcoholic beverages. With beautiful loose leaf teas from Metropolitain Teas and Turkish coffee you can indulge in on-site, Azhar's marketplace cultivates the atmosphere of a Middle Eastern bazaar that's found its way on to Ossington Avenue.
The Space
From the floor to ceiling windows that stretch across the front of the marketplace, to the creative use of light to accentuate all the curvatures of ceilings, this space is truly representative of the word Azhar.
Curated by Navigate Design, the open and textural space is warm and alluring. The details in the walls, floors and bar are all accentuated by a bright open kitchen at the back of the space. The exposed brick oven and chef's block allows for the entire space to feel connected to what's going on in the kitchen.
Words and photos by Nicole Richie; Posted: Feb.3,2021