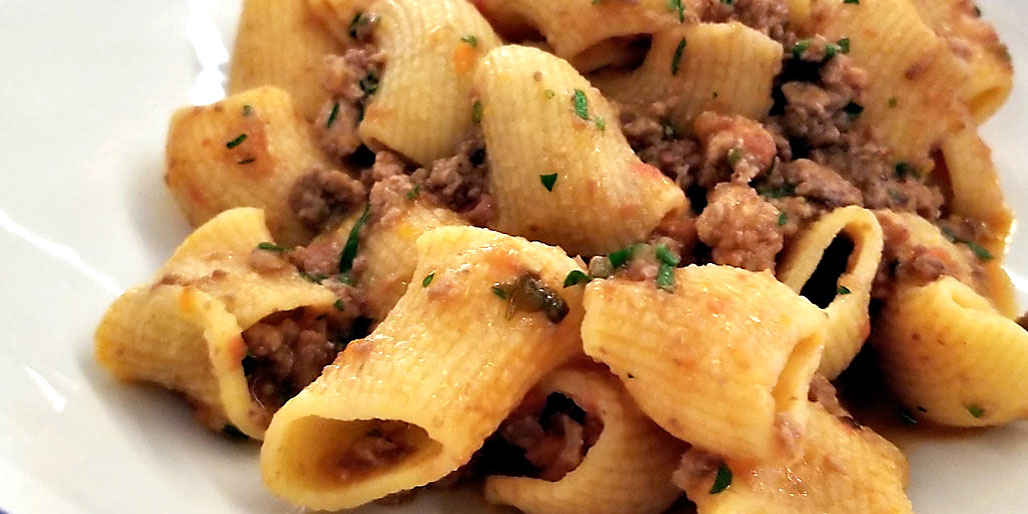 Amano Pasta
Union Station, 65 Front St W,
Toronto, ON M5J 1E6
Restaurant Categories
About the Restaurant
Have you ever sat at Union Station waiting for your GO train just wishing that you could sip a glass of wine or have a cold beer? Thanks to Amano Pasta, that dream is almost a reality. You still can't consume alcohol in Union Station itself but you can walk a few steps to the restaurant and do just that.
The main space is a full service resto that seats 56 and serves lunch and dinner. Commuters can watch pasta being made in the kitchen that faces the York Concourse. If you're looking for breakfast or a quick snack, the café offers fresh sandwiches and pastries, as well as Propeller coffee and alcoholic beverages.
(IMAGE: AMANDA NUNES)
At the bar, there's a choice of local beer, Italian and Canadian wine and Italian-inspired cocktails. The Canadian wines featured use Italian grape varieties or Italian winemaking techniques. Nebbiolo is an Italian grape that's rarely found outside of Italy, so when Amano's owners found it at Ridgepoint Winery, they had to add it to the menu. Lambrusco is another favourite that you'll find here.
On the non-alcoholic side, Amano has Italian sodas with syrups that are made in-house. Feeling fancy? There's the option to upgrade to a cream soda with whipped cream.
Pasta was the first dish that chef Michael Angeloni ever made as a child. He used to make pasta with his grandmother in their basement. They would hang the pasta to dry on clothes drying racks. Now, Angeloni is bringing his love for pasta to the busy hub of Union Station.
(IMAGE: AMANDA NUNES)
In Italy, the cuisine changes with each region because chefs cook using what's around them. Here in Toronto, Angeloni wants to apply that same philosophy. He takes his inspiration from the city and uses artisan brands and small, local suppliers. Breakfast pastries come from the Tempered Room, and Prairie Boy supplies the bread. A few items do come from overseas, such as olives, but he tries to keep this to a minimum.
On the menu, you'll find appetizers, pasta and desserts. The appetizers are all under $9 and come in small plate sizes. The idea is to choose a few dishes and build your own charcuterie board. There's a daily cheese from Monforte Dairy and a daily salami from Seed to Sausage. The Arancini is filled with pear, pancetta, smoked provolone, fried rosemary and is then drizzled with a burnt honey gastrique.
The pasta names are playful, and come from the shape of the pasta noodle. The Pope Hat pasta ($24) is served with Tortelloni that are stuffed with mascarpone filling. The dish is topped with tender roasted lamb, olives and fried rosemary.
Chef Michael was classically trained as a French chef, and you can see that influence on some menu items. For example, the Black Trumpet Pasta ($24) is made with squid ink campanelle noodles, Dungeness crab, mustard (from Kozlik's at St. Lawrence Market) and pancetta cream. The dish is finished with butter, chives and breadcrumbs.
The restaurant will feature a daily meat special, like pancetta or flank steak. At lunch, visitors can enjoy a $25 prix fixe menu that comes with an appetizer, pasta and dessert. Feeling really hungry? For $45 per person, the chef will whip up a special meal with a variety of different dishes, chef's choice.

(IMAGE: AMANDA NUNES)
For a sweet finish, try a cannoli ($4) bursting with mascarpone, white chocolate and candied citrus. Feeling like chocolate? The Budino ($6) has dark chocolate, salted caramel and whipped cream.
Part of Amano is a handy grocery store and take-home market. The market features ready-made meals, like a traditional vegetarian lasagna ($22) with sauce and cheese made with the chef's grandmother's recipe. Commuters can grab a jar of sauce or pesto along with fresh pasta to cook at home. A small deli counter sells cheeses from Monforte Dairy and cured meats from Seed to Sausage. The grocery store has various Italian and local goods such as sauces, desserts, risotto and coffee. The redevelopment of Union Station will add a 30-person patio to kick back at.
Published on: Jan 11, 2018