West Queen West's latest bistro is bringing a much-loved Parisian tradition to Toronto. Modelled after a dining concept that co-owner Jad Sfeir says is popular in Paris, the menu at J's Steak Frites has just a single entree option: steak frites. 
Priced at $49 per person, the prix fixe menu comes with steak, unlimited French fries as well as a simple green salad. Sfeir's goal is to offer a relaxed, bistro-style experience where diners can enjoy a great meal at an approachable price point. 
"We always thought there was a gap in the market," says Sfeir. "We don't have anywhere that we can go to have a good steak and not pay a lot of money."
The Food
J's Steak Frites is all about simplicity. The restaurant sources its certified Angus beef from several farms located north of Guelph. Sfeir says that the steak is seasoned with salt and pepper – and nothing else. "The idea is simple is always the best for us," he explains.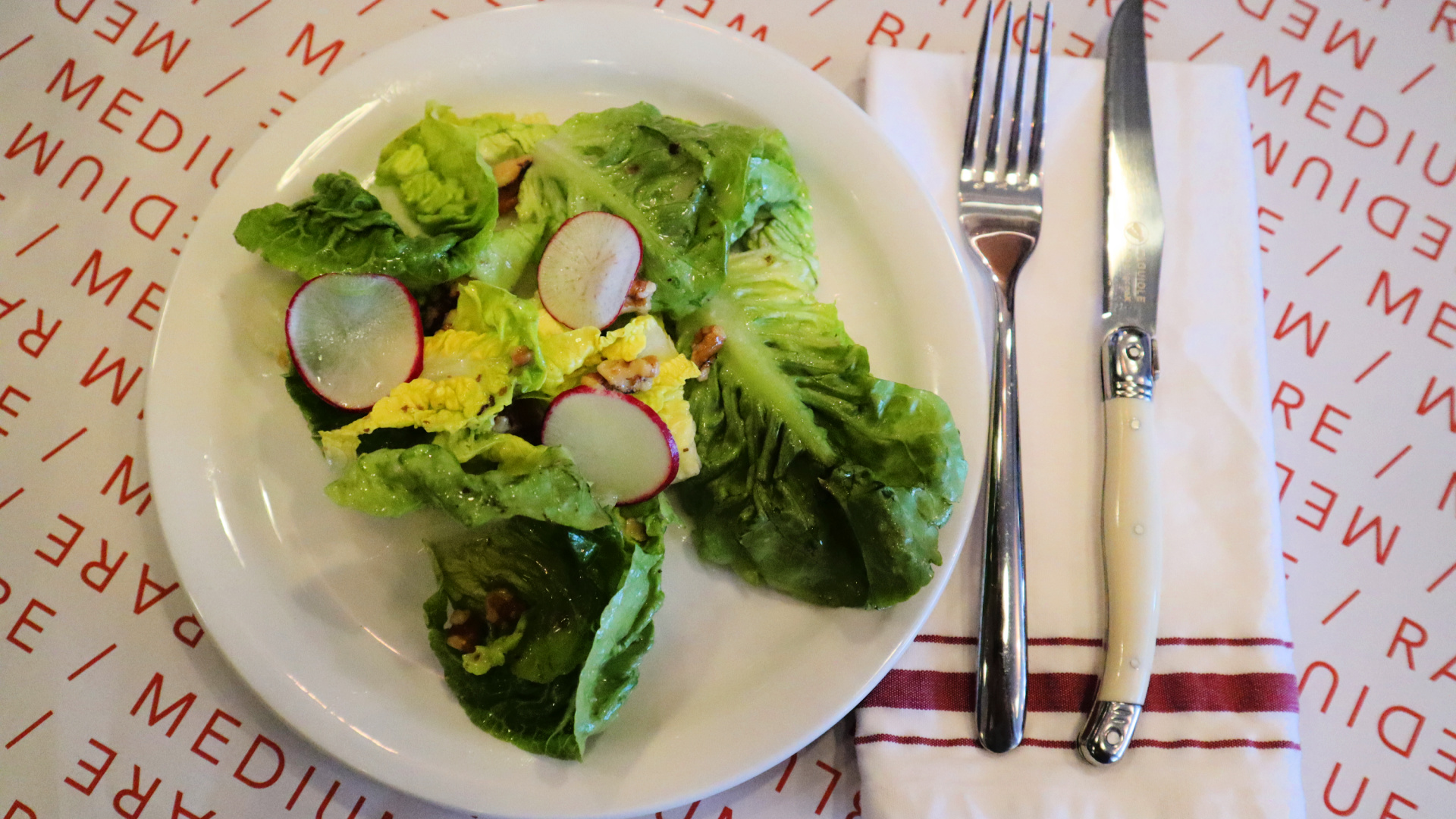 Meals start with a no-fuss green salad dressed in a walnut and lemon vinaigrette.
Diners also receive a basket of housemade bread and butter.
The sole choice left up to diners is how they prefer to have their steak cooked. The 10 oz cut is served with pleasantly thin, crispy fries (not unlike those served at a certain restaurant known for its golden arches) and a creamy, housemade butter sauce.
Desserts are far from an afterthought at J's Steak Frites. The sweet side of the menu is overseen by co-owner Tara Tang, a Le Cordon Bleu-trained pastry chef who previously operated a bakery in Ottawa. 
Sfeir says the restaurant plans to offer four or five dessert options at a time at $14, which will rotate every few weeks.
Expect lots of classic dishes like this light, delicately sweet pavlova topped with strawberries.
The Drinks
Steak and wine are a classic combo, so Sfeir says it was important to the restaurant to have a solid selection of vino. 
The globe-spanning wine list leans heavily on rich reds perfect for pairing with steak, with two by-the-glass options and almost a dozen bottles.
The brief cocktail menu includes classics like a Boulevardier, made with whisky, sweet vermouth and Campari.

There are also original concoctions, which are described on the menu by their flavours. The "savoury and citrusy" Twilight, for example, is a mix of tequila, Cointreau, Lillet Blanc, lemon juice and bitters. 
Sfeir says the cocktail menu was a collaborative effort by the whole restaurant team. "We sat down and we tried to create something that we like – it's about what we like to drink as a team," he says.
The Space
J's Steak Frites also brings a pared-down approach to its 30-seat space, which was previously occupied by Dandylion. 
Sfeir chose to maintain many of the erstwhile restaurant's rustic design elements, which include exposed brick, cement flooring, lots of dark wood, and a floor-to-ceiling panelled window wall overlooking Queen Street. 
"We didn't change much – we kept maybe 70 or 80 percent of what it was," he says. Tables covered in a red-and-white print featuring the different levels of steak doneness make for an eye-catching backdrop for photos. 
"The location is excellent for what we want," says Sfeir. "When I came and visited the neighbourhood, I fell in love with this neighbourhood."