Finding a Valentine's Day gift in Toronto doesn't need to be extra difficult due to the pandemic. Here is a list of local shops where you can get anything from a delicious brunch at home, a classic box of chocolates or even a luxe piece of jewellery for someone you love.
Valentine's Day brunch and chocolates
Start your Valentine's Day with breakfast in bed thanks to the Balzac's Breakfast Bundle. The bundle offers elevated examples of breakfast staples including your choice of Balzac's coffee, protein-packed pancake mix from Flourish Pancakes and pure and flavourful Canadian maple syrup. Price: $29.99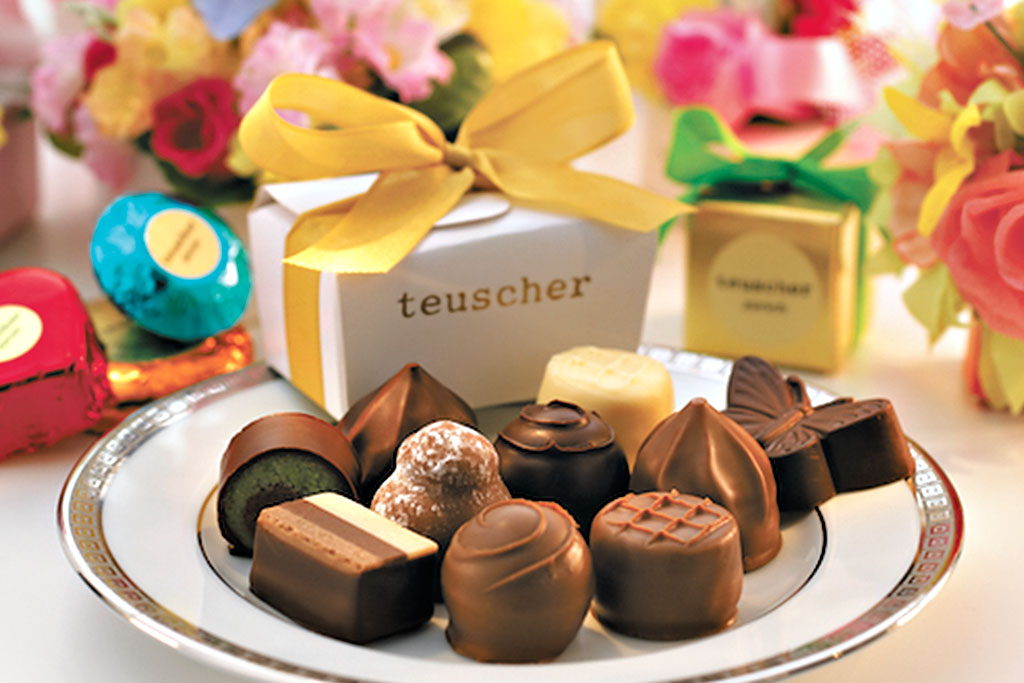 For those with a sweet tooth, William Ashley carries the finest selection of world renowned brands, and are Canada's exclusive destination for Teuscher Chocolates of Switzerland. These handmade chocolates are made from the finest natural ingredients and use absolutely no chemicals, additives or preservatives. For those who deserve the best! Assorted Truffles, starting at $3.95. 
Lox and Schmear on St. Clair West has a special Valentine's Day brunch box that comes with their house smoked salmon which is packaged in the shape of a heart, cream cheese, Montreal's famous St. Urbain bagels, a box of Chocolate de Kat, a print by local artist Maggie Prince, and a number of other fixings for a total of $65.00. 
The kitten and the Bear is selling hand-crafted and beautifully decorated chocolate by local pastry artist @nadiaandco. You can also pick up their Valentine's Day Breakfast in Bed Bundles which includes their flaky buttermilk scones, tea and preserves or jam.
Fashion, health and beauty
Designed in Toronto by a creative sister duo, Rock 'N Karma is a favourite among Canadian fashionistas! By purchasing one of these limited edition unisex sweatshirts, you'll be providing a donation to Gilda's Club. Net proceeds from each purchase will be donated to Gilda's Club Greater Toronto. You'll also receive a free gift with the purchase. 
Lafia Jewellery is a Canadian designed and manufactured fine jewellery brand. Beautiful collections from classic to modern are all crafted in 14-karat gold. The floating charms are the perfect gift for your Valentine. Explore the full Charm'd Collection online, charms and chains are sold separately. Charms start at retail $630. All pieces are made to order just for you.
Diamond studs are a timeless expression of love and beauty, and are the perfect gift to show that special someone that you care. Van Rijk carries many sizes and price ranges, their special diamond stud earrings are the perfect accessory that will go with everything. 
How about a little self love this Valentine's Day? Get grounded and stay uplifted with Stay Balanced with Betty's online yoga videos. This Valentine's Day you can get 50 per cent off the first month of a membership. Use code: valentinesday2021 throughout February and March.
When there is an engagement ring in your future Cynthia Findlay offers the unique, the unusual and the very special, such as this pink tourmaline Toi et Moi double gem which was made popular when Napoleon gifted Josephine their birthstones in one ring. Call for details or shop online.
Treat your love to a special spa treatment at Gidon Aesthetics & Medispa. Try the Oxygenating 3-in-1 facial which combines exfoliation of the outer layer of the skin, infusion of revitalizing nutrients, and oxygenation of the skin from within. This treatment provides an immediate improvement in skin tone, texture and radiance.