Since 2015, Post City and Streets of Toronto has honoured the most inspiring women of Toronto with our December cover issue. For International Women's Day, we're sharing all of the amazing women who have made the list over the years, from record-breaking athletes to artists making a difference.
Drew Canada's attention to sexism and ageism in the journalism industry
"She has witnessed and reported on humanity at its worst, shining light from dark and dangerous corners. Still, I would describe Lisa LaFlamme as an optimist. Only an optimist would seek to uncover the unique nugget that makes each person she encounters the most interesting in the world, whether it's the United Nations secretary general or a war refugee in Iraq, Afghanistan or the Ukraine-Poland border." – Rosa Hwang, executive producer with CTV National
Led Team Canada to a gold medal win in the 2022 Olympics

"Sarah didn't let her opportunity go to waste, and at these past Olympics, we saw her breakout by setting a record for points in a single Olympics. She's a true trailblazer, paving the way for so many young Black girls, not just in Canada but around the world." – Natalie Spooner, National Women's Hockey Team player
Put Toronto on the map with the release of Pixar's record-breaking Turning Red
"Domee Shi is part of Pixar's new generation of filmmakers, and Turning Red was a smash when it was released on Disney+, earning the highest-ever viewership from any premiere on the service. Domee has used her platform as a filmmaker to tell stories that are diverse, inclusive and don't shy away from subjects not often tackled in mainstream commercial animation." – Lindsey Collins, Pixar's Senior VP of Development
Broke barriers in Ms. Marvel as the first Muslim-Pakistani superhero
"Every time I see fans connecting with Ms. Marvel, I feel so proud because I know what that means for young Muslim people to see themselves onscreen and portrayed in a positive way, and Iman is the perfect person to be that role model. Without film credits to her name, Iman took the leap of faith and answered a random casting call. She went all-in, believing in herself despite the odds not being in her favour and rising to the challenge to bring Kamala Khan to life." – Xóchitl Gomez, Marvel actor
Leading the way for Indigenous representation in the fashion industry
"When we think of authentic representation, body positivity and mental health awareness within fashion, Lesley Hampton is the name that will forever be mentioned in communities across Turtle Island. From bringing an all-Indigenous cast to the Toronto fashion runways, to winning two Canadian Arts & Fashion Awards and being named as the number one designer to watch by Vogue Magazine, Lesley Hampton is the Anishnaabe artist the industry needed to shine light on the colonial perspectives that were set in place within fashion." – Scott Wabano, fashion stylist
A lasting legacy of progressive sex education for Canadians and the world
"Like many Canadian millennials, I grew up with The Sunday Night Sex Show, and Sue Johanson as my only form of meaningful sex education. In Catholic school, I was taught sex was something a man and a woman did, to make a baby, after marriage. In contrast, little old Sue shuffled onto the set of her call-in show with her hot stuff bag that she pulled vibrators, butt plugs, anal beads and, of course, the Fukuoku out of. Sue talked about sex in a way I'd never heard of before." – Lisa Rideout, director of Sex with Sue
From fashion icon to a moving lesson in openness with her cancer diagnosis
"Lately, we've watched Jeanne face off against her biggest challenge to date: a breast cancer diagnosis that crashed into her life earlier this year. Rather than deal with the news sotto voce, the crusader chose to share her journey in the public arena. In doing so, she brings attention — and indeed hope — to others battling similar circumstances." – Colin and Justin, interior designers
Stole the show at TIFF this year with the premiere of Women Talking

"It was never just about what Sarah wanted. She had a very clear vision about what she wanted, but she always listened and collaborated with her actors, which sets her apart. She is pushing the bounds of storytelling and inspiring future generations of female directors, and she is the most collaborative director I've worked with and the most giving person I know." – Shayla Brown, actor in Women Talking
One of the only women to be recognized by the new Michelin Guide in Toronto
"As a chef, I admire the balance she weaves between her European training through cooking her heritage. As one of the only women to be recognized by the Michelin guide in Toronto on either the Bib Gourmand list or with a star, it's inspiring to see her succeed in this way with her Bib Gourmand recognition for Alma. It makes me hopeful for more recognition in the future for our community." – Eva Chin, head chef at Avling
Made history as the first Black woman in the Canadian Music Hall of Fame
"Deborah Cox is not just a Toronto starlet. She's a worldwide recognized vocalist, and also, her vocals are incomparable — not everyone can do that! Everyone loves her: she's loved in the mainstream scene, she's loved in the gay scene. In terms of inclusivity and unification, she is that girl. And this year, she was the first Black woman to enter the Canadian Music Hall of Fame, something which is disrespectfully overdue. In terms of her artistry, the mastery, that legendary aspect of who she is, it's bar none. She's a legend. She's a queen." – TIKA, Toronto musician
Inspiring racialized medical students through her mentorship
"She is graceful, elegant, compassionate, eloquent and truly believes in the importance of mentorship. Dr. Tunde-Byass is an exceptional female Black physician and mentor. She goes beyond her role of leading by example and provides mentorship to others by building self-reliance, leadership skills and honing one's potential." – Hadal El-Hadi, Black Physicians of Canada founder
Changing the face of Toronto as the first hijab-wearing Muslim councillor
"Ausma knows what she believes — she is deeply committed to building a more fair and just society, and she won't back down. She is truly a remarkable woman. In electing Ausma Malik, residents of Toronto chose a vision for — and a leader committed to — inclusion. Toronto will be better off for Ausma Malik's emerging presence at city hall." – Joe Cressy, former Ward 10 Councillor
Became the old woman in the world to summit the second tallest mountain in the world
"She stumbled into mountaineering at the age of 50, after the birth of her third grandchild, and by 62 she not only scaled Everest, but also became the world's oldest woman to summit K2 just two months later. Her drive is contagious. Her hunger for life is inspiring." – Olya Ianovskaia, daughter
Founded the 15 Percent Pledge in 2020, asking major retailers to commit at least 15 per cent of their shelf space to Black-owned businesses
"What Aurora helped create not only shook the foundation on which the fashion industry stands but also had an equal and profound impact on BIPOC designers across North America, including myself as a Black designer. I have always admired Aurora's work in fashion, but little did I know she would be pivotal in the way the world admired mine." – George Sully, designer, Sully & Son Co.
Inspired athletes everywhere to put themselves first

"I thought it was nearly impossible. A Canadian? Defeating the legendary Serena Williams in her own country? There was just no way. But while I had doubts in my mind, the then 19-year-old phenom already had the victory visualized in hers. And with the win, she inspired a generation of young tennis players and athletes across Canada." – Peter Ash, multimedia journalist
A certified trailblazer as the first Black queer MPP in Ontario and the founding member of the Ontario NDP Black Caucus, believed to be the first of its kind in Canada

"Sometimes when the camera isn't on us, we work on our laptops in the legislature. When Jill gets up to speak, however, I always stop and listen. Her speeches are well researched yet personal, and her delivery is captivating." – Jessica Bell, MPP, University-Rosedale
Flipped the jewelry industry on its head with her popular jewelry brand that has taken over Instagram

"Ultimately, I see Noura as the ideal example of what a professional woman should be — empathetic, generous, inspired and inspiring, a team player and a natural leader and, most importantly, passionate about all that she does." Nadine Spencer, CEO, BrandEQ Group
A Toronto drag veteran who has been a headliner for over 20 years and is an icon in every sense of the word

"Simply put, there is no one like Farra. She is a star, but she is also a kind and generous human being. She has set a standard of excellence in Canadian drag that we all aspire to. She has worked so hard through her career, and it makes me so happy to see her get the success and recognition she so justly deserves." Brooke Lynn Hytes, Canadian drag queen
From Team Canada hockey legend to a Toronto physician when the healthcare system needed it most
"Yes, she is one of the most powerful and accomplished women in sport of all time, as the country's all-time leader in several international hockey categories and the first woman to score a goal in a men's professional league. Yes, she is now a resident emergency doctor at a hospital in Toronto by day and senior director of player development for the Toronto Maple Leafs by night." – Christina Flores-Chan, journalist
Made her mark as a member of the Order of Canada, Polaris Music Prize and JUNO Award winner and author of the award-winning Split Tooth
"Tanya is a pure face-melting stage destroyer, an unstoppable force of sonic combustion. I could spend this entire space trying to describe how many ways her fearless performances can strike you like a bolt of lightning to the soul. Her creative energy blazes like a million-watt spotlight visible from space." – Chelsea McMullan, filmmaker
Shed light on sexism, abuse of power and racism within the restaurant industry

"An outspoken kingmaker whose taste reigns supreme, Agg can open a restaurant, pen a bestseller, rip apart a Globe and Mail editorial and still make it to Scaramouche in time to cop a great glass of wine. Whether talking about race or pay in the kitchen, staffing or Toronto's next dining trends, when Jenn Agg talks, we all need to listen. It's something, most often, no one else has the courage to say." – Ben Kaplan, journalist
One of the most-watched Torononians to ever grace our (Netflix) screens

"As someone who takes great joy in seeing South Asian representation across a myriad of platforms, watching Maitreyi Ramakrishnan star in Never Have I Ever would have done wonders for me as a teen, given how impactful it was for me as an adult. What made the show what it was was the standout performance by Ramakrishnan, who is both authentic and refreshing on and off screen." – Rumneek Johal, journalist
A voice of reason for the city from the start of the pandemic

"As the head of the largest public health unit in Canada, Dr. de Villa has worked day and night — literally — to serve the people of Toronto. In those terrifying first few months of the pandemic, she spoke to the public each day, clearly explaining what was happening in our city and how to take precautions. With her trademark scarves, professionalism and composure, she helped keep us safe." – Joe Cressy, former Ward 10 councillor
The fourth person in history to win all five major TV acting awards in one awards season
"Catherine is a pioneer in creating characters that make our stomachs hurt from laughter while our hearts feel deeply. Over a remarkable 40-plus year career, her influence can be felt in entertainment around the globe. It's not easy at the best of times to be an actress in film and television, and Catherine's endurance is a testament to her incredible artistic spirit and deep well of talent, which she draws from time and time again." – Lara Jean Chorostecki, actor
Advocating for Indigenous rights and drawing attention to missing and murdered Indigenous women
"If I'm ever in trouble, and I often am, I would want Pam Palmater by my side. Her sharp intellect, steadfast ethics and caring heart place her at the centre of many colonial storms. From land rights to child rights, Pam draws on the multi-generational strength handed down to her from her ancestors to stand in the winds of injustice that continue to pile up on the hopes and dreams of First Nations, Métis and Inuit peoples and weigh the country down." – Cindy Blackstock, executive director of FNCFCS
The first Black woman to host a national daytime show in Canada
"She is a warrior who will fight for what is right, who will trade vulnerability and her emotional discomfort for impactful and lasting change. Her commitment to leave this world much better than she found it inspires us all to do the same. She's a trailblazer, and this world is a better place because of her." – Karlyn Percil, Cityline lifestyle expert
From TV host to Member of Parliament
"Marci is a woman who cares deeply. She feels the fear and makes the leap anyway. She shows us that at any age we can make bold life transitions in our relationships, in our careers, in our attitudes and that those transitions are meant to be woven into the rich tapestry of our lives. Canada is lucky to have Marci Ien." – by Cynthia Loyst, co-host of The Social
The first Black Canadian and the first Jewish woman to be elected leader of a major federal party in Canada
"Like me, Annamie is a lawyer who decided to use her legal training in a different but complementaryway to mine, working on the front lines of the climate movement in the EU and internationally at the International Criminal Court. I feel a strong sense of self from Annamie and have an appreciation of the importance she places on family and our interconnectedness as a society." – Jody Wilson-Raybould, former minister of justice and Attorney General of Canada
A former elite athlete turned social media influencer and entrepreneur who uses her platform to address anti-Black racism in Toronto and beyond
"Always a "we" person, Sasha's approach, both on and off the camera, is always focused on the collective as opposed to the individual. Her willingness to open her personal world up to everyone is merely a reflection of that. When Sasha speaks, her words resonate in a way few others can. They wake you up, inspire you and open your eyes to things you might otherwise dismiss. In short, when Sasha speaks, people listen." – Carly Burnett, founder, TKEES
Made history as the first Black woman to receive the award, and the first hip hop record to win
"So much still needs to shift in terms of Black womxn being at the forefront in Toronto, but with the existence of artists like Haviah, I have high hopes for a better future. She matters so much, and I'm elated to give the queen her flowers — yesterday, today and tomorrow." – TiKA, musician
The first Black woman to be named the sole valedictorian of her graduating class
"Dr. Oriuwa has ceaseless energy and a gift for poetry. She is involved in many organizations, including the editorial board of Healthy Debate and Indigo's board of directors, in addition to continuing her training in psychiatry. Dr. Oriuwa brings creativity, compassion and insights to her roles, as well as a commitment to diversity and inclusion." Trevor Young, dean of the Temerty Faculty of Medicine, U of T
The first Black woman to host a flagship sports highlight show in Canada

"Kayla has been a positive force and a role model since she began her career in broadcasting by moving to western Canada to work in places where she was always the only Black woman in her newsroom. There is immense pressure that comes with being the "only," including the responsibility to be a positive representation for women who are like her and the pressure to break stereotypes.In the face of that pressure, Kayla has continued to shatter the glass ceiling." – Brandon Gonez, news personality and founder of the The Brandon Gonez Show
A respected Toronto chef with a flair for Afro Caribbean, soulful comfort food
"She believes in a brave new world: where cooks and servers are valued and paid a living wage, where everyone is treated with respect and where issues of harassment, racism and mental health are talked about openly. Free of the kitchen, she's able to tell it like it is, and her former customers turned fans are here for it." –  Ivy Knight, journalist
Became Canada's first hijab-wearing television reporter in 2015, and the first hijab-wearing news anchor in 2016 
"In an industry where you are judged for your appearance, Ginella never let the fact that no one looked like her stop her from pursuing her dream. She made it happen and has become a role model for other little girls in hijab. They now know they too can be whatever they want to be with determination." – Maleeha Sheikh, Citynews reporter
Developed "Reporting On Race: Black Communities in the Media" at TMU's school of journalism, the first course of its kind in Canada
"Eternity marries a commitment to telling compelling stories with precision along with her unwavering dedication to social justice. She embodies the generosity of spirit at every turn and offers all of us this generosity with her important and gripping memoir. I firmly believe it should be required reading for all those who are preparing to head to a Canadian university — and to those who head them up." – Minelle Mahtani, associate professor at UBC
Folk and jazz singer-songwriter and social activist
"Faith has been rooted in the idea of possibilities for most of her career. The idea of possibilities is the idea that you can influence change in a situation or experience through making a statement, subtle influences or in your face action with protests. Her power is that she knows when to do what." Dalannah Gail-Bowen, musician
Made the Danfords the first Black family to have a reality show in Canada
"Two years later, we started filming for Bell Fibe's on-demand channel as the first Black family to have their own reality show in Canada. This is all because of my remarkable mother, Jillian Danford. She has inspired thousands, along with myself, to never think an idea is too far out of reach because, if you really want to make it happen, nothing — and I mean nothing — can stop you." Milan Danford, daughter
Lilly Singh rose to fame as a YouTuber and is now the host of 'A Little Late with Lilly Singh'
:Lilly Singh is an anomaly. To this day, there are very few creators who are like her. She's still pulling in a million views per video on YouTube, and at the same time doing a late night show. She's attending events, has merch, she's coming at every angle, and she's not stopping. That's really impressive because a lot of creators will burn out, but Lilly, she's managed to keep it all going and she's super positive, which is huge." Dan Rodo, YouTuber and Much creator
Huda Idrees is the founder and CEO of Dot Health
"One of the things I'm most impressed by is Huda's commitment to growing a global company here in Toronto. Too many entrepreneurs think too small as a Canadian company, but not Huda. She knows we have the talent to build companies not just in health care, but finance, food and more. I can't wait to see what she does from here." –  Michele Romanow, Dragon on Dragons' Den and founder of Clearco
Caitlin Cronenberg's photography book 'The Endings' was optioned for TV
"She works harder than anyone I know — whether it's shooting the celebrities, working on our book [The Endings], having her first gallery show or even the directing she's gotten into more recently (Yes, including the project with Billie Eilish). Even when we were trying to get actors [to feature in] our book, she would go as far as offering to bake pies for them. She balances a lot of things in a way that I really admire." – Jessica Ennis, art director, The Endings
Anita Krajnc is a vegan activist and the founder of Toronto Pig Save
"Anybody who puts themselves at risk for the health and welfare and protection of something or somebody other than themselves, that's a really big statement. I didn't really know anything about Anita Krajnc until she was giving the pigs water, and that's when I paid a little bit more attention to her." – George Stroumboulopoulos, CBC music host
Gabriela DeBues-Stafford broke the Canadian 1,500 metres record twice
"Gabriela is like this in all aspects of life, using her passion and her intelligence to constantly evaluate things that happen around her and challenge them. She's very open about her opinions and struggles, showing that vulnerability is an important quality that should be nurtured and that living outside your comfort zone is where the most growth happens." – Lucia Stafford, track athlete 
Bhutila Karpoche is the first person of Tibetan heritage to be elected to public office in North America
"The night Bhutila Karpoche was elected MPP for Parkdale–High Park, I watched as Tibetan women and men who remember the Dalai Lama being driven out of Tibet wept and laughed and hugged. Being the first person of Tibetan heritage elected to any western government is a lot to carry. Bhutila carries it well." Gord Perks, city councillor
Dr. Meeta Patel treated victims of the Yonge Street van attack
"A decade of caring for some of the sickest patients in a hospital on any given day combined with intense training makes Meeta Patel the doctor you want in an emergency situation. But not even she could imagine that our community would be the centre of the Yonge Street van attack on April 23, 2018, and that our hospital, North York General, would call a Code Orange to receive victims of this mass casualty." – Rick Penciner, MD, emergency physician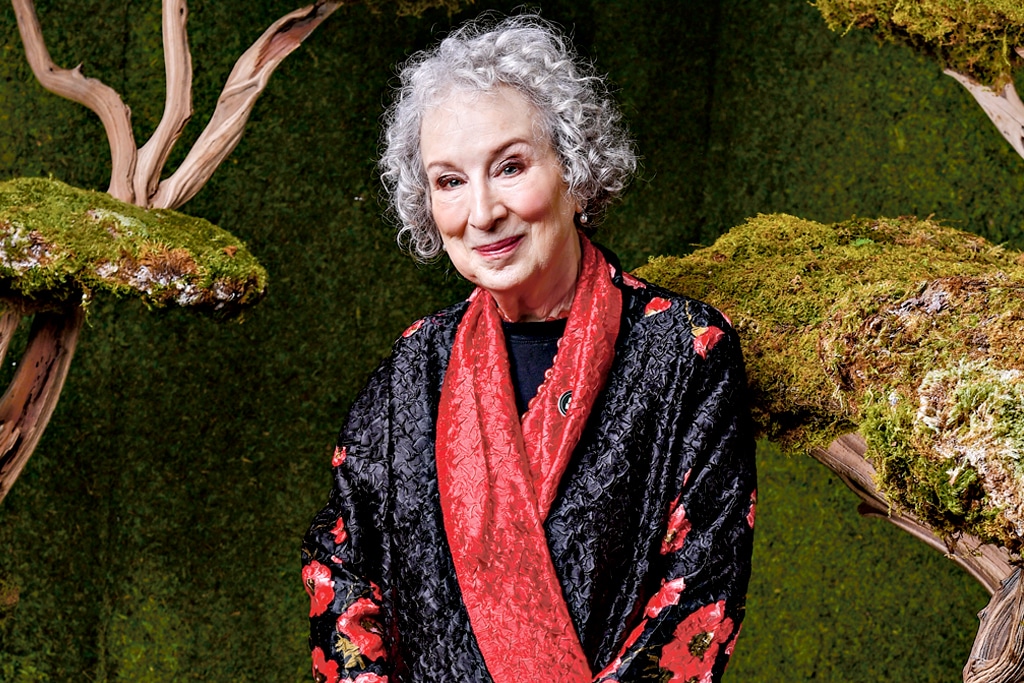 Margaret Atwood won the Man Booker Prize for 'The Testaments'
"She has made a continued commitment to the life of the mind. She's got brains and an interesting point of view.  And, of course, she has a wonderful sense of humour. I think she is inspiring — and this is me being very Canadian — because she continues to work hard and to say what she has to say. People who are able to stick with it and do the right thing and do things that are true to themselves are the ones who will last and have continued influence on people." – Adrienne Clarkson, former Governor General of Canada
Using technology for good and mentoring women in STEM areas 
"Technology for good, for all. That's the heart of Elizabeth Caley, quintessential science and technology geek. She builds big technology products, used by millions of people, often infused with cutting-edge artificial intelligence. But her work has always been grounded in helping people solve real problems, particularly scientists." – Erin Elofson, country manager, Pinterest Canada 
The first woman to be appointed fire chief in Ontario
"Chief Deryn Rizzi's steady, focused and unprecedented climb through the ranks of Vaughan Fire and Rescue Service (VFRS) is inspiring and a reminder of the art of the possible. There is no shortage of glass ceilings that she has smashed through — and she's only just begun." – Maurizio Bevilacqua, former mayor of Vaughan   
Building bridges for the LGBTQ2SIA community
"When it came to the concern the LGBTQ2SIA community and the Black Lives Matter movement had with uniformed police involvement in the Pride Parade, Olivia's role proved exemplary. She listened to the community. Then she involved herself in attempting to resolve some of the issues with the Toronto Police Service. Both required tact. Not everyone was or can be satisfied in such a process, but the fact that she was able to traverse some very real grievances and work toward healing shows her peacemaking skills in practice." – Rev. Cheri DiNovo, minister 
An artist who is bringing a fresh perspective to arts coverage
"Suddenly it happened: A media community starved for a fresh perspective? A television arts review show that needed someone with both an understanding of all mediums of expression and star quality? CBC Arts: Exhibitionists. A radio show that required expert knowledge of the under-told stories of the R & B/hip hop industries? CBC Music's Marvin's Room. She fulfilled all of these needs and more. One by one the pieces not only fell into place — they were laid at her feet. And she deserves it all." – Catherine Hernandez, author
Conquering the challenge of the NAFTA trade negotiations
"The election of Donald Trump and the emergence of NAFTA as a key issue led to Chrystia becoming minister of foreign affairs. She mastered the web of details on that issue and reaffirmed Canada's commitment to building a world where rules mattered in trade and the rule of law needed to count in our dealings with the world. Articulate and unfazed by the challenge of dealing with the unpredictable, Chrystia has emerged as a key voice, not just for the government, but for Canada." – Bob Rae, lawyer and former MP
Her restaurant Felix was nominated for the James Beard Award
"She's created an empire and manages over 1,000 employees, many of whom have stayed with her for years. I've met her closest friends and confidantes, and they are truly an extension of her passion and genuine nature. Recently, I asked her what it feels like to be responsible for the livelihood of 1,000 plus people, and she put it simply: "I am very lucky and honoured." This is the kind of person that she is, one who knows it takes a village to maintain success, especially in an industry as volatile as the restaurant world, and I have nothing but the utmost respect and love for her." Mijune Pak, Top Chef Canada judge
Founder of the Campaign for Cannabis Amnesty
"I have learned more about the incredible woman behind some of the legal community's best Twitter throwdowns and fights for justice. All of it extraordinary — the academic honours, the legal achievements, her quick ascent to partnership and her relentless fight for justice and cannabis amnesty — none of it surprising. To me, she is one of the brightest beacons in our profession, the kind of lawyer we need more than ever in this time of growing inequality. Shine on, Annamaria." – Hadiya Roderique, journalist
A Canadian singer-songwriter, producer and actress who was inducted into the Canadian Walk of Fame in 2021
"Jully was my defender on the 2018 edition of CBC's Canada Reads, an annual battle of the books. My book The Marrow Thieves was chosen for the competition. But there was Jully, on day one, singing her way into the studio, challenging anyone to try to take her marrow. Jully was in contact daily, making sure she understood the issues, building her case supported by her genuine passion. The day after she learned the Pope refused to apologize for the church's role in Canadian residential schools, she questioned him and all of us on national TV as a woman of faith. Her performance during the show sparked a movement (and a T-shirt) to "Take it to the altar," and my book sits on the national bestseller list to this day. This is because Jully rode into battle with it tucked under her admirably toned arm, bringing racism, classism, colonization and Indigenous rights to a huge platform." – Cherie Demaline, author
Bringing Canadian fashion to the red carpets
"I am inspired by Jessica because there is only one her. The person I met when I was 16, the woman I married 10 years ago, the mother of my children, the philanthropist, the stylist, the friend, the entrepreneur, the daughter and the businesswoman: they are all the same person. From the moment I laid eyes on her, right up until today, Jessica has remained true to herself." – Ben Mulroney
"Rachel Parent has been an incredible force in spreading awareness about genetically modified ingredients, not just in Canada but around the world. Not a lot of kids — or adults for that matter — are driven to start a non-profit organization, but she founded KidsRightToKnow when she was just a young teen, and has been tirelessly campaigning to have GMOs labelled in Canada ever since." – Adria Vasil, environmental journalist & author of bestelling Ecoholic book series
A key part of the Canadian women's national soccer team that earned Canada's first gold medal in women's soccer in the Tokyo 2020 Olympics
"Buchanan is definitely a warrior on the field. The way she understands and reads the game is amazing for a player her age. Her fierce competitiveness really shines bright as a leader on the field. She gives 100 per cent in everything she does, and especially as a black woman coming from Canada, it's not easy. From my experience, working with my foundation in our communities and working with inner city kids, especially girls, they really look up to Buchanan as a role model. She's done a fantastic job, and we're all proud of her and her achievements." – Dwayne De Rosario, former Toronto FC player
"In the hospital sector, we often talk about patient engagement, which is really important. But Dr. Martin has taken it a step further with her commitment to public engagement, appealing to people not as patients, but as citizens. She is building that support both inside and outside the walls of our hospital. We need that public dialogue to take place, and Dr. Martin is helping to lead it." – Marilyn Emery, former CEO of Women's College Hospital
"The first time I saw Lido Pimienta play, we were sharing a bill. I was struck by her confidence. She writhed and rapped and sung and danced and twisted herself up with the mic cable, centred all the while in her lyric and in rhythm. My ego got a bit wilted — "Why can't I have that kind of confidence?" — and at the same time I got power from her strength.To me, this is the mark of a profound artist, someone who stirs emotion and unveils internal conflict and is planted deep inside their work, unfettered, making us as the audience feel something inside ourselves." – Kinnie Starr, Juno award–winning producer
"As the director of the Islam and Global Affairs Initiative at the Munk School, Ahmad regularly brings diverse teams of experts together to address critical social and political issues, such as Islamophobia, terrorism and security policies and sexual diversity in Muslim communities. As an intersectional feminist woman of colour, Ahmad's leadership at the University of Toronto smashes stereotypes. Her voice is an essential response to both Islamophobic and patriarchal narratives that silence and exclude Muslim women." Emily Agard, director of SciXchange at TMU 
Michele Romanow stars in CBC's hit show Dragons' Den and currently is the co-founder of Canadian unicorn, Clearco
"Around the den, we like to say that entrepreneurship collided with perpetual motion and created a force called Michele Romanow. She exploded into the den not even 30 years old but already a seasoned entrepreneur.  She launched her first business as a Queen's engineering undergrad and never looked back. Fearlessly, she marched in and claimed a spot smack between two towering titans of the Canadian business establishment. Watching the group dynamic shake out during her first season, we were in awe as the youngest rookie dragon bravely clapped back [a now signature line] "Don't call me sweetie" when the more senior members of the dragon panel crossed her line." – Tracie Tighe, former executive producer of Dragon's Den
"One of Hudson's great contributions to our thinking about black liberation in Canada is her focus on the notion of care. She is constantly reminding us that ending state violence against black people is only one step in our struggle, that in order to truly thrive, we need to develop systems that centre black people's healing and care. This idea expands possibilities for black people and encourages us to dream beyond the poor expectations our country continues to hold for us. It's a great blessing to be alive and in the struggle in the same place and time as Hudson." by Desmond Cole, journalist and activist
"Marie Henein enjoys the collective admiration of our community not only because she is one of Canada's most skilled and respected lawyers, but because she is at the vanguard in promoting a deeper appreciation and recognition of the fundamental principles of criminal justice. She is a zealous defender, not only of those accused of criminal offences, but of the pivotal role of the criminal lawyer. Henein has passionately, thoughtfully and eloquently articulated why the administration of justice in Canada, our constitutionally enshrined rights and freedoms, and our rules of evidence are so vital to the proper functioning of a robust democracy." by Brian Greenspan, prominent defence lawyer
"Meghan Markle is now one of the most photographed and most googled women in the world. Markle may be most famous for dating a prince, but she has also made a name for herself in her own right, thanks to her acting ability, her big smile, big heart and philanthropic work. Her philanthropy and activism began at the ripe age of 11 when she wrote a letter about a soap advertisement that she believed to be sexist. Young Markle sent that letter to several high-profile people, including the then-first lady Hillary Clinton. (And, yes, the letter worked, and the ad was altered!)." – by Rebecca Eckler, author
Till & McCulloch Award winner for contribution to global stem cell research
"Fascinated by science since she was six years old, Molly has made it her mission to motivate and inspire young women and men to pursue careers in science, technology, engineering and math — to fearlessly ask the "big questions" and seek the "big answers." Engineering ingenuity and science literacy are core competencies needed to address the world's greatest challenges, and Molly is a powerful champion for this crucial cause." – Cristina Amon, dean emerita of applied science and engineering at U of T
Former city chief planner and current partner at Markee Developments, building purpose-built rentals
"Jennifer has quite uniquely helped make our city stronger, more urban, pedestrian-friendly, bike-friendly and better planned. She is a natural leader who is very pragmatic and non-partisan, and she's also a great role model. She believes our city has the opportunity to be an example of a less divided, more unified and inclusive community — a Toronto for everyone. That's an objective that our city and the world need."- Richard Florida, professor of economic analysis and policy at U of T
"I have observed her at each place she lands as she betters people's lives through active engagement in the process of bringing good food to the table, no matter where that table may be. Joshna believes strongly that good food is medicine. It felt natural for her to see what could be done to improve how food is prepared and served in hospitals. There is a parallel theme with her work at Ryerson University, where she challenged the existing food service for students to include healthier choices with foods that were procured locally and seasonally and prepared with care." Jamie Kennedy is a chef and pioneer of the farm-to-table movement in Ontario
Penny Oleksiak came out of left field as she was really tracking for the Tokyo Olympics in 2020. I was at the Olympics as part of the CBC broadcast team. The studio was so small that we couldn't accommodate guests beyond their segment, but there was a portable trailer with a monitor. I finished my segment and left the studio because we didn't see the bronze medal coming. I didn't have time to make it to the pool so I popped in there to watch it. Anyone who has seen the viral video Tewksbury Loses It, knows my reaction. There wasn't a cameraman or anything, that video was taken off a cellphone or I never would have reacted that way. It was clearly exciting already, but nobody saw the gold medal coming in the 100 freestyle." – Mark Tewksbury was a 1992 Olympic gold medallist in the 100 m backstroke
"Tatiana Maslany is the most natural leader I've met. She's gracious, kind, funny as hell and fearlessly talented. She's easily the busiest actor in the world (without a doubt), and yet she still finds time to make everyone feel welcome on set. I've seen plenty of leads stick to themselves or ignore the day players on the show, but Tatiana talks to everyone and immediately puts them at ease. And the crew gets equal care and attention too. Without a comfortable set, Orphan Black (or any show really) would not work as well as it does." Kristian Bruun co-starred on Orphan Black with Tatiana Maslany
Dr. Fahima Osman is the first Canadian-trained doctor in Toronto's Somali community
"The year 2015 was a banner one for Dr. Fahima Osman. Certainly her specialized breast cancer surgery at North York General is notable (as is the grant she received in January to research oncoplastic surgery in Ontario). But as a Somali-Canadian, her work has been notable since she set her sights on a career in medicine at age eight. Osman was awarded a full scholarship to study global health and how to improve access to healthcare in low and middle income countries at Johns Hopkins. In Toronto, Osman has become an expert in oncoplastic breast surgery, which uses plastic surgery techniques to remove tumors and produce positive cosmetic outcomes. This surgery is uncommon in Canada, due to a lack of training. Osman performs the surgery without any added compensation." – Judith Muster
"Le, a PhD candidate in organic chemistry at the University of Toronto, is making waves in the realms of medicine, science and environmental practices. She was the only Canadian to earn a spot on the Forbes list in 2015, thanks to a method she developed to expedite the process of making natural molecules with cancer-fighting properties, and other unknown classes of molecules with potentially higher therapeutic value. This method reduces the amount of hazardous waste generated in the production of medicines and other chemicals, making the whole process more environmentally sustainable." – Nikki Gill
"In early 2011, Syria erupted when students wrote on their school walls, calling for the downfall of the government. They were imprisoned and tortured, and the nation protested (peacefully) for their release. Leen Al Zaibak was living and working for the World Bank in Damascus helping high school dropouts return to the workforce at the time. Al Zaibak, who came over from Syria at four years old, grew up in Forest Hill. "There are as many Syrians living outside the country as there are Syrians living in Syria," explains Al Zaibak, who wanted to create a bridge to connect the two communities in an effort to build a network. She, along with a group of ex-pat friends, launched Jusoor (the name is Arabic for "bridge"). In 2014, the NGO provided 209 university scholarships, and 1,700 Syrian refugees are enrolled in three schools they've set up in Lebanon. The teachers are also refugees." – Caroline Askich
When she was four years old, Chantelle Brown-Young (professionally known as Winnie Harlow) was diagnosed with vitiligo. Many a "no" greeted her while she shopped for a modelling agency. "While they thought I was pretty, they really didn't see the vision or where they could place me, so they would ultimately say no," says Harlow. Shortly after this chorus of nos, the creator of America's Next Top Model, Tyra Banks, would hand-pick Harlow for the 21st season of the show after seeing her Instagram feed. She placed sixth. Between photo shoots and runway gigs, Harlow continues to make time for vitiligo awareness and outreach, with the goal of starting a not-for-profit supporting anti-bullying and equality in developing communities." – Caroline Askich
"For Naomi Klein, celebrated Canadian journalist and activist, stirring the proverbial pot has always been a part of daily life. The author of five books and winner of countless awards and accolades never bothered with a university degree, opting to forge her own path instead." – Darcy Streitenfeld