Streets of Toronto surveyed over 50 of the best chefs in Toronto and asked them to share their two favourite restaurants in the city for food, service and ambiance. The result is a definitive guide to the 75 best restaurants in Toronto for 2022, ranked. Read about the top 10 below, and check out the full list to see if your favourite restaurant made the cut!
No. 10 Pompette
JUDGE DAVID SALT OF DRIFTER'S SOLACE: "The menu at Pompette comes across as honest and seemingly effortless. It is always nice to find a place in which good food comes naturally."
STREETS OF TORONTO'S TAKE: Little Italy's Pompette is a feat of contemporary design with a distinctly European flair. The French word "pompette" itself signifies a state of bliss, the overwhelming feeling of joy a person feels when all of the senses have been satisfied. Maxime Hoerth and husband-and-wife team Martine and Jonathan Bauer, all Parisian expats, mind every little detail at Pompette, crafting their dream space from the white-washed exposed brick to the contemporary bar. The food is the kind of fare that pulls international inspiration into French cuisine, a nod to the team's diverse backgrounds that span from Mauritius to Colombia and incorporate local, New World tastes. The extensive, top-notch cocktail program and more than 350 names of the globally sourced wine list complement the ever-changing menu that sees cheese, meat and pasta dishes come to savoury life from locally sourced ingredients. Head to Bar Pompette, the sister cocktail bar around the corner, for a nightcap. 597 College St.
No. 9 Bar Isabel
JUDGE ROSA MARINUZZI OF 7 NUMBERS: "When you provide high quality preparation, great ingredients in a comfortable setting with great service consistently, you get the nod."
STREETS OF TORONTO'S TAKE: Owned by restaurateur and chef Grant van Gameren, Bar Isabel has been a staple on the Toronto food scene since opening its doors in 2013. It can be credited with establishing van Gameren as a unique creative force at the pinnacle of the city's culinary scene following his rise in the kitchen of the legendary Black Hoof. Van Gameren has since gone on to open many of the city's favourite eateries including El Rey and Bar Raval amongst others. More than that, though, Bar Isabel — currently helmed by chef Carol (pictured far right) — single-handedly turned the city of Toronto into a population salivating for grilled octopus. The Spanish-inspired cuisine is met with a dimly lit interior, casting the share plates, deemed "essentials," in a moody light. Cheese and meat plates are paired with Manzanilla olives and almonds alongside a selection of jamónes, conservas and vegetables. It's the kind of place that is trendy regardless of fad or opinion, that doesn't need word of mouth to let you know that it's cool. Takeout packages were introduced as a result of the pandemic and have become a permanent fixture on the menu, offering guests the opportunity to take a slice of the magic home, in the form of a tapas box or full dinner for two. 797 College St.
No. 8 Imanishi
JUDGE NICK LIU OF DAILO: "I love the food and ambience. It's one of the most reliable and consistent restaurants in Toronto. Every time I eat at Imanishi I leave feeling a little inspired."
STREETS OF TORONTO'S TAKE: The casual atmosphere at Imanishi makes guests feel even more welcome. The smell of homestyle, Tokyo-inspired cooking wafts between the exposed brick walls bearing coat hangers from donated skateboard decks and between low-key wooden seating areas. Potted plants hang from exposed wooden beams to add pops of colour. Yuzu karaage and monkfish liver pâté top the list of unique offerings at this modern Japanese restaurant, a must try for culinary junkies. The menu is a marvel in unconventional dishes that work perfectly together, and the eye-popping list of hard-to-find sakes and cocktails crafted with Japanese whisky only adds to the allure. The menu is intended to be shared, piled high with small plates begging to be paired together. A true menu standout is the sweet corn, served tempura style to mix crunch, sweetness and spiced batter into one unforgettable dish. Traditionally, the delicacy, called kakiage, is only served when sweet corn is in season, but it is offered full-time at Imanishi. 1330 Dundas St. W.
No. 7 MIMI Chinese
JUDGE KATE CHOMYSHYN OF FONDA BALAM: "We recently had such a great meal at MIMI. Every dish was delicious and service was soigné (elegant) but comfortable." 
STREETS OF TORONTO'S TAKE: You can find MIMI Chinese, an upscale — you guessed it — Chinese restaurant in Toronto's Yorkville neighbourhood. Co-owner and executive chef David Schwartz (Sunny's Chinese), channelled his childhood love for Asian cuisine into this hot spot with a menu that highlights dishes from the Guandong province, located in southeast China. The menu is split into five sections, raw and cooling, savoury and warming, chef's specials, noodles and rice, and vegetables, to encourage sharing. Along with an impressive selection of sake and wine, there are standout signature cocktails, like the Jungle Panda, made with rum, elderflower, Campari and baijiu, "one of the most complex and interesting spirits in the world," according to Schwartz. The interior features seductive red velvet booths set against black walls and a lotus flower mural. Perpetually booked, MIMI Chinese is fit for the foodie looking for a culinary adventure and is primed to become more than just the next new buzzy place to dine. 265 Davenport Rd.
No. 6Alo

JUDGE DANIEL BOULUD OF CAFÉ BOULUD: "I love seeing how chef Patrick Kriss takes traditional French cuisine and elevates it with modernity, seasonality and his own creativity." 
STREETS OF TORONTO'S TAKE: Situated atop a heritage building at Queen Street and Spadina Avenue, Alo is one of those names that makes foodies stop in their tracks. Helmed by chef Patrick Kriss, one of the hottest names in the city's food scene, the classically prepared, contemporary French cuisine and the ambience, alongside the exclusive nature of the reservations, make it the home of the most coveted seats in town. "Its tasting menus aim to make luxuries approachable while elevating time-honoured favourites," says operations manager John Bunner. The menus change depending on the seasonality and availability of ingredients, ensuring that each dish is fresh. "Alo offers its guests a continuing relationship in spaces where the deliciousness of the fare is met with a passion for hospitality," he says. The interior, a modern masterpiece, is in stark contrast to the Victorian building that houses it, but the contrast furthers Alo's allure. The food is so good that reservations are made months in advance for two month blocks. Kriss's culinary empire also includes Alobar in Yorkville, and Aloette in multiple locations. 163 Spadina Ave.
No. 5 Scaramouche
;
JUDGE HEMANT BHAGWANI OF GOA: "It has recovered the fastest from COVID, with great food and service."
STREETS OF TORONTO'S TAKE: Show-stopping skyline views accompany the newly merged dining space (the two rooms including the main dining area and the former pasta bar are now one streamlined whole), nestled in a unique location: the top floors of a condo complex. For its entire 30-year tenure, the restaurant has been loved by Torontonians and is considered by many to be the height of culinary sophistication and elegance. The modern French menu boasts thoughtful interpretations and creative spins on classics from land and sea, from plump decadent scallops thoughtfully paired with spicy cauliflower tempura to roasted duck breast and shredded duck confit leg drizzled with foie gras jus and a pasta dish of peppercorn fettucine with beef tenderloin and oyster mushrooms swimming in Madeira cream as a nod to the glory of the former pasta bar. At every turn, Keith Froggett's sizable skills are always on display. Malbec, Côtes du Rhône Sablet and Bourgogne meet sparkling wines on a huge wine list that's paired with cocktails like the longtime favourite Benvenuto Martini, which blends Absolut Citron vodka with a splash of elderflower cordial to give it, as the menu promises, "an exotic lift and spiciness." 1 Benvenuto Pl.
No. 4 Canoe
JUDGE ELIAS SALAZAR OF WASKA: "The service is impeccable, the view, atmosphere, drink selection and the way the kitchen team moves is amazing to see."
STREETS OF TORONTO'S TAKE: More than a quarter of a century in, Canoe remains a critical darling and a place where people still want to be seen. Located on the 54th floor of the TD Bank Tower, the restaurant serves up striking views of Lake Ontario and the cityscape, and has long been considered one of the city's most romantic dining spots. Executive chef Ron McKinlay has put together a fine, yet unpretentious menu that celebrates refined and innovative Canadian cuisine, creating fresh dishes that are true to their own taste. Diners can choose from a nine-course tasting menu, ranging from oysters to foie gras, in addition to à la carte. Menu highlights include the Tamarack Farms lamb, served nose-tail, and the crispy pork jowl served with Ontario rhubarb and baby beetroot."That degree of creativity and out-of-the box thinking has stayed with us as we've transitioned back to traditional in person-dining," says Jane Suh, Canoe's associate director of operations. "We continue to work as a team and lean on each other to stay inspired and motivated to go the extra mile and create truly memorable experiences for our guests." 66 Wellington St. W., 54th Floor
No. 3 DaiLo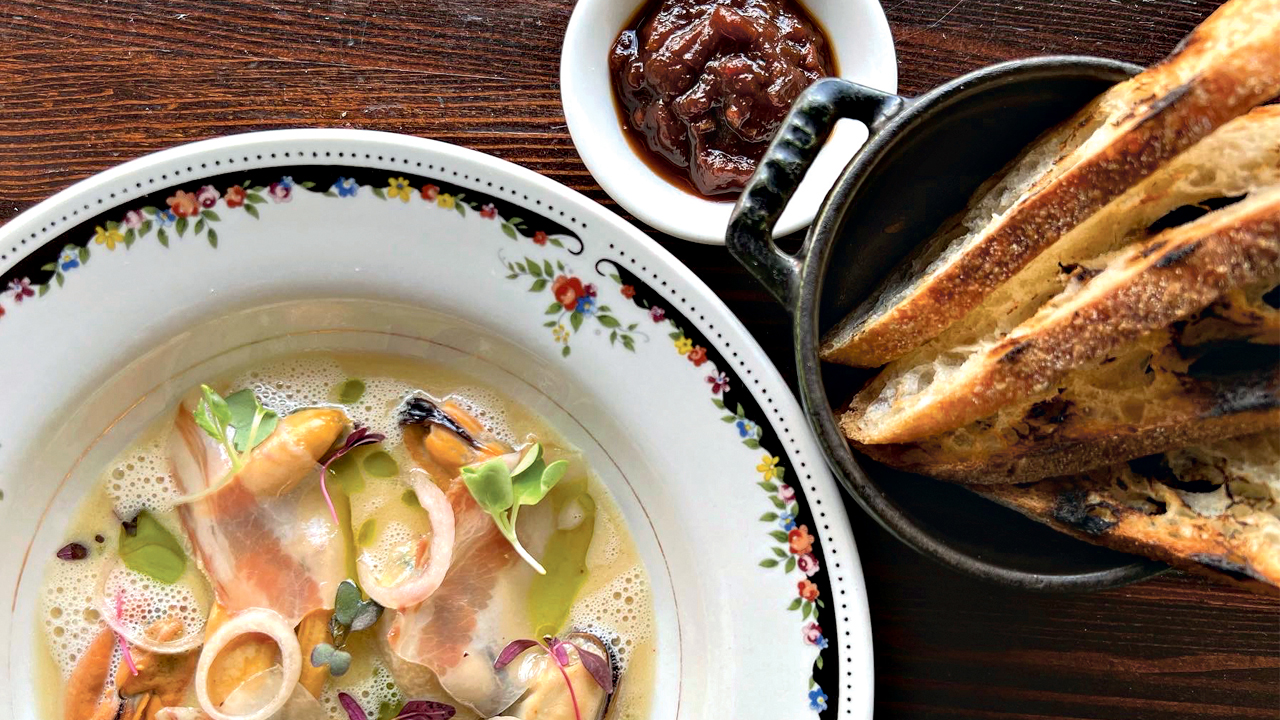 JUDGE ROGER MOOKING OF FOOD NETWORK CANADA: "Food is an evolving art form in real time and few restaurants step in and out of this authenticity and evolution dynamic as gracefully and tastefully as DaiLo."
STREETS OF TORONTO'S TAKE: Chef Nick Liu, the genius behind the critically lauded DaiLo, takes his inspiration from classic dishes and ingredients and adds creative twists. Located in Little Italy, the restaurant has garnered rave reviews since opening in 2014. Following in the French tradition, Liu riffs on Chinese-Canadian classics, remixing them, combining different textures and flavours for a modern interpretation. The fried watermelon has been called "mind-altering" for good reason. Bean sprouts, basil, pickled melon rind and pork floss make for a mouth-watering contrasting dish steeped in family tradition. "Dai lo" means "big brother" in Cantonese and is considered to be a term of respect and love for an elder. Liu continually manages to deliver quality food that is as creative as it is traditional: his love letter to the Chinese dishes he grew up eating. "The lockdowns gave us the opportunity to re-evaluate all aspects of our business in a time of uncertainty," says DaiLo's general manager, Trevor Chen. "We also discussed our dine-in format, expanding our à la carte and tasting menu seating to our second floor." 503 College St.
No. 2 Osteria Giulia
JUDGE JENNY COBURN OF GIA: "Osteria Guilia is my go-to restaurant for all special occasions! It's a modern evolution of an upscale Italian restaurant."
STREETS OF TORONTO'S TAKE: At Osteria Giulia, a luxurious little dinner spot with a focus on northern Italian cuisine, chef Rob Rossi (L'Unità, Giulietta) puts forth a menu of dishes made from seasonal ingredients. The 66-seat interior yields a contemporarily rustic vibe with honeyed tones, limestone and wood-panelled walls and folded ceilings. Among the house specials is the focaccia di Recco, a cheese-stuffed flatbread from the Ligurian town of Recco that dates back to the 12th century. Pasta dishes include the ravioli Girasole, filled with crab and mascarpone and topped with Meyer lemon, butter and chives, and picagge "paglia e fieno," which translates to "straw and hay," with rabbit ragù and a leek soffritto. Ambitious desserts like the millefoglie al pistachio top off the meal. The restaurant is home to over 300 bottles, a robust cocktail menu and a selection of grappa that will have you dreaming of a beach in Cinque Terre. With the fanfare that sister restaurant Giulietta receives, it's no wonder that reservations at Giulia are hard to snag — they currently book two weeks in advance. 134 Avenue Rd.
No. 1 Edulis
JUDGE RYAN CAMPBELL OF IL COVO: "Edulis for me is the full package. The food, wines and service are super sophisticated but so comfortable at the same time, which is not the easiest thing to do."
STREETS OF TORONTO'S TAKE: To visit Edulis is to feel immediately like a friend, ushered to a convivial dinner party that celebrates authentic cooking. The ever-changing, made-from-scratch menu highlights and celebrates seasonality, but does not veer from its cornerstones: seafood, vegetables and wild mushrooms. The no-tipping eatery was deemed the best new restaurant in Canada, when it opened in 2012, and is a staple on the Canada's Top 100 list. Husband-and-wife owners Michael Caballo and Tobey Nemeth celebrate love in every form at Edulis: the love of food, the love of good company, and their own labour of love with the restaurant. They transformed Niagara Street Cafe's 30-odd seat space into one of the city's top culinary gems in an intimate, unpretentious setting, spread over two twin dining rooms. 169 Niagara St.
Click here to see the rest of the list
Streets of Toronto would like to extend our thanks to all of our judges:
David Adjey Bouffe
Tony Andrady Petros82
Michael Angeloni Amano, Union Chicken
Romain Avril Neruda
Arron Barberian Barberian's
Victor Barry Piano Piano, Café Cancan
Mitch Bates Oji Seichi
Francis Bermejo Mother Tongue
Hemant Bhagwani Goa, Good Karma
Michael Bonacini O&B Restaurants
Daniel Boulud Café Boulud
Stuart Cameron Bocado
Ryan Campbell Il Covo
Zane Caplansky Caplansky's Deli
Massimo Capra Capra's Kitchen
Haan Palcu Chang SoSo Food Club
Marc Cheng Clio
Kate Chomyshyn Fonda Balam
Darren Cuoto Oretta Midtown
Jennifer Coburn Gia
Ted Corrado Toronto Beach Club
Justin Cournoyer Actinolite
Anna Chen Alma
Jennifer Gittins Little Sister
Julio Guajardo Fonda Balam
Michael Hunter Antler
Zach Kolomeir Dreyfus
Patrick Kriss Alo, Aloette, Alobar
Nick Liu DaiLo
Trevor Lui Joybird
Chris Locke Marben
Frank Martin Ink
Rosa Marinuzzi 7 Numbers
Vito Marinuzzi 7 Numbers
Laura Maxwell Drake Hotel
Roger Mooking Food Network Canada
David Neinstein Barque
Adrian Niman Food Dudes
Laura Petracca Lena
Matthew Ravenscroft Gia
Nuit Regular Kiin, Pai
David Rocco Bar Aperitivo
Javier Romero Flor Mexicana
Anthony Rose Rose and­­­ Sons Deli, Fet Zun
Elias Salazar Waska Peruvian Chicken
David Salt Drifter's Solace
Jordan Sclare Chotto Matte
Chantana Srisomphan Khao San Road
Kamen Sun Sushi Masaki Saito
John-Vincent Troiano Frilu
Rafaelle Ventrone Oretta
Cory Vitiello Flock
Anthony Walsh O&B Restaurants
Craig Wong Patois