Fabulous foodie festivities
Taco Fest
This festival is coming back to Ontario Place from June 17 to 19, with three days stuffed with over 125 variations of tacos from 30 different vendors. Classic and experimental tacos alike will be available.
Taste Toronto
As one of Toronto's longest-running food festivals, Taste Toronto is celebrating its 30th year at Evergreen Brickworks on June 12. Vendors include chefs Nuit Regular and Craig Wong.
TD Taste of Asia
Since 2003, this free festival has offered patrons the chance to immerse themselves in the rich culture and cuisine Asia has to offer. This year's version takes place from June 24 to 26 on Kennedy Road. Festivities begin at Steeles Avenue.
Food Truck Festival
From July 29 to Aug. 1, this free admission festival will offer mouth-watering dishes from the city's most iconic food trucks. Different cuisines, dishes and culinary styles all come together at Woodbine Park.
Superfresh
Trevor Lui's recreation of a Singapore night market brings Asian cuisine to the forefront. Japanese omelettes mix with cocktails and are greeted by live entertainment pop-ups at this food market.
A city ripe with fruity finds
Pineapple bun
Bake Code combines Asian and European baking practices to create fusion- flared dishes that are tough to find anywhere else in the city. The salted egg yolk pineapple bun is one of the delicacies, perfect for a midday summer snack. 4910 Yonge St.
Strawberry shortcake
Three layers of vanilla sponge cake meet freshly diced strawberries and fresh whipped creams to create Dessert Lady's strawberry shortcake masterpiece. Depending on the size ordered, it can serve anywhere from two to 120 people. 1 Sultan St.
Peach cobbler
Wanda's Pie in the Sky, a longtime Kensington Market favourite, churns out desserts that are each more tempting than the last. The sweet peach pie has won awards for a reason: this version is made with pecans and a brown sugar praline cover. 287 Augusta Ave.
Great patios + cool cocktails = good times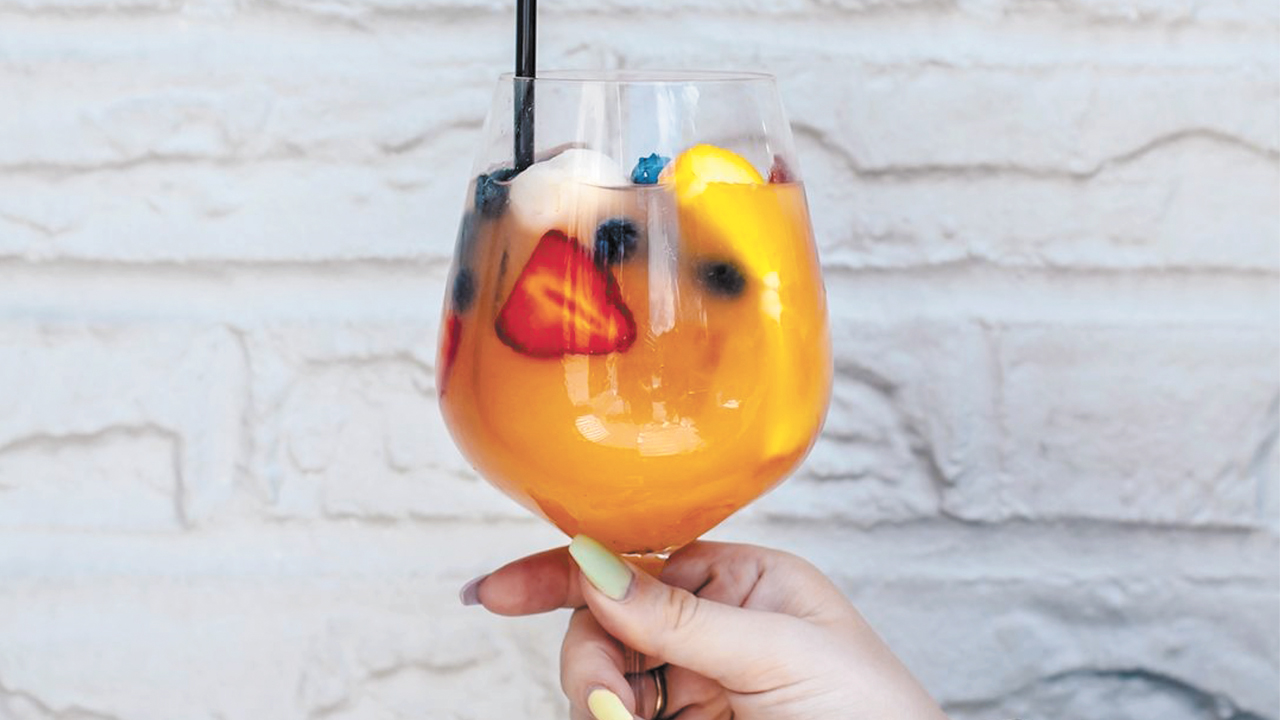 Kasa Moto's sake sangria
Fusion just got fruitier. Sangrias get a Japanese twist at this trendy Yorkville restaurant, which infuses sake into its version of the summery drink. $17, 115 Yorkville Ave.
Amal's The Secret Garden
Arguably Yorkville's trendiest eatery, it's the place to sip on The Secret Garden, made of vodka, cointreau, apple, mint, pomegranate, lime, cucumber and bitters. $18, 131 Bloor St. W.
Union Social Eatery's Pimm's & Ginger
Fruity flavours like cranberry and lemon meet cucumber and mint to match the Pimm's No. 1 Cup base of this unique cocktail. $8.49, 4899 Yonge St.
Santorini Estiatorio's mojito
Bring authentic European flavours to your cup with this Thornhill restaurant's Greek mojito and enjoy the picturesque patio. $16, 288 John St.
A Caesar at The Score
Caesars take on crazy personalities at Score on King, where the Canadian classic is combined with wild toppings like cheeseburgers, chicken wings and even breakfast sandwiches. 107 King St. E.
Went to a garden party

Fonda Lola
Salvaged decorations brighten up this compact eatery that serves up unique spins on margaritas and Mexican food. The back patio is crawling with plant life too. 942 Queen St. W.
Quadro Ristorante
This Little Italy eatery has a sprawling patio that feels like a respite from the streets. Enjoy a glass of wine or a salad beneath palm leaves and umbrellas. 577 College St.
La Cubana
The Roncesvalles location of this family-run restaurant offers a bright, sunny back patio that's perfect for enjoying comfort Cuban fare among the sunflowers. 392 Roncesvalles Ave.
The Duchess of Markham
An age-old tradition in Markham, this tavern has been a community staple for ages. Enjoy the extensive menu on the string-lit back patio while taking in a cold beer. 53 Main St. N.
This summer's 6 must-try ice cream creations
Matcha Tea & Dessert
Canada's first gold (24kt.) ice cream shop has flavours that change weekly. 505 Hwy. 7, #15
Milkcow Canada
Organic milk-soft ice cream meets watermelon for this refreshing treat. 2651 Yonge St.
Fugo Desserts
Handcrafted ice cream is topped with chocolate chip cookies. 265 Queen St. W.
Golden Bubbles
Sweet red beans top matcha ice cream on a bubble waffle cone. 3276 Midland Ave., #C125
Grandmama's Waffles
Coloured and flavoured waffles meet savoury ice cream. 363 1/2 Clinton St.
Tokyo Hot Fried Chicken
The Nashville Ice is hot and cold. 656 College St.
Grab-and-go park-ready picnic baskets
When the pandemic hit, restaurants had to get creative with their offerings. The result was an Instagram-worthy picnic basket, perfect for socially distanced park hangouts on warm afternoons. But places like Tala Toronto, Oyster Boy and XO Bisous have kept the picnic format on their takeout menus even as indoor dining returns to the city, giving foodies the chance to take in good eats and good views at parks and beaches across the city. Anything from salads to sandwiches to meats from an array of cuisines are included in the city's options.
­Midtown's southern BBQ bonanza
Backyard Smokehouse
Generous portions in a warehouse-style setting take you back to a homestyle family barbecue. Burgers, ribs and smoked chicken ooze with unmatched flavour. 264 Dupont St.
Stockyards
This BBQ joint is famous far beyond the midtown borders. People travel far and wide for fare that was once featured on Guy Fieri's Diners, Drive-Ins and Dives. 699 St. Clair Ave. W.
Benny's Barbecue
The former Alleycatz space has some life again thanks to this locally owned BBQ spot. Menu options include barbecue platters, brisket, pulled pork and ribs. 2409 Yonge St.
Earlscourt BBQ
Local, seasonal and slow cooked is the name of the BBQ game at Earlscourt, where everything is also ethically sourced. There are events every open night too. 1278 St. Clair Ave. W.
Smokeshow BBQ & Brew
Live music and large screen TVs pair with the mouth-watering BBQ fare, like pulled pork and brisket sandwiches. Inventive vegetarian options are also available. 744 Mt. Pleasant Rd.