On Geary Ave, Main Stage Rehearsal Studios builds upon Rehearsal Factory's legacy beneath the shadow of a megachurch. Meanwhile, the founders of Silverthorn Studios bid farewell to the community space they built and look toward an uncertain future.
Toronto musicians are losing rehearsal spaces. They won't go quietly.
Saying goodbye to the Geary Ave Rehearsal Factory
In December, Rehearsal Factory president Chris Skinner gave a statement to Exclaim! confirming the sale of the Geary Ave location. This property is split between two separate buildings, 322 and 330 Geary Ave. Despite community outcry, the Geary Ave location was sold to the controversial C3 church which believes, amongst other things, that marriage "is exclusively between a man and a woman."
Greg Fry, business director and location pastor with C3, said of the purchase, "We see the space on Geary as an awesome opportunity to do just that—create a place of resourcing, celebrating, and partnering with the community around us.  We are very familiar with the city's plans for the area in terms of the Geary Works study and are confident that our thoughts and vision for the space are aligned."
Still, city planners have said that in general, city policy is not to have new places of worship in employment areas. 
Although Fry did not have firm details about the timing, he expressed the church's plans to operate the space as a community hub. In a 2021 "VISION BUILDERS" brochure, C3 stated that their next steps are to renovate the space at 322 Geary.
Fry said, "we understand the need for rehearsal spaces in our city."
He noted the current tenancy of Main Stage Rehearsal Studios and said that "There are no clear plans beyond the current lease term for the space at 330, we are looking forward to being good neighbours to Main Stage and the rest of the community when the plans at 322 are fully developed.
Former church members have also raised issues with the church's fundraising tactics and claimed that church leadership provides inadequate resources for congregants dealing with serious issues.
When asked for comment, Fry said, "We invite people from every walk of life to come experience God with the opportunity to start a personal relationship with Jesus."
Tenants of 322 Geary Ave were served eviction notices on January 13th asking them to vacate their studio spaces by March 15. PUP guitarist Steve Sladkowski tweeted a photo of the full letter, which was signed off with the statement, "keep on rocking." It was a hard knock for the music community.
Silverthorn Studios shuts its doors
On April 1st, another local recording studio announced that it was closing its doors. Taylor Abrahamse and Bryn Scott-Grimes, co-founders of Silverthorn Studios, disclosed through an Instagram post that a cash "bully offer" had swept in at the eleventh hour and bought the property.
Longtime friends and Silverthorn Studios co-founders Taylor Abrahamse and Bryn Scott-Grimes did not originally set out to create a recording studio. They were looking for a space to record personal projects but quickly realized that, as Abrahamse recalled, "You can either go big or go home, you know? There's no point in doing a slapdash recording studio."
They went big, spending two years turning a 600-square-foot living space into a professional recording studio with seven sound-isolated booths designed for live band recording.
"We created a really beautiful atmosphere," said Abrahamse. "It was designed to be like this beautiful little cottage in the city […] something very special there that you feel as soon as you walk in."
Abrahamse said, "We were the middle ground where emerging artists could have a community and develop and learn."
Musician David Finneran recorded his song Tree Branch at Silverthorn Studios. "Definitely a pity," he said about the closure. "Silverthorn was a unique place, professional with a reasonable price point. I don't know that there are many places like it."
Scott-Grimes and Abrahamse recall special memories like the massive art show that actor and visual artist Aron Tager held at Silverthorn Studios before his passing and the educational cartoon voice acting workshops taught by Abrahamse.
In October 2021, their landlords informed Silverthorn Studios of their intention to sell. Scott-Grimes and Abrahamse began the painstaking process of reaching out to potential buyers interested in preserving the recording studio.
Finally, they found a collection of serious investors willing to save the studio. They were excited about creating a space for future generations of creatives.
Two days before the presentation date, a cash offer came through with a string attached — accept by 11:59 that night, or the offer would be rescinded. Abrahamse and Scott-Grimes scrambled to put in a counter-offer. Their landlords accepted the cash offer.
"It just puts a ton of pressure on the homeowner to accept it," said Abrahamse. He thinks a 24-hour grace period for other offers to be presented should be mandatory.
Both Scott-Grimes and Abrahamse regret not taking their landlords up on previous offers to purchase the property, which go as far back as 2016.
Scott-Grimes spoke with the buyers, who had no idea that the home served as a recording studio. The founders received a payout from the sale as part of their agreement to terminate the tenancy.
"I put everything in my life aside for months to try and save this place," said Abrahamse. The stress caused him a lot of anxiety. The community loss was devastating on a personal and professional level.
Abrahamse and Scott-Grimes hosted a farewell party where community members could reminisce and say their goodbyes. They're currently fundraising, which will go to preserving much of the technical equipment and relocation costs.
"That's for the careful demolition of the space," said Scott-Grimes, adding, "and it's partially also just for the transition because the reality is we do have to basically shut down our business."
Scott-Grimes said that although he'll miss everything, "It was a great sendoff […] We just had jam sessions all night long."
Going forward, Scott-Grimes plans to convert his Nissan Cube into a camper and tour around the United States for the summer. Abrahamse plans to record fifty songs before he has to vacate the space.
Still, they never thought they would have to imagine a future without Silverthorn Studios.
A new hope at 330 Geary Ave
Back at 330 Geary Ave., the studio is reopening as Mainstage Rehearsal Studios. The space is owned and operated by former Rehearsal Factory employees Alex Fazio and Justin Dobbin.
"We're just really excited to be able to keep it open. Ultimately our goal is to make it more community-oriented," said Fazio, "If we make it more inclusive to all art forms, there's no telling as to where it can go creatively."
Fazio is quick to note that Mainstage Rehearsal Studios is owned and operated completely independently from C3 Toronto. As for what will happen after their three-year lease ends?
"I have to go kicking and screaming," said Fazio. "I'm going to stay as long as I possibly can."
Although he understands the frustration and stress that the recent closures caused musicians, Fazio stresses, "Our hearts are in the right place."
He has been involved with the Rehearsal Factory in various capacities since he was seventeen years old. Fazio has come a long way from his early days of scrubbing out bathrooms. Now, he is tasked with keeping the studio's legacy alive.
Although he doesn't want to sound "too corny," Fazio rhapsodizes about his time working with a diverse community of music lovers. He's excited to build a space that will mean as much to others as the Rehearsal Factory meant to him.
"I hope in the very near future, hopefully by this summer, to collaborate with local artists," said Fazio about putting up murals to refresh the space. He views it as an opportunity to collaborate with local artists of all types, not just musicians.
"I'm just very happy that we're able to contribute 21,000 square feet devoted to arts and culture in the city," said Fazio.
Josh Trager, who was using the 322 Geary Rehearsal Factory space after his original Rehearsal Factory location on Richmond St closed, met Fazio the day he was evicted. "He gave me the rundown on what was going on, which definitely gave me some hope."
Trager said that he's relatively lucky, as he has other options for spaces to rehearse and practice his craft. Still, he expressed regret for those musicians who aren't as lucky or connected.
"It's a real shame because people like to consume music and the arts," said Trager, "but when it comes to actually nurturing and supporting the musicians and the artists that are actually putting their heart and soul into their work, they're on their own and shit outta luck."
"I definitely feel for emerging artists," he said.
Where does 'music city' go from here?
"The loss of this affordable space has created this real barrier for the arts to exist here," said Abrahamse.
"Budgets are already so tight for musicians," said Abrahamse. "You can't have the new Tragically Hip or the new Beatles if you don't provide the conditions in which someone can experiment and record."
Abrahamse raised an interesting point about the future of music, noting that many musicians have adapted their sound to smaller recording spaces.
Trager raised the same sentiment, "The music that comes out of [recording spaces] we're hearing less and less on radio and more and more, you're hearing the types of music that can be produced by a single person in a small room on a laptop. The musical trends are also reflecting the realities in terms of literal real estate for music to be created."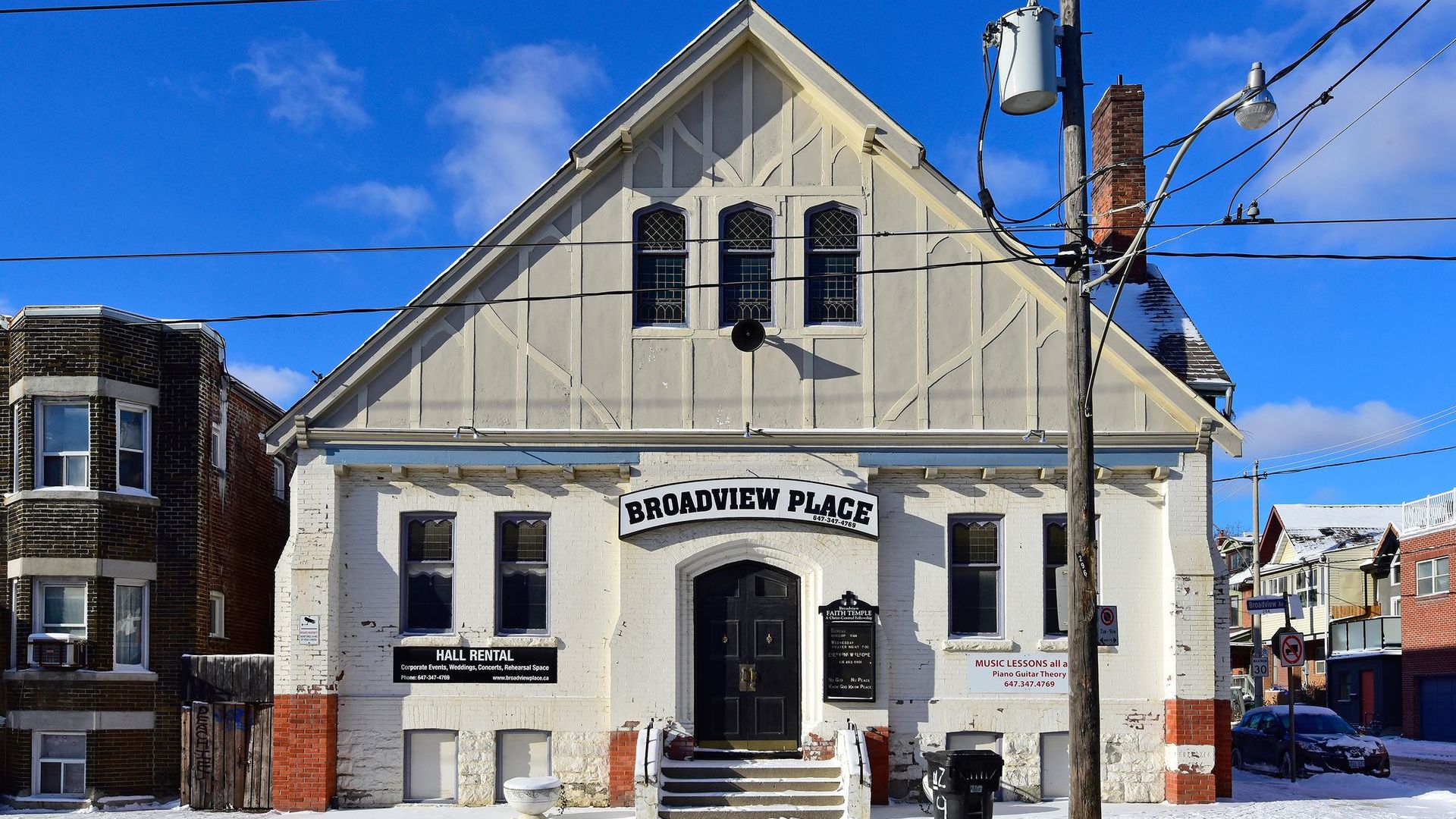 The realities of the real estate market have rippled across Toronto's music industry. Still, there are glimmers of hope. Live music venue Hugh's Room found a way to keep its doors open at a new location, although fundraising is ongoing in order to secure the property. A former SVP Sports building on Queen West is turning into a non-profit live music venue and rehearsal space.
Even Silverthorn Studios might not be saying farewell forever. In a statement to Streets of Toronto, Abrahamse said that the studio has entered into an agreement with Hugh's Room.
If Hugh's Room successfully secures the required funding, they will acquire Silverthorn Studios. The vision for this partnership is to preserve a space for emerging artists in Toronto and ensure that the city has a space where the next generation of musicians to flourish.
"Hugh's Room only has three months left to be saved, and it's truly a crossroads," wrote Abrahamse. "As far as I'm concerned, if we don't save Hugh's Room, we will have truly admitted this isn't a music city, and most arts & culture will gradually trickle out of here, with no foreseeable chance of returning. The arts are a fragile ecosystem — losing one part of it eventually causes the rest to topple, or worse — sink into agonizing, inescapable mediocrity."
Scott-Grimes asserts that preserving the music community in Toronto requires a dual approach of passionate individuals taking action to produce the music they want to, but that it would also be great to see, "people who do have more capital […] preserving some spaces."
Fazio said that it can feel insurmountable to be able to have these art spaces in downtown Toronto but adds, "it's been a pretty good ride."
Whatever happens, it is clear that the music community in Toronto isn't going without a fight — they'll do whatever it takes to keep on rocking.