Waterfront Toronto gave the city its first look at the upcoming Quayside development yesterday and jaws collectively dropped.
When Sidewalk Labs pulled out of Toronto and decided not to initiate a high-tech, futuristic development, it was unclear if the city was holding back and would squander the opportunity for a world-class development. Well,  Waterfront Toronto's announcement of a new developer's vision for the site, it is now clear that although it might not have the fancy Google association, the waterfront will indeed be home to a groundbreaking world-class development that will be the country's first all-electric, zero-carbon master plan.
The Quayside Development Opportunity is a 12-acre (4.9 hectare) area located at the foot of Parliament Street and Lake Shore Boulevard East in Toronto.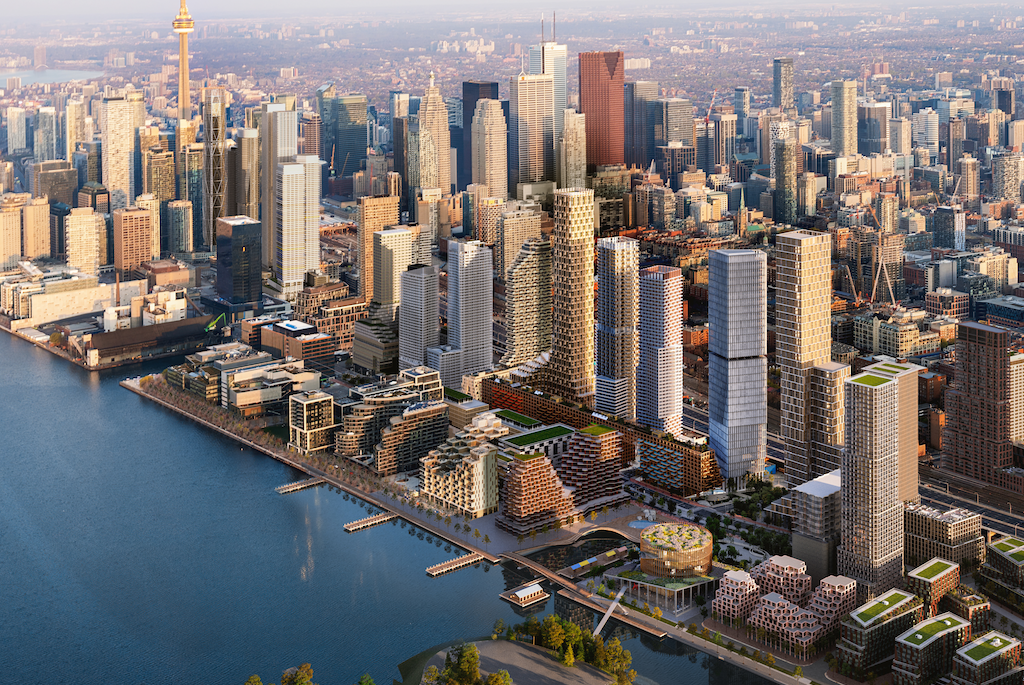 Following an international search, Waterfront Toronto announced that it will begin negotiations with Dream Unlimited Corp. (Dream) and Great Gulf Group, known as Quayside Impact Limited Partnership, for developing the downtown Toronto site.
"Today we take an important next step in unlocking the full potential of the city's waterfront. Dream Unlimited and Great Gulf together with their team of architects and local partners have a strong proposal to make Quayside and Toronto's waterfront among the best in the world," said Jack Winberg, chair of Waterfront Toronto's Investment and Real Estate Committee (IREC). " As we begin negotiations on a project agreement, we are more confident than ever in the transformative power of the Quayside project to the economic and social recovery of Toronto, Ontario, and Canada."
Already, urban planning folks on social media are praising the plan.
This is how we do it: new proposal for Quayside,site of the failed Sidewalk Labs project, from DREAM + @greatgulf. 800 affordable homes integrated in all phases. First electric, zero carbon community on the waterfront. Mississaugas of the Credit First Nation as a project partner. pic.twitter.com/bIDATN8bV0

— Jennifer Keesmaat (@jen_keesmaat) February 15, 2022
Quayside could be Toronto's Canary Wharf. Exciting! https://t.co/G1DAe0jSec

— Vishesh Raisinghani ?? (@Visheshrr) February 15, 2022
According to a Waterfront Toronto press release, highlights of the new vision include more than 800 affordable housing units, new public spaces including a two-acre forested green space, a new landmark cultural destination with a multi-use arts venue, and world-class architecture featuring one of Canada's largest residential mass timber buildings.
Another unique aspect of the development is the collaboration with the Mississaugas of the Credit First Nation.
In addition, the development creates a made-in-Toronto model of partnerships including Crows Theatre, Centre for Social Innovation, The Bentway, Rekai Centres, George Brown College, and WoodGreen.
"Since day one, our objective with Quayside has been to create a new model for building a 21st-century neighbourhood — one that is truly liveable, affordable, and sustainable," said city councillor Joe Cressy, in a statement. "Today's decision by Waterfront Toronto brings us closer to that goal."
The development will also include a variety of sustainability innovations and will become Canada's first all-electric, zero-carbon master plan at a large scale (3.4 million square feet).
"Quayside has the potential to help lead our post-pandemic recovery," said Cressy. "To bring to life a new vision for how we can build inclusive, mixed-use, affordable, and sustainable neighbourhoods."
Of course, the news release does not say how many buildings or units will line the lakeshore as part of this groundbreaking development. But, it looks like quite a number. For that tidbit, we might need to wait until the fall when a project agreement is set to be reached. Stay tuned.