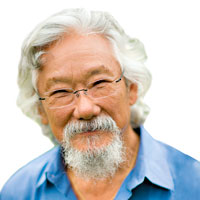 David Suzuki is the host of the CBC's The Nature of Things and author of more than 30 books on ecology (with files from Ian Hanington).

---
There's truth to the saying "Think globally, act locally." To resolve a planetary crisis like climate disruption, we need change from the top, but without localized support, that's difficult to achieve. Grassroots action can grow into something much bigger.
Think of Greta Thunberg, whose 2018 solitary school strike for climate outside the Swedish parliament blossomed into a massive youth movement that drew more than four million people to 2,500 events in 163 countries just one year later.
Local action is beneficial even if it doesn't become a worldwide movement. It can inspire municipal or provincial governments to implement important policies, pushing governments higher up to act.
To help those who want to get involved to better their communities, the David Suzuki Foundation has created the Future Ground Network. It provides education, tools and networking opportunities to help groups throughout Canada strengthen their impact, on initiatives ranging from urban agriculture projects and climate campaigns to advancing sustainable transportation solutions.
As Holly Reid, of Cycle Don Valley Midtown, said, "We can benefit from the knowledge and insights of other organizers in the network. The tools and supports that the Future Ground Network provides — webinars, action network and access to Superteam volunteers — will make us more effective at getting the job done."
Foundation staff know how effective local action can be. Its Butterflyway Project has inspired people to plant thousands of pollinator-friendly wildflowers throughout Canada.
It started as a project to support monarch butterflies making their migration from Canada to Mexico and back. Monarchs need milkweed to lay eggs and feed, but urban and agricultural development has been wiping out the plants. Over the past four years, 1,008 volunteers have planted more than 54,000 native wildflowers in over 1,000 pollinator patches in 100 communities to feed and shelter birds, bees and butterflies.
Change isn't always easy, but it's often necessary. Resolving the climate crisis brings many other benefits beyond ensuring improved health and survival rates for humanity — from high-quality jobs to greater equity.
Initiatives like the Future Ground Network can bring people together to build a better society and help heal the world.