The expansion of Toronto's Turkish bakery Simit and Chai was in the works long before it came to life.
John and Dee Ulgen spent three years searching for a space that would match their "particular" vision, and, finally, in November 2020, that vision led to the opening of Turkish brunch venue, Pasaj.
Having both grown up in Istanbul, spending most of their lives going back and forth from Canada before settling in 2016 with the opening of Simit and Chai, the husband and wife always had the idea of opening a bakery and café-style restaurant that matched the aesthetics of the spaces they grew up in.
Dee, whose grandparents owned a bakery in Instabul, says she was born into the industry. "I inherited the culture and the experience that I had when I was a little kid," says Dee.
After finally finding the perfect location for Pasaj in Leslieville, the couple spent 11 months tearing down walls in the 1928 building, putting in a cobblestone floor, adding a manhole cover, and by the time it opened, the interior was just as the couple imagined.
"In the end, it looked like a pasaj in Turkey," says John, "which is a passage between two buildings. It feels like you're still walking outside when you enter the space."
Hence, the name Pasaj. "It feels like you're travelling through Istanbul," he adds, stating that the bakery doesn't merely provide food but also an experience.
Like a lot of the restaurants that opened during the pandemic, Pasaj didn't start out the way it was intended. Though it started as a bakery similar to Simit and Chai, as restrictions opened, so did Pasaj, and the Ulgens were able to seat guests and serve their Turkish-style brunch.
The Food
On the brunch menu is a traditional Turkish breakfast platter called the Break-Feast. And what a feast it is, with a variety of cheese, bread, pastirma (dried cured beef), housemade dips like Muhammara, housemade jams, sausages, eggs, and plenty more. It even comes with a breadbasket.
On top of the authentic Turkish breakfasts, Pasaj serves up some twists on classic American dishes. This includes a mean French toast, made with 100 per cent sourdough dark rye with walnuts and served with a fig-walnut cream cheese and fresh fruit. The bread and cream cheese, like everything at Pasaj, is made in house.
As for drinks, Pasaj offers coffee, including a traditional Turkish latte. But, rather than cooking it over the stove the usual way, it's done on the espresso machine.
And it wouldn't be a sister restaurant to Simit and Chai without shakshouka, an egg dish soaked in a housemade tomato and bell pepper sauce. This, the Ulgers say, has become a staple on the menu because of its popularity at Simit & Chai.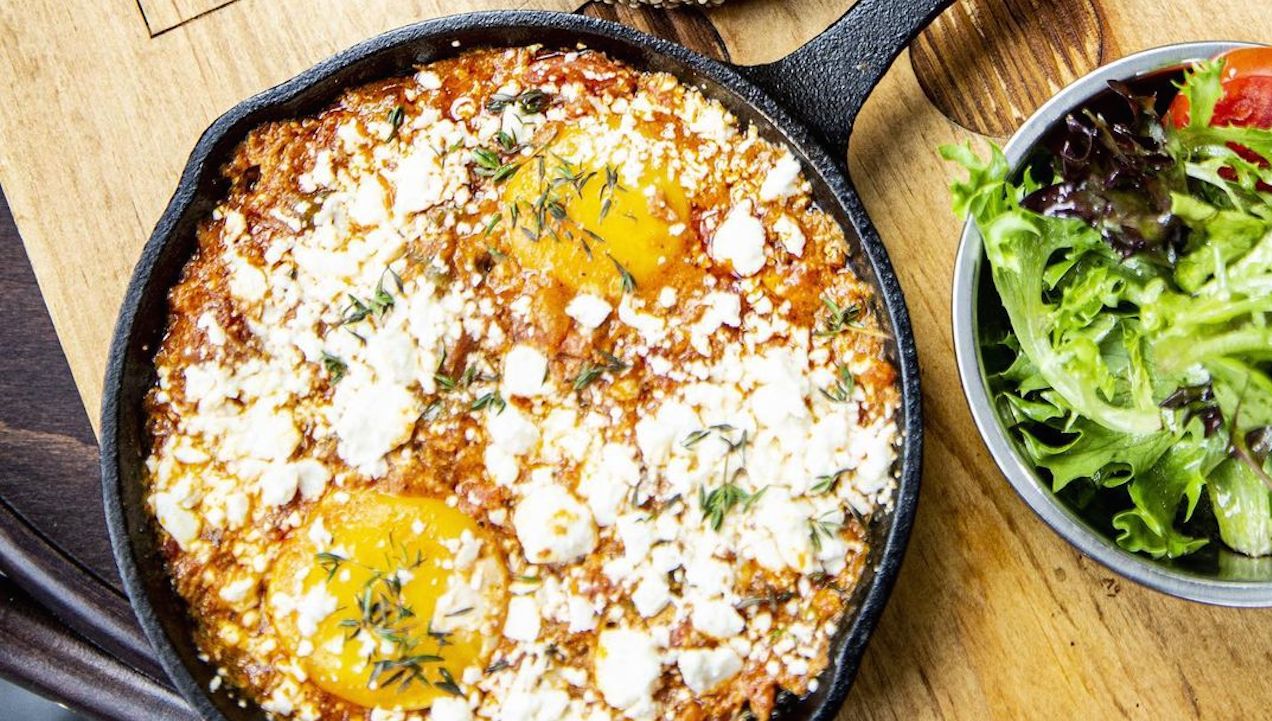 So popular, in fact, that they've begun to sell it wholesale in the bakery. "It's really a beautiful way to share," says John. "It's been wonderful that we get to sell it in a way that [customers] can make it on their own in their own way."
John and Dee Ugler are "on a mission" to showcase authentic Turkish cuisine. "We feel there isn't enough representation," says John, mentioning that it gets overshadowed by cuisine from similar areas like Italy and Greece.
The couple is already planning their next project, and, like their first two venues, the next is sure to do the streets of Istanbul proud. Find Pasaj at 1100 Queen Street East, with brunch running every day from 9:30 a.m. until 3 p.m.