Unique apartments aren't exactly hard to come by in Toronto, but it's unlikely you've ever seen one quite like this one. You'll find everything from '70s children's toys to a vintage salon chair decorating this Parkdale apartment, courtesy of Emma, a former vintage picker for a Toronto vintage shop, and her partner Luke, a gardener and painter (along with their cat Tabasco).
"So much of this home is just scraps from the side of the street [or] Luke built it," Emma says. Their apartment unit looks like a miniature museum featuring vintage antiques and knick-knacks dating as far back as the '30s.
The apartment was certainly a work in process, with the decor curation starting when Emma was in high school. "When I would find a unique piece I'd be like, 'It's one in a million.' My mom was very supportive in putting aside a few storage boxes in the basement for me. It's also with the help of gifts. People give us things that they think will fit better in our space," she says.
Read below for Emma's best styling tips for injecting your personal style into a small home space and a tour of the apartment.
Emma's tips for styling a small space
Accent paint– An accent colour opens up and brightens a room (it could be just one wall, or even half a wall!)
Lighting– An easy way to incorporate vintage pieces into your home. It's a lot simpler to switch out light fixtures than you'd think. Bonus tip: LED lights behind the bookshelves.
Plants– They breathe life into a space and make a space feel more welcoming.
Hang everything– Even things that aren't meant to be hung can serve as an interesting decoration. (Emma opts for toys and collectibles.)
Take advantage of wall space– Shelves are a great way to get things off the ground and guide your guest's eyes upwards, making the room feel larger.
Organize your bookshelf– Arrange your shelves with the heaviest items at the bottom. Emma stores miscellaneous items in vintage suitcases at the bottom of their bookshelf.
Keep your eye on the curb– On garbage days, go curb shopping for some finds, or source furniture from your local thrift store. This is a great way to find unique furniture, and often well-made pieces.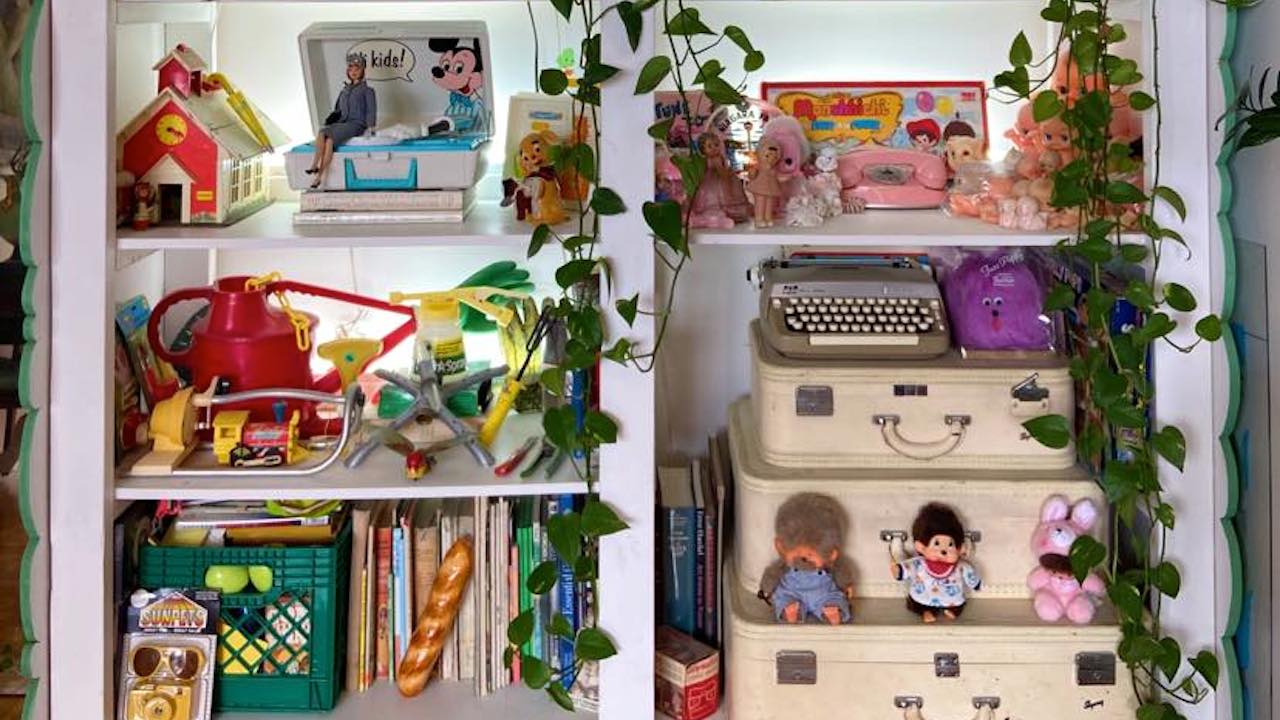 Backlit shelf hosting themed collections of vintage knick-knacks.
Emma says cheap backlighting can make all the difference for a shelf display. "I literally have strips of LED lighting taped to the back of each shelf. It makes the shelf look like a museum or gallery display," she says.
Close-up of a shelf decorated with vintage gardenware, a sprinkler from the 60s and various tools ranging from the '30s to '70s.
You might assume that the shelfwares are an even split between Emma and Luke, but Emma says she is the one with the passion for "arranging."
"I definitely am the collector between us so I've got a bit more on this shelf, but Luke has a shelf right here filled with a lot of great antique garden-themed pieces," she says. "Luke's passion is gardening and doing things like watering the plants every Monday. And my passion is arranging the things in our home."
A silhouette of a door painted onto the wall in a cloud pattern.
This sky-inspired door came about after the pair made the move from one unit to another within the same building.
"We had lived in the building just next door that had the exact same floor plan but flipped. We moved because of an incentive offered by this building [during pandemic lockdowns] for one month's free rent. So we took advantage of the opportunity to save money, while also improving our view. We now look over the waterfront," Eamm says.
But since they missed walking up to the view of the long hallway, they painted the silhouette of a door where their hallway used to be, in a print of clouds so it essentially looked like a doorway to the sky. "It's a great hack for making a room look longer," advises Emma.
Vintage cabinet filled with colourful '70s toys.
This vintage cabinet holds a collection of toys from the '70s, inspired by toys from Emma's dad's personal collection as a child. "My grandma had held onto so many of my dad's toys, she had them in the basement and I always liked them. When I would go thrifting, I would gravitate still towards toys," she says.
"I always played with baby dolls as a kid and as an adult I'm still buying dolls. I just appreciate them, they're made so well."
The quality is something that Emma finds is unique to toys made before a certain era. "Right up until the '70s and '80s toys especially were still of the era when things were made better– everyone says that, we know it about clothes. Almost every toy I own was made in Toronto or the surrounding area, or made in Canada. Nothing is now," she says.
Vintage salon chair with hair drying fixture attached, whtie with a blue pleather seat cushion.
Vintage couch against a wall, in front of an oval stone topped coffee table. The couch is decorated with stuffed animals and colourful pillows. A painting is hung above the couch, and a vintage light fixture with 22 light bulbs is hung above that.
While the light fixture on the wall is quite the centerpiece now, Emma says it didn't start out that way.  "Luke sourced the light bulbs and drilled the holes. I'm the decorator but when we need something, Luke can create it."
With so many different design elements, it can be difficult to keep everything cohesive. "I like to source pieces with similar or complementary colours, as well as gradients so that I can transition into a new decor theme subtly," Emma says.
The view of the balcony from inside Emma and Luke's apartment. Seen is a vintage chair, flower pot, floor lamp and repurposed table thrifted at Salvation Army.
Emma's main inspirations?
"Baroque artwork, 70s colours, micro 60s and 70s patterns, antiquesm pastels, Victorian lace…the list goes on."
The hanging plant fixture separates Emma and Luke's shared work space. Not pictured is Luke's work table with unseen paintings. Emma has a small reading table tucked next to the kitchen.