A popular hair salon, Ergys Studio, near Eglinton Avenue West and Bathurst Street used the COVID-19 closures to transform its waiting area into a coffee shop and cocktail bar.
Clients and passersby alike can come into Ergys Coffee till Cocktail for a latte and a croissant or an Espresso Martini – their specialty – at this new spot nestled in behind the popular salon, a mainstay in the area for the past six years. In true speakeasy fashion, Ergys Coffee till Cocktail has a discreet alleyway entrance and the owner, Ergys Tafilica has done minimal promotion, preferring to keep things on a "if you know you know" basis.  
Originally from Albania, Ergys had dreamt of adding a European-inspired coffee shop and cocktail bar to the back of his salon for years, but struggled to find the time to bring these dreams to life as salon owner and master stylist. 
"COVID forced me to slow down. Suddenly, I had all this time and I decided to go for it. Many businesses downsized during this time but I expanded and it's worked out so far," he says.
View this post on Instagram
During what felt like never-ending closures for personal care businesses, Ergys began renovating the space formerly used as a waiting room for hair clients, securing a liquor license and transforming the spot into a place people can come to slow down, sip their drinks and connect with one another. Decked out with red and black leather furniture and a fully-stocked bar emanating neon blue light, the space gives off a warm, mid-century modern vibe with neutral wooden accents. A couple nights a week a Spanish guitarist comes and sets up shop, creating a true European escape right in the heart of Toronto's Upper Village. 
Pop in on your morning walk for the usual coffee shop offerings like cappuccinos, matcha and cortados. There are also freshly made pastries like croissants and biscotti up for grabs, homemade by Ergys' sister-in-law daily. If caffeine isn't your thing, they also offer a menu of freshly blended smoothies for a healthy morning jolt, with protein and nut butter add-ons to fuel you through the day.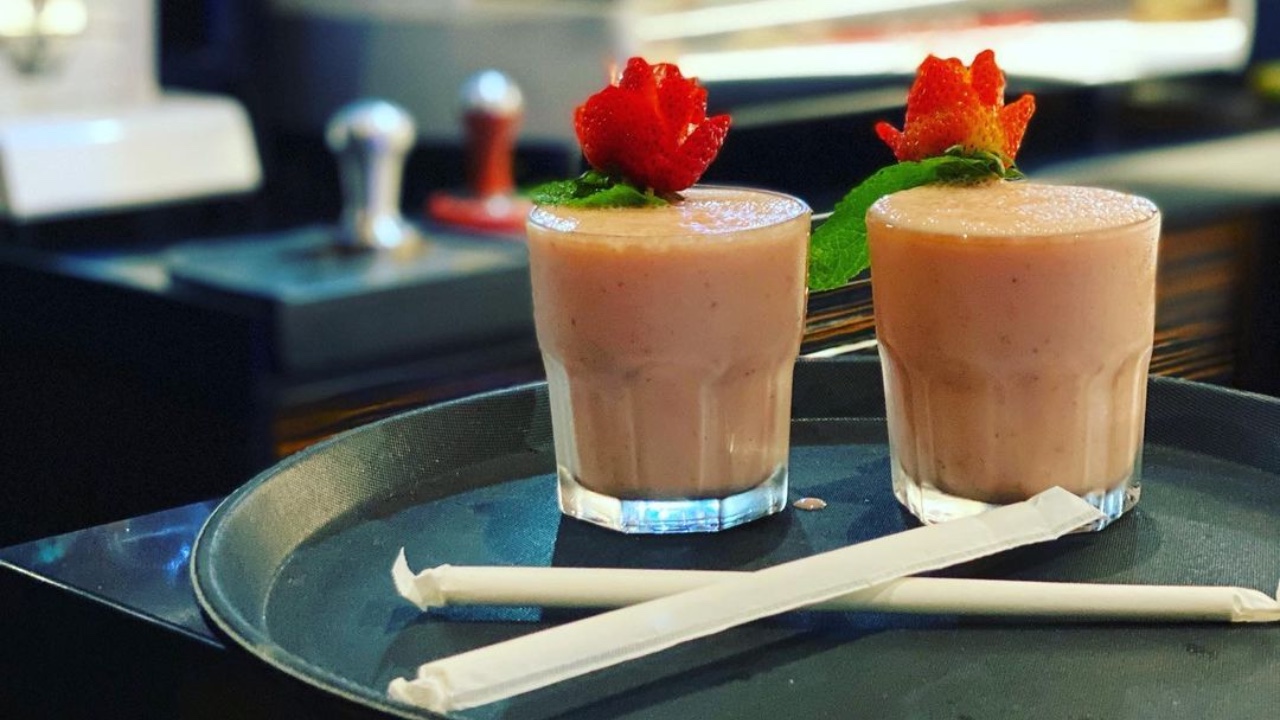 At night you can settle in with friends for the usual cocktail menu haunts like Old Fashioned's and Margaritas, or try something new like the French Martini, made with vodka, cassis and a splash of pineapple juice or the white Cosmo, a fruity blend of peach flavoured vodka, triple sec, simple syrup and white cranberry and lime juice. Peckish? While Ergys is considering expanding the evening menu in the future, for now you can still snack as you sip with small plates like charcuterie boards and chips and guacamole. 
Ergys' goal was to create something higher-end, a space that isn't competing with local big name coffee shops and a bar that isn't trying to produce long lineups at the door. Intimacy, comfortability and quality come together to create a charming spot to sit quietly and read or socialize with friends.
"My goal with this space was to make something intimate and warm. As a European man, coffee is something you sip slowly in a mug, no takeaway cups. It's a time to catch up with friends and connect and that's exactly the environment I wanted to create here."
Stop by the 1005 Eglinton West spot  seven days a week. Hours are Sunday – Thursday 7 .am. – 5 p.m. and Friday – Saturday 7 a.m. – 2 a.m.