Butter tarts, a classic Canadian treat, predate the country itself. Originating between 1663-1673, 770 women sent to Quebec by Louis XIV created a precursor using ingredients like maple sugar and dried fruit. Ontario popularized it in the early 1900s after featuring it in the 1913 Five Roses Cook Book. 
But if you want to skip the baking and treat yourself to one of these delicious gooey pastries, Toronto's best bakeries have got you covered.
Here's where you can find the best butter tarts in Toronto.
Circles and Squares
Indulge in the sweet delights at Circles and Squares, where you can skip the baking and treat yourself to their award-winning pastries — they proudly hold the title of the reigning champions of Ontario's Best Butter Tart Festival. On the bakery's menu you'll find not one but four different butter tart flavours: classic, snickers, maple pecan and pumpkin spice. And if you want to know just how popular these tarts actually are, one week back in June they sold more than 4,500 of the delicious concoctions.
Charmaine Sweets Studio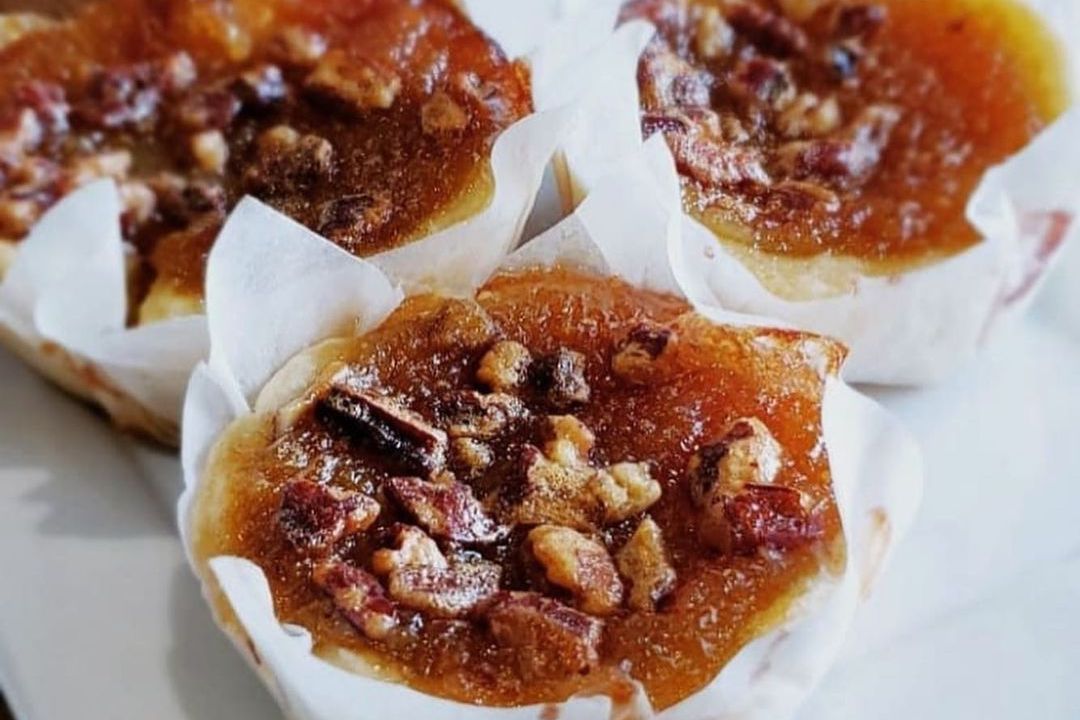 Charmaine Sweets Studio elevates the classic butter tart with a grown-up twist, featuring warmed bourbon and pecan. If you prefer the traditional, regular butter tarts are also on the menu, delivering a perfect balance of sweet, buttery filling, and golden-baked crust for a delicious symphony of flavours in every bite.
Apiecalypse Now Pizza & Snacks
In Mirvish Village, this vegan bakery achieved punk fame, transformed into an infamous vegan pizza shop in Korea Town, and then adapted into an online vegan craft kitchen, unfortunately closing temporarily due to the challenges posed by the Covid pandemic. Luckily, you can still find Apiecalypse Now's delicious butter tarts around town — considered by some to be  one of the best purveyors of vegan butter tarts "to ever exist!" We spotted these tarts of buttery goodness at Aunty Ems Deli & Coffee. You can also check out their online shop, too.
Larry's Folly
Indulge in the quintessential Canadian butter tart experience at Larry's Folly. Their time-honoured recipe embraces the mantra of "No nuts, no raisins, no nonsense." Grandma's butter tart recipe truly stands the test of time.
Eric's Handcrafted Butter Tarts
At Eric's Handcrafted Butter Tarts where unconventional flavours, like toasted marshmallow, Skor bits and double maple walnut, steal the spotlight. They also recently introduced a new shell shape (in order to reduce their waste footprint) which might even just be better than the original.
Tartistry
In honour of a decade in business, Tartistry introduces "The Ten" – a mind-blowing butter tart featuring layers of Georgia pecans, NY-style cheesecake, and their legendary butter tart filling. Topped with a chunk of Emma's Fudge Cake and a drizzle of salted caramel, this treat is available for just $10. They also have a whopping 13 flavours on their menu, including decadent flavours like roasted almond and white chocolate as well as zero sugar and vegan varieties.
Phipp's
At  Phipps butter tarts take centre stage in a variety of flavours. Choose from the classics like original, caramel, original pecan, chocolate and chocolate pecan. For those who love bite-sized delights, mini versions are also available to satisfy your sweet cravings.
Carla's Cookie Box
Carla's Cookie Box is a local online bakery owned and operated by Carla Brizzi. Specializing in award-winning gourmet butter tarts, artisanal cookies and deep fudge brownies, this bakery is a labour of love inspired by Carla's Italo-Canadian roots. In addition to classic options like plain, pecan and raisin, there are also more unconventional flavours available, including salted caramel, toffee, peanut butter & chocolate chip and Nutella.
Rob's Good Food
Rob's Good Food, opened in 2018 in East York, is making waves with their innovative Deep Dish Butter Tarts. Featuring classic pecan, indulgent chocolate pecan and timeless classic raisin options, these treats cater to every taste.