Grilled cheese has evolved beyond childhood dishes and late-night university eats, catering to all tastes from casual to gourmet. Whether you crave comfort or a sophisticated twist, the city offers a variety of options.
Here are the top 6 places in Toronto for the best grilled cheese sandwiches.
Uncle Betty's
Whether you're looking for sweet, savoury or a something in between, Uncle Betty's Diner is the place to go when looking for a hearty midtown meal. he vibrant diner sits on the corner of Yonge Street and Albertus Avenue and is unmissable with its sky-blue painted storefront. The menu is stacked high with breakkie and lunch treats, including the four cheese blend grilled cheese sandwich as well as the ultimate grilled cheese sandwich comprised of Mac and cheese, cheddar cheese and in-house smoked brisket served on your choice of bread.
Stuff'D Grilled Cheese & Tots
At Stuff'D Grilled Cheese & Tots, diners can indulge in delicious soul food through their jam-packed grilled cheese sandwiches.  Mouthwatering options include the double cheese burger tots, the Jamrock grilled cheese and the Bombay Bad Boy.
Leslieville Cheese Market
Along with a delicious selection (we're talking more than 100) of local and gourmet cheeses, Leslieville Cheese Market also has three grilled cheese sandwiches in-store, each with its own dipping sauce. Whether you're a classic cheddar lover or enjoy a gourmet twist, they've got the flavours (and then some!) you'll adore.
Meltwich
At Meltwich, they're obsessed with cheese: "the way it melts, the way it tastes, the way it elevates the flavour of everything it touches," says a statement on their website. So it's no wonder that the Etobicoke eatery is churning out sandwiches with premium ingredients and are leading the way in creativity. Along with the classic grilled cheese, they also have a tasty vegan version too.
Insomnia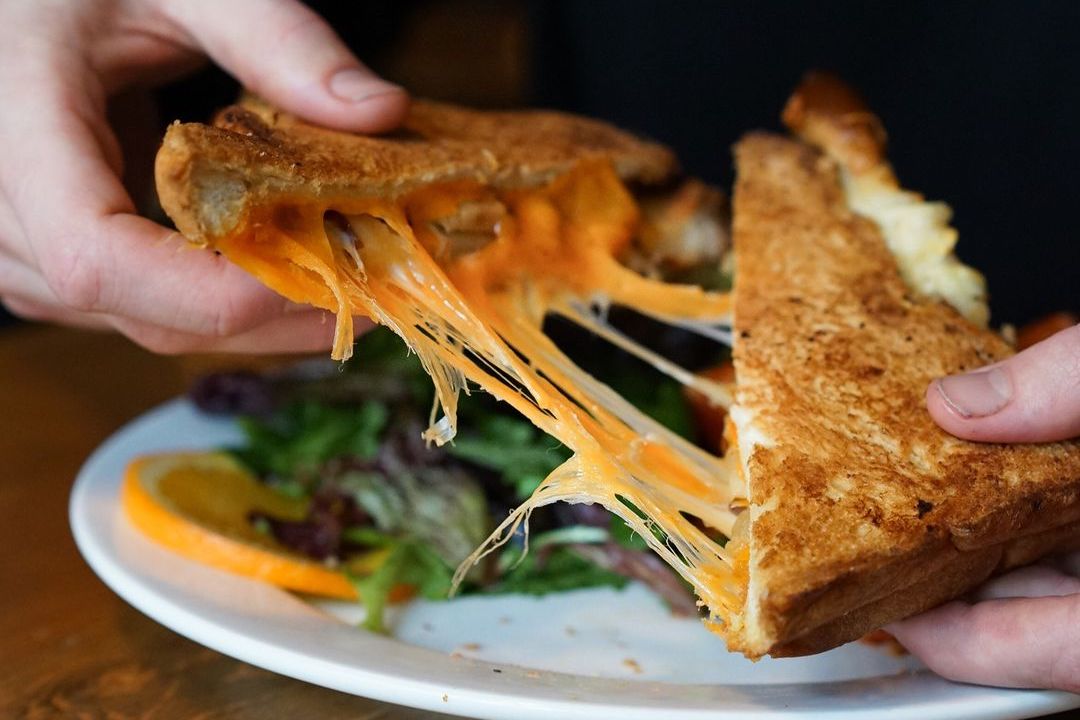 Indulge in the perfect pairing at Insomniac in the Annex: the Bacon Grilled Cheese. Packed with cheddar, tomato and your choice of peameal or crispy bacon on multigrain toast. Opt for turkey bacon if you're not a fan of red meat. 
Flo's Diner
Embark on a grilled cheese adventure at Flo's Diner, where gooey perfection meets variety. Choose from the classic cheddar or elevate your sandwich with tempting add-ons like tomato or ham for an extra layer of flavour. Craving bacon? Dive into options ranging from the savoury simplicity of bacon grilled cheese or  the deluxe combo of bacon and tomato.  For a taste of sophistication, opt for the Grilled Ham & Brie.