Summer might be coming to an end, but that doesn't mean the vacation has to stop. Unwind at Ossington's new fusion Thai restaurant that's all about dining in a laidback, comfortable, and—most of all—chill dining room.
Opened in June and owned by a team of partners of skilled cooks, entrepreneurs, and seasoned restaurant managers who all come from a Thai background, CHILL Thai Bar is a tapas-style bar that introduces authentic Thai cuisine in a modern way.
"The convergence of our ideas, concepts and timing aligned perfectly, allowing us to bring our passionate vision to life and establish CHILL as a unique dining destination," says Phume Ngampornsukswadi, one of CHILL's partners. "We are excited to introduce our authentic Thai cuisine to the community."
With a diverse culinary background that includes Thailand, Maldavia and Australia, CHILL's Chef V has developed a tapas-style menu that combines elements of Thai and French cuisine, enhanced by molecular gastronomy techniques and focused on fried rice mains, red curry, seafood and Pad Thai dishes.
A stand-out menu item is the kua kling, a dish that combines stir-fried marinated chicken with southern Thai-style curry paste, served alongside crispy Betel Leaf tempura, and the Pad Thai which is uniquely made at CHILL. A secret sauce simmers for four hours with a balance of tamarind and coconut sugar, resulting in a combination of sweet and tangy flavours.
An authentic northern Thai dish, The kao soi with lamb is another menu highlight that features a house-made thick curry broth infused with Thai spices, served with tender lamb leg and topped with an herbal oil extract.
"Our signature dishes embody the essence of CHILL's commitment to authentic Thai flavours and culinary excellence," says Ngampornsukswadi. "Each dish is thoughtfully crafted to provide a memorable dining experience for our guests."
The tapas are intentionally paired with a curated selection of signature Thai-inspired drinks, like the Thai Tea Martini (combines flavours of Thai Milk Tea and gin) and the Basil Sour, which features a soothing aroma of fresh Thai basil.
While CHILL does offer takeout and delivery options, he true essence of the tapas-style experience unfolds when you dine inside.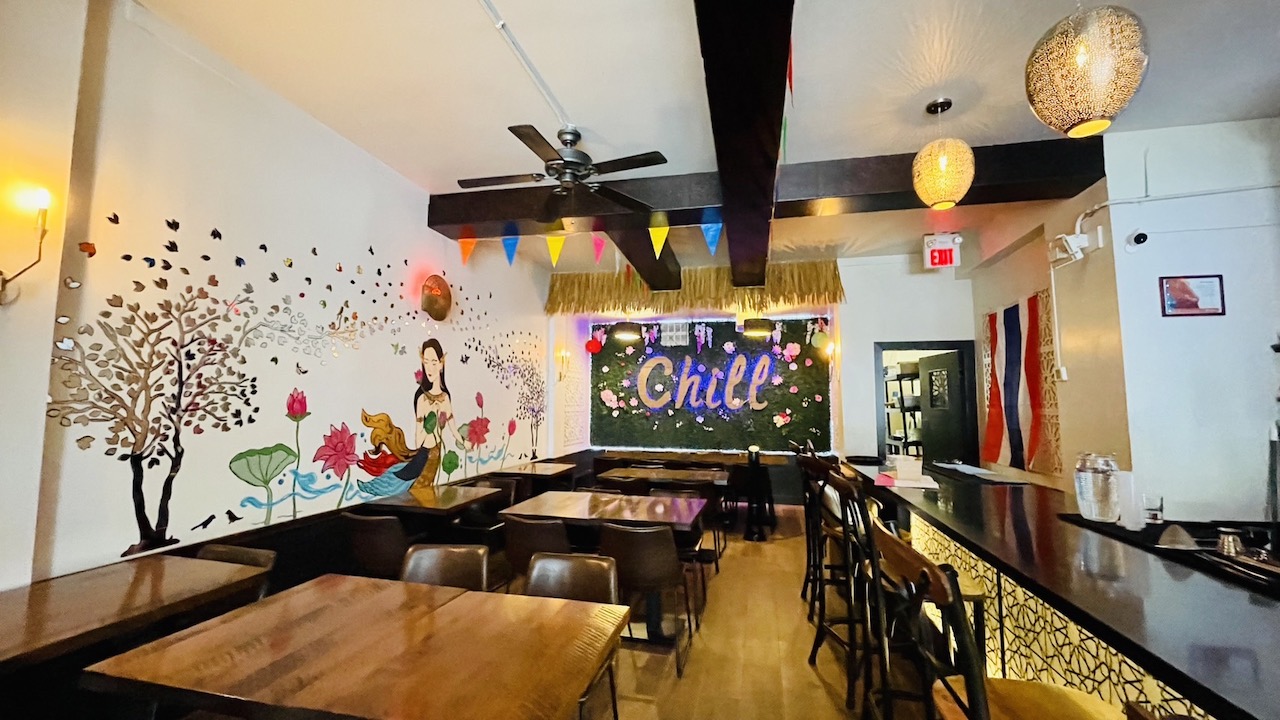 "We wanted to capture the essence of relaxation, comfort and enjoyment that our guests can expect when they visit us," says Ngampornsukswadi, adding that the name of the bar was chosen specifically to reflect this ambiance. "It embodies the idea of creating a laid-back and inviting atmosphere where everyone can come to escape the stresses of daily life and simply chill."
Every detail of the restaurant—which will have you feeling like you're drinking your Thai martini while lounging on a Malivian beach—were deliberately chosen to provide this sense of relaxation to their guests. From the wood-panelled walls and countertop awning, to the grass wall and floral decorations, the space depicts a natural comfort that'll have you thinking your on vacation, right from Ossington Avenue.
A colourful mural painted by a Thai artist, Aoe Girard, shows off the picturesque Thai environment.
"These artworks serve as focal points and bring a unique cultural touch to our space, allowing guests to immerse themselves in the rich artistic heritage of Thailand while dining," explains Ngampornsukswadi.