1. Toronto Outdoor Art Fair
This year Toronto Outdoor Art Fair (TOAF) is celebrating its 60th year. TOAF is Canada's largest and longest-running contemporary outdoor art fair showcasing over 400 emerging and seasoned artists across the country. The fair will run mostly digitally for the second consecutive year but will offer audiences a chance to browse artwork in person and purchase from a rotating lineup of artists at the stackt market. Digital programming includes TOAF's 60 Over Sixty exhibit, a virtual reality selection of artwork, artist-led studio tours, Instagram Live artists chats and virtual panel discussions. TOAF60 will be running from July 2 to 11.
2. The Beaches Jazz Festival
For its 33rd year, the Beaches Jazz Festival is back with live shows to enjoy from the relaxing comfort of your own vehicle. The drive-in festival will be held at Guildwood GO Station parking lot all month. Performance highlights include Chicago tribute band Brass Transit, which will be headlining the drive-in block party, and Legends of Motown, which will be closing the festival. Additional acts include the Drive N' Drag: Tea Party in Wonderland drag performance featuring BOA from Canada's Drag Race. The Beaches Jazz Festival will once again feature the virtual concert series available to stream online with digital performances and workshops from Toronto-based musicians. The Festival is running from July 2 to 24.
3. AfroFest
North America's largest free African music festival is running online this year. AfroFest is promoted by not-for-profit organization Music Africa and is a celebration of rich and diverse cultures through musical expression. The 2021 program will include webinars, training sessions, table discussions and art workshops that will focus on anti-Black racism and will help build a broader appreciation of cultures around the world. AfroFest is working with other event organizers, including the Beaches Jazz Festival and MonstrARTity, to expand the participation of non-African audiences and further promote acceptance. AfroFest will be streaming online from July 16 to 25.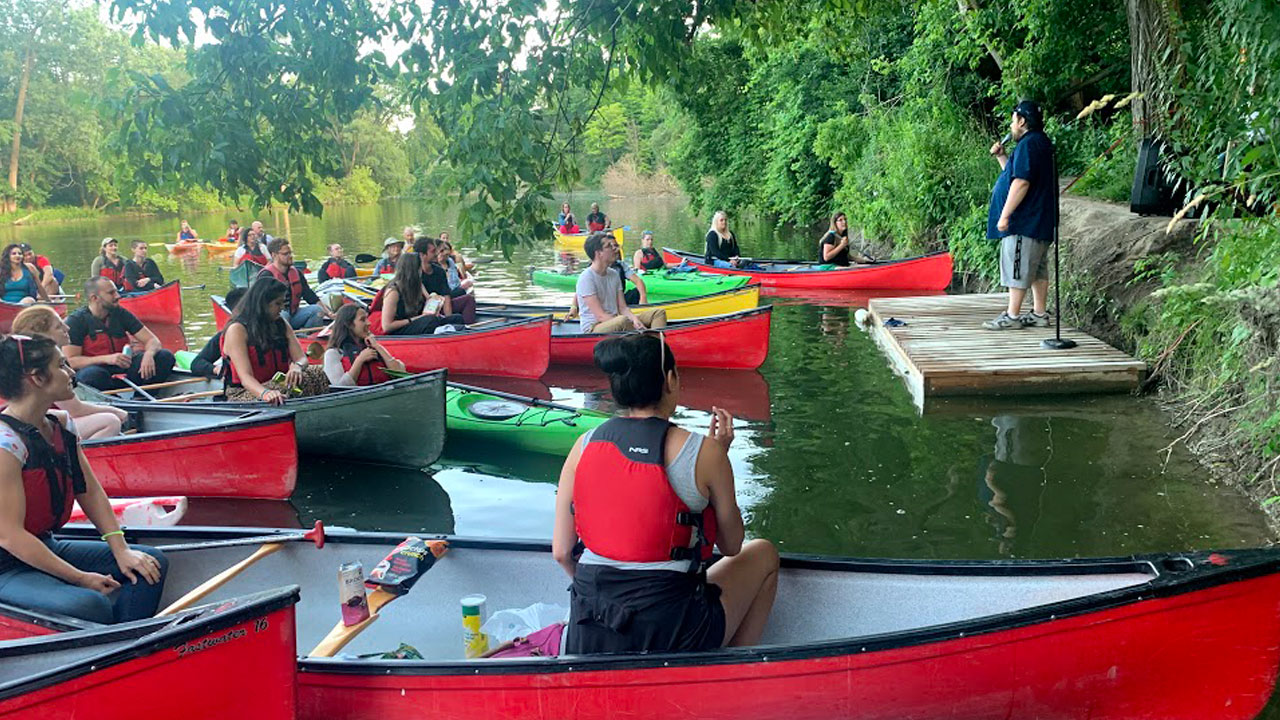 4. Comedy on the River
This summer, Toronto Adventures is combining outdoor adventure with standup comedy. The Comedy on the River event offers visitors a chance to embark on a scenic evening canoe or kayak paddle along the Humber River before pulling up to the dock for a comedy show right from the boat. Viewers are invited to bring their own boats or be set up with all the equipment needed. Host Dan Galea will welcome some of Toronto's best comedians, including Seán Cullen, Salma Hindy, Elisabeth Bailey, Cassie Cao and many more, to take the waterfront stage. Then, sit back, relax and enjoy the show! Comedy on the River runs on select Fridays until October and can be booked online.
5. Blackout, the Musical Stage Co.
After postponing the 2020 performance, the Musical Stage Company is finally putting on its production of Blackout as part of the Dream in High Park series from Canadian Stage. Blackout is inspired by real events during Canada's largest blackout in August 2003. With book by Steven Gallagher and music and lyrics by Anton Lipovetsky, Blackout depicts three stories of connections that formed while Toronto was in darkness. Visitors will enjoy the show at High Park Amphitheatre in seating pods with groups of up to four. Blackout will run from July 23 to Aug. 15.
6. Stupidhead!
This summer, Outside the March redefines the immersive theatre experience with a multi-platform production of an irreverently funny musical called Stupidhead! Listeners can access a live stream audio version of the production before getting an opportunity to view the musical live from their own backyards and front porches. Stupidhead! is a hilarious and heartfelt first-person account of star and creator Katherine Cullen's personal journey with dyslexia. The musical is brought to life with Cullen's production partner, award-winning emerging artist Britta Johnson. Stupidhead!'s live audio broadcast will run from July 7 to 16 with live "at your place" performances available from July 20 to Aug. 1.