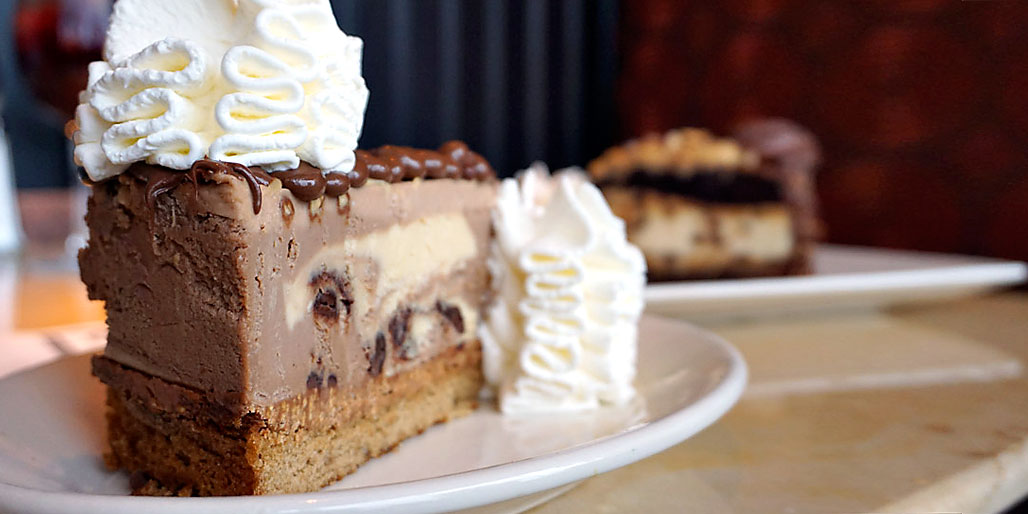 The Cheesecake Factory
3401 Dufferin St,
Toronto, ON M6A 2T9
About the Restaurant
For the uninitiated, The Cheesecake Factory bears some similarity to The Pickle Barrel. Both have long, page-turner menus (21 pages for the former and 23 for the latter). Longtime fans will not be surprised that Toronto's outpost of The Cheesecake Factory operates at an efficient pace. This could be due to its cookie-cutter approach to entering the Canadian market; during the soft launch there were 50 trainers from different branches across the US to mentor trainees on the floor.

(IMAGE: TIFFANY LEIGH)
My first foray to the world of The Cheesecake Factory was as a child at the Millenia Mall location in Orlando, Florida. Everything down to the massive space (10,400 sq.ft, 278 seats, and a patio opening in the spring), the burnt orange tones, mosaic tiles, lofty ceilings, mood lighting, hand-painted murals, maple banquettes, and ambiance was roughly replicated at Yorkdale — the palm trees are the only element missing, of course. Alethea Rowe (Senior Director, Public Relations) says that David Overton, the founder, likes to take a slow and methodical approach to growing the brand outside of the US: "We'll wait and see if people like us. Then we'll consider scouting other potential spots for restaurant expansion."
Once they're comfortable, we may see menu items exclusive to the Toronto location.
For diehard fans of The Cheesecake Factory, the growth north of the border has been long overdue. Since its first location opened in Beverly Hills in 1978 the chain's appeal has depended on its expansive menu, large portion sizes and affordable prices.  Throughout, they've stuck to the mantras that they have "anything you're in the mood for" and "there's something for everyone."

(IMAGE: TIFFANY LEIGH)
Vice president of culinary development and corporate executive chef Robert (Bob) Okura oversees the creation and development of the eclectic bill of fare for all 194 locations. He and his team in Calabasas, California rollout menu specials, additions and alterations twice a year. At the restaurant level, location-specific kitchen managers handle orchestration, day-to-day execution and plating presentation of menu items. Ingredients are locally sourced where possible, but staple items (mainly bread and all cheesecakes) are made in their two production facilities (Calabasas Hills, California and Rocky Mount, North Carolina) and shipped out. For bread, the dough arrives in frozen portions and is baked on site daily.
Appetizers include pork belly sliders ($13.95) which sees smoked pork belly slices slathered with barbecue sauce, slaw and battered fried pickles sandwiched in White Castle-esque squishy buns. Tex-Mex Eggrolls ($13.95) are stuffed with spicy chicken, corn, black beans, peppers, onions, melted cheese. It's served with avocado cream and salsa.
There are over 100 mains to choose from and features include an Everything Pizza ($17.95), chicken and biscuits ($23.95), and miso salmon ($28.95).
The pizza is a cross between rustic and Neapolitan styles with a puffy crust and thin centre. It is topped with pepperoni, sausage, peppers, onions, mushrooms and mozzarella.
Chicken & Biscuits are dubbed as a "comfort classic" — the portion size is enormous and enough to feed 2-3 people. The chicken cutlets are sautéed and coated with a pan gravy and served with mashed potatoes, mushrooms, peas, carrots and buttermilk biscuits.

(IMAGE: TIFFANY LEIGH)
The "famed" Miso Salmon dish is marinated in this Japanese seasoning, pan-seared and finished in the oven; it comes with brown or white rice and miso sauce.
At any one time, they offer a selection of 30-35 types of cheesecakes. They're rotated out to feature seasonal and specialty flavours. The cheesecakes are obviously the inspiration for the name and a hallmark of the brand. Although it now serves hundreds of savoury and sweet dishes, when the chain first started out, its primary purpose was to showcase the variety of desserts offered.
David Overton couldn't think of a more fitting name than The Cheesecake Factory, so that's what he went with. Rowe says that at the time, the founder didn't have aspirations to go further and didn't anticipate the phenomenal success its first location would achieve — the name was ideal and served a singular purpose, but today she says that "cheesecakes are one of the many pieces to the magic of dining at The Cheesecake Factory."
Chris' Outrageous Cheesecake ($9.95) - is a hybrid between a German chocolate cake and a chocolate chip cheesecake. It features chocolate cake and coconut pecan frosting.
Chocolate Hazelnut Crunch Cheesecake ($9.95) -  features a hazelnut meringue base, chocolate hazelnut cheesecake filling and topped with Nutella.
The Cheesecake Factory is a friendly and easy-going environment that accommodates large parties and diners with dietary restrictions/requests. The nature of the restaurant is to offer practically everything under the sun on a menu, which strives to satisfy even the pickiest eater.
Published on: Nov 21, 2017