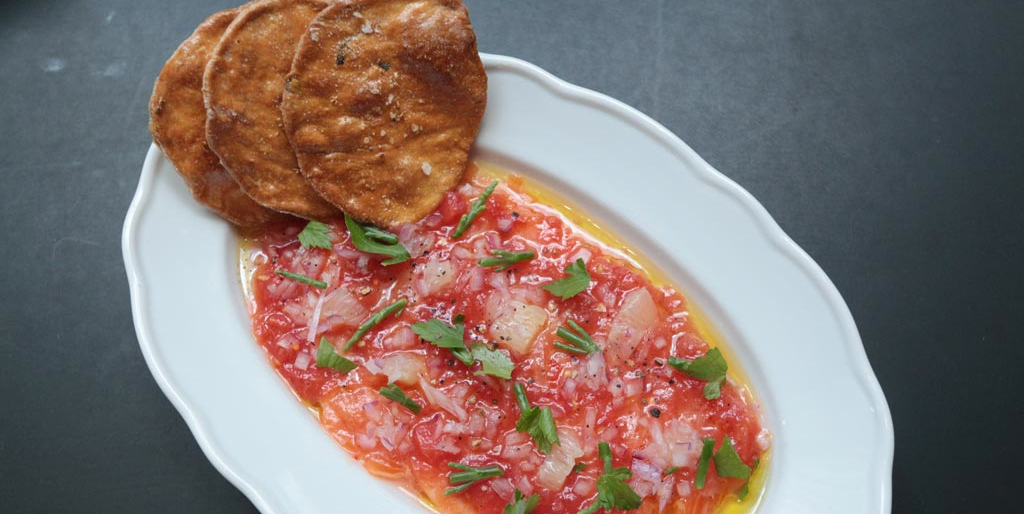 Leña Restaurante
176 Yonge St,
Toronto, ON M5B 1M4
Categories
About the Restaurant
Leña Restaurante is the newest addition to the Oliver & Bonacini empire. For Anthony Walsh, the company's corporate executive chef, this project is especially close to his heart. Leña is named after his Argentinian mother-in-law and pays homage to her country's cuisine.
The restaurant is located in the old Simpson's Tower and many original elements remain intact such as the handrails and the centre column that towers over the bar.  The restaurant is divided into three different parts, Bar Lala (which is short for abuela, which means grandmother) is in the basement and features a faux library wall at the bar. If you look closely at the art behind the bar you'll even find a hand-drawing of a blue shrimp by chef Walsh himself.
On the main floor you'll find the bar which includes a commissary counter that by morning offers up yummy breakfast items such as alfajores, made by Walsh's wife as well as slices of Spanish tortilla, which in appearance is akin to a frittata, made of onion, potato and eggs. In between breakfast and lunch, you'll find nibbles at the same counter, but by night it is transformed into a raw bar.
The upstairs dining room feels very homey, with ceramics and antiques along one wall, and seating in rich and lush colours.  More paintings and artwork are still coming in, "it's like a home, we have to continue to build it."
The philosophy behind Leña Restaurante is one of comfort, coziness and family, like dining in your nana's home.  Indeed it sort of runs like a home.  Running the kitchen is Julie Marteleira, who previously worked under Walsh's at Canoe and then at Auberge as executive chef tournant. Her mother makes the bacalhau (salt cod) fritters for the restaurant.  She describes the menu which is a collaborative effort between Walsh and herself as having "a lot of soul, a lot of thought."
She also says that "cooking with [her] mother while growing up has instilled a familial, refined but simple" approach to her way of cooking.  Her background is Portuguese and because there are so many similarities with Spanish food she often draws on that experience And with "Argentina being the most European South American country" you can't help but notice traces of Spanish cuisine on the menu.
Examples of this include Marteleira's Jamon Ravioli ($25) which is made in-house and stuffed with ricotta and Iberico ham (that's been aged 36-48 months) on a bed of caramelized onion, braised escarole and Swiss chard puree.
Or the colorful Wild Char Crudo ($17) with raw tomato, lime, olive oil and samphire, a sea vegetable that grows near streams and salt-water marshes.  For those who love club sandwiches, the Pan de Miga ($16), a triple-decker filled with ham, Provolone, spinach and green olive relish is pressed into a neat rectangle.  It is also crustless.
Those with a sweet tooth can indulge in an Egg White "Flan" ($12) that is made of whipped meringue with sugar and topped with toasted almonds.
On the liquid side of things, Russell Morrison who ran the cocktail program at Auberge has put together a healthy mix of exotic and classic.  The P'rana ($15) for example is a reimagined Toronto cocktail made with fernet branca, Lot 40 whisky, and amaro negro.  There's also the Caipiroska ($13) which is inspired by the national drink of Brazil (Argentina's neighbour) and made of blueberry vodka, demerara and blueberry-lemon shrub.
Leña Restaurante is a day-to-night dining destination for breakfast, lunch and dinner and on weekends, brunch.  The main floor bar is also a great spot to people watch, that is once all of the construction signs go down on Richmond.
Published: Sep 13, 2016