With summer nearing the end and the cool breeze evoking annual back-to-school-nostalgia, our minds are starting to drift towards the potential of our fall wardrobes. A timeless trend is making itself a clear choice for the impending layering weather: prep, but not prep as we've always known it. We'll call it new prep.
Ivy league fashion, otherwise known as prepdom, made waves in the 1980s and inspired The Official Preppy Handbook, a satirical reference guide to the prep aesthetic. Author Lisa Birnbach published an updated version, True Prep, in 2010 (when Sperry Top-siders were all the rage).
Prep at it's core, is uniform apparel that implies old money, academia and sensibility — yet you need not possess any one of these attributes if you simply dress the part. In her updated book, Birnbach writes that "almost anyone can assimilate into our world of prepdom. The desire to be prep is the most important factor."  
Nowadays, Torontonians like to mix preppy pieces with more casual, urban styles — some of which abide by the classic principals of prep, and others that challenge the old rules. So we've revised the original guide into one befitting a fashionable Torontonian.
What is prep?
For starters, what is the ethos one is attempting to achieve by dressing preppy? Owner of Toronto's Pic Vintage Shop, and expert prep dresser, Vaismam Oliveira says that dressing preppy is all about "the effortless idea that you look wealthy, or at least you're trying to." 
Oliveira can be spotted around town in a trench coat, or a matching pant and jacket, but his absolute prep staples are button-downs (Ralph Lauren or Brooks B) and loafers. His advice for styling a preppy outfit is to not be afraid to look regal.
"More is more, and accessories and jewelry are a must."
If you're looking to assemble a preppy outfit, aside from Oliveira's own Pic Vintage with their prep-heavy inventory, he recommends VSP consignment for their amazing archival pieces.
Pieces that generally suit the prep aesthetic include by are not limited to: khakis, cable knit, merino wool, cashmere, collared shirts, pleated skirts, cardigans, button-ups, blazers, scarves, loafers, riding boots, sportswear. 
The new prep fashion rules, Toronto-style
1. Sportswear is 

still 
classic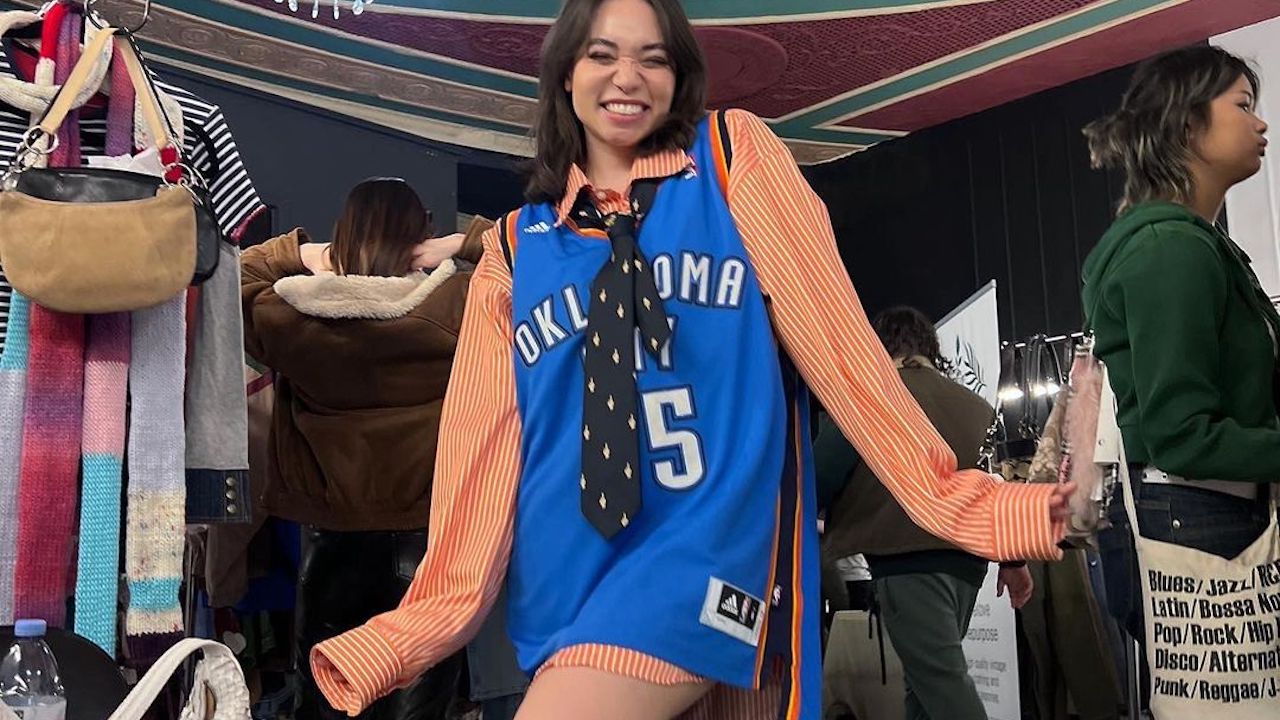 "This makes it easier to go from sporting events to social events (not that there is much difference) without changing," writes Birnbach in the True Prep handbook. 
The readaption of sportswear into elevated streetwear is particularly timely right now with the popularity of blokecore, a fashion trend inspired by British football culture. Toronto streetwear has always favoured a sports jersey, but this summer has seen them paired with feminine pieces like maxi skirts, mini skirts and lacy bloomers. Feel free to wear them right into the fall, and pair them with preppy pieces like a blazer or riding boots. Speaking of riding boots…
2. A little bit of horse… ahem… cow girl goes a long way 
"Riding boots may be worn by non-riders; cowboy boots may be worn by those who have never been on a horse. However, cowboy hats may not be worn by anyone who isn't technically a cowboy or a cowgirl," writes Birnbach in the True Prep handbook. 
But we say to hell with that! If the last few years of Toronto style has proven anything, it's that cowboy boots are an urban staple. We have a fine-tuned practice of pairing cowboy boots with less coordinating styles including racing jackets, jerseys, graphic tees and clubwear. The same contrast strategy applies to riding boots, of course, if horses are still more your thing.
3. You can never go wrong with a trench coat
This is an OG rule from the True Prep handbook that still rings true. There is nothing more sleek and alluring than a long collared coat. You can use a trench to conceal your night out outfit with class, or layer it on top of a chic sweater in the fall. No matter the occasion, you'll look like you've got it together (with little assemblage effort required.)  Pic Vintage has a great selection for your trench coat needs, and Chosen Vintage usually stocks a whole bunch in the fall. 
4. Mix your metals freely 
"Jewelry should not match, though metals should," writes Birnbach. 
Torontonians just aren't sticklers about this kind of thing, even when they're honing prep. Toronto jewelry brand Mejuri says the solution to the gold or silver conflict is to wear both. So forget what the gold or silver TikTok filter has to say about the matter — it's properly edgy and eclectic to wear all your metals.
5. Support small businesses 
There's a line in the True Prep handbook that states, "If your best friend is a designer (clothes, accessories, jewelry), you should wear a piece from his or her collection." As a rule, Birnbach further stipulates that "every preppy woman has a friend who is a jewelry designer," and in Toronto, this is very likely true. 
Torontonians are purveyors of locally made goods. We love to accessorize and support our local creatives, which makes handmade jewelry a uniquely urban preppy staple. Looking for a jewelry making friend of your own? Check out frequent market vendor and playful jewelry brand Butter BB, or the romantic and beachy brand Voons.
6. You may wear a [U of T] sweatshirt if: you attended [U of T], your spouse attended [U of T], or your children attend [U of T]. Or if you find one at the thrift 
In this revised quote from the True Prep handbook, the original text refers to Harvard. While varsity sweaters, especially of the vintage nature, are undoubtedly cool, it's just a little cooler when there's a story attached. Try calling up your grandparents and asking if you can borrow their old university sweaters for the perfect addition to your prep wardrobe — but if not, sourcing one from your local thrift is just as cool and sustainable. 
7. Your bag should be the wildest part of your outfit
In the True Prep handbook, Birchbach writes that "bags and shoes need not match." The old world of prep style is all about a streamlined look, with subtle deviations, but Toronto fashion is louder than that. While accessories and contrasting styles are entirely welcome, your bag is where you get to have the most fun. From the capacious multi-use tote to the most unsensible handbags, we love an absurdly funky bag. If you're on the hunt for your own, Toronto designer Spicy Princess has a collection of fun bags such as reversible handmade totes and satin mini purses. 
8. Underwear is outerwear
City goers are skilled at repurposing, and lingerie as outwear is the perfect example. Only in present-day Toronto could a silk slip be considered preppy (when paired with tall boots, and a tailored jacket). It's all in the layering! Think bloomers with a sensible cardigan, or a corset top with trousers.
9. High-heels should not inhibit you 
Similar to the fundamental incorporation of sportswear into your preppy wardrobe, your heels should aid your athleticism, not inhibit it! "You must be able to run in them—on cobblestones, on a dock, in case of a spontaneous foot race," writes Birnbach in True Prep. By Toronto logic, that makes the trending sneaker heel the perfect modern addition to prep wear. Otherwise, try a kitten heel (low to the ground) or a combat style boot with a super thick heel (more surface area to run on). 
10. Vintage is fair game 
One more OG rule that Torontonians are happy to abide by is thrifting. "Clothes can cost any amount, but they must fit. Many a preppy has an item from a vintage shop or a lost-and-found bin at the club that was tailored and looks incredibly chic," writes Birnbach in True Prep. Not only is prep accessible, in itself the act of thrifting is preppy. That's because prep wear is sensible and classy, qualities you can achieve in your wardrobe by buying sustainable, well-maintained clothes (and tailoring them to your size, or mending them to extend their lifetime).
Some rules we're throwing away
1."Sneakers (a.k.a. tennis shoes, running shoes, trainers) are not worn with skirts."
Us Torontonians generally disagree with this — we wear sneakers with everything.   
2. "No man bags."
As if. We're a city of cyclists and subway riders, a bag is everyone's right. 
3. "We generally underdress. We prefer it to overdressing."
Oliveira says that maximalism and prep share similar lines because they're both based on classics and heritage fashion. So forget the minimalist look, and take your prep the extra step with loud and contrasting prints.