Metrolinx is set to cut thousands of trees in the Don Valley as early as this Friday, according to a March 2 notice.
The provincial agency is set to slice the swath of approximately 2,787 trees as part of work in preparation for the construction of the Ontario Line subway. Environmental group A Park For All, fresh from battling Metrolinx over the construction of a layover facility in the Don Valley, is against the move.
"At this time, we estimate that crews will be removing 2,787 trees in the areas surrounding the future route of the Ontario Line from the three areas labelled on the map above: the Don Valley crossing, the Walmsley Brook crossing, the West Don crossing," read the Metrolinx notice.
Metrolinx added that 456 of the trees are invasive species and 229 are pest or disease-prone.
"This work is needed to create space to relocate utilities and study ground conditions in an area where a new bridge will carry subway trains across the valley and through the northern part of the line. These spaces will also accommodate future construction activities," read the notice.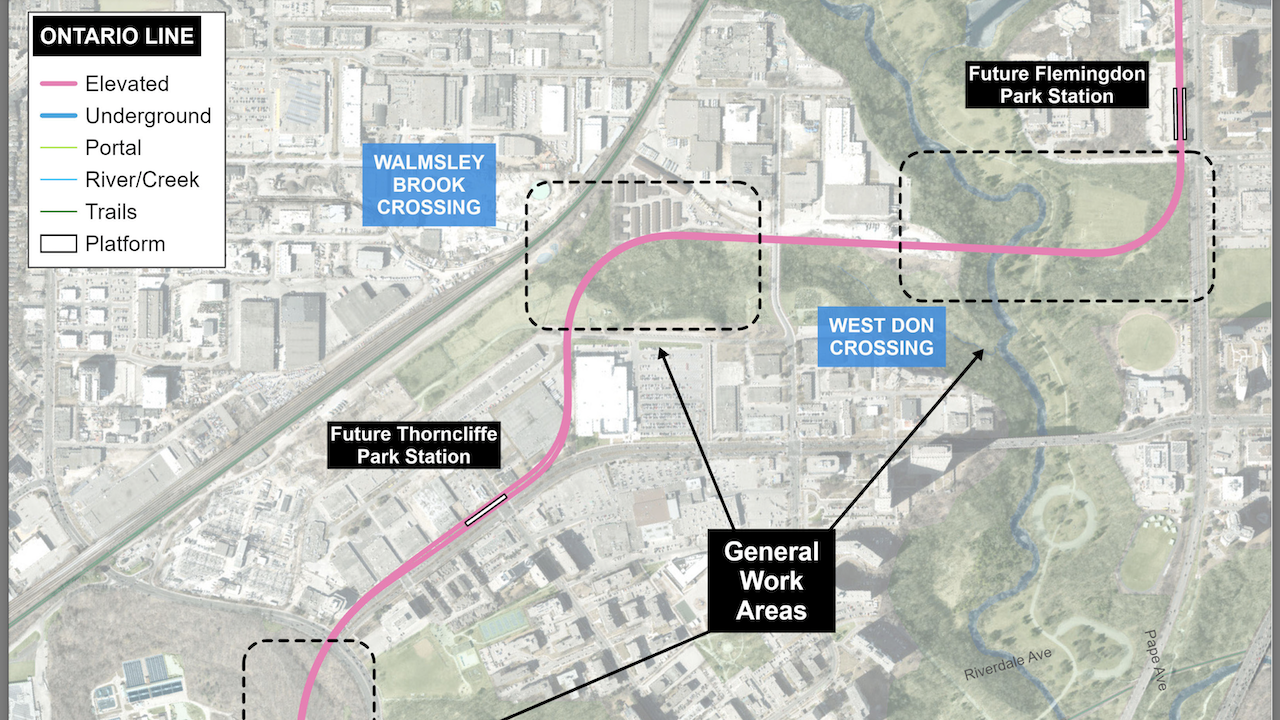 On average, according to Metrolinx, three trees will be planted for every one that is taken down.
"The amount of trees, the size of those boxes, and how many trees they are planning to cut was a shock," Floyd Ruskin of A Park for All told CP24.com.
Tree cutting is set to begin on Friday, but Ruskin claimed that there is still time to mitigate some of the damage and bring the total number of trees lost down to a more reasonable level. He added that some transparency from Metrolinx would be helpful.
"Let's have some transparency. Let's have some open consultation. And maybe we can minimize the impact of a building transit and building transit better," he is quoted as saying.
With a battle over the Don Valley layover facility, a battle over trees at Osgoode Hall and never-ending delays constructing the Crosstown LRT line, it appears Metrolinx is struggling not only to construct transit but to communicate with the city in a timely fashion.