The latest addition to Mejuri's collection of dôme rings is inspired by one of the world's greatest cities and one it also calls home — Toronto. With the bulk of 2020 behind us, the company created the ring to acknowledge the strength and determination the city has shown throughout this challenging year.
Chief creative officer at Mejuri Justine Lançon says the design process behind the ring was a labour of love, fuelled by the characteristics that make Toronto special like its modern architectural elements and minimalist esthetic.
"The design for the Toronto ring could be described as the most unconventional, which renders it even more covetable," she says. "It is inspired by the minimal modernity of the city, including Bauhaus architectural elements in the buildings designed by Mies van der Rohe and the contrast of lights at night."
The ring is handcrafted in 14 karat solid gold and black enamel and set with ethically sourced diamonds as a representation of Toronto's dazzling persona. Mejuri's first two dôme rings were inspired by the stars of L.A. and the Chrysler building of New York, respectively, but given Toronto is the brand's hometown, Lançon says the team was especially focused on highlighting the city's most unique and beloved qualities.
As a subtle diversion away from the classic design, the Toronto ring makes use of enamel for a slightly more contemporary look. Despite the differences, all of Mejuri's dôme rings can be considered staple pieces perfect for stacking, everyday wear or as a standalone statement maker.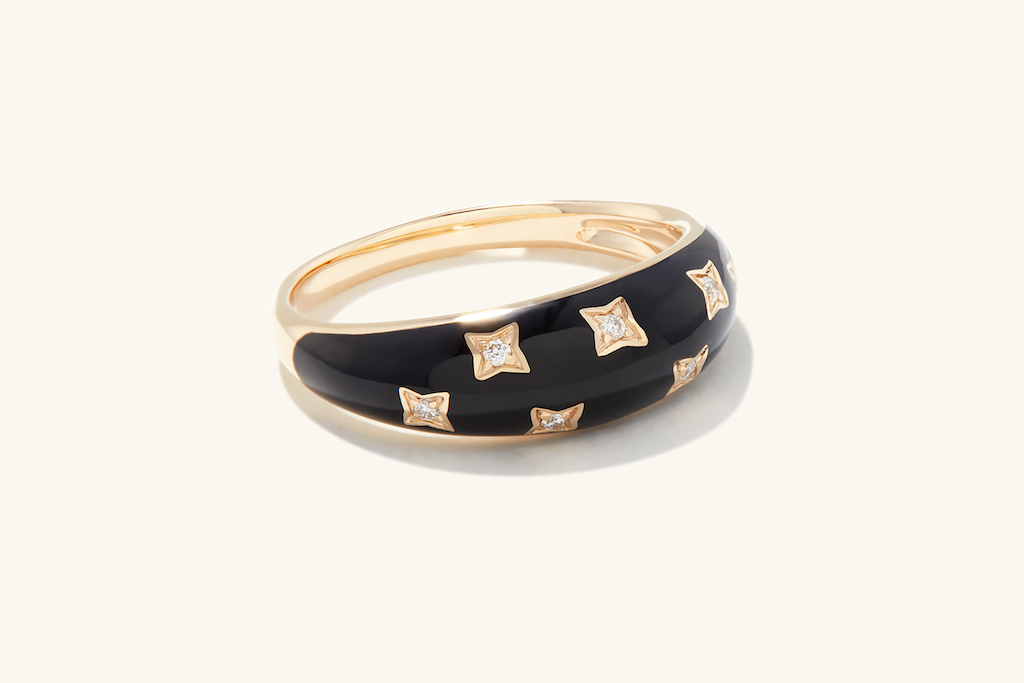 "Toronto's unwavering growth and relentless spirit — understood by those lucky enough to call it home — are the inspiration behind the ring," Lançon says. "2020 has certainly been a transformative time, and the Toronto dôme is a golden reminder of our collective bright future."
The Toronto ring is the third instalment in Mejuri's limited-edition dôme ring collection in celebration of iconic cities around the world, and fans of the brand can now look forward to a fourth representing the city of love — Paris.
"The ring is a celebration of one of my hometowns, the one I reside in and a source of inspiration for me every day," Lançon says. "I love that this concept will allow me to eventually stack all three of my home cities together; Toronto, NYC and our soon to be launched Paris dôme ring — each representing a piece of my home and heart."
The Toronto ring launches Nov. 12 and is available at mejuri.com.