If you've taken a stroll down Bloor Street recently, you might have noticed a little extra colour taking over the sidewalks. The flower planters lining the Mink Mile sidewalks are now home to massive birds (we're talking child-size!) that are all the colours of the rainbow.
The ceramic bird figurines are colour-coordinated with the flowers planted within the flower beds – red, orange and yellow pansies surround red, orange and yellow birds, and blue and purple pansies surround the green, blue and purple birds.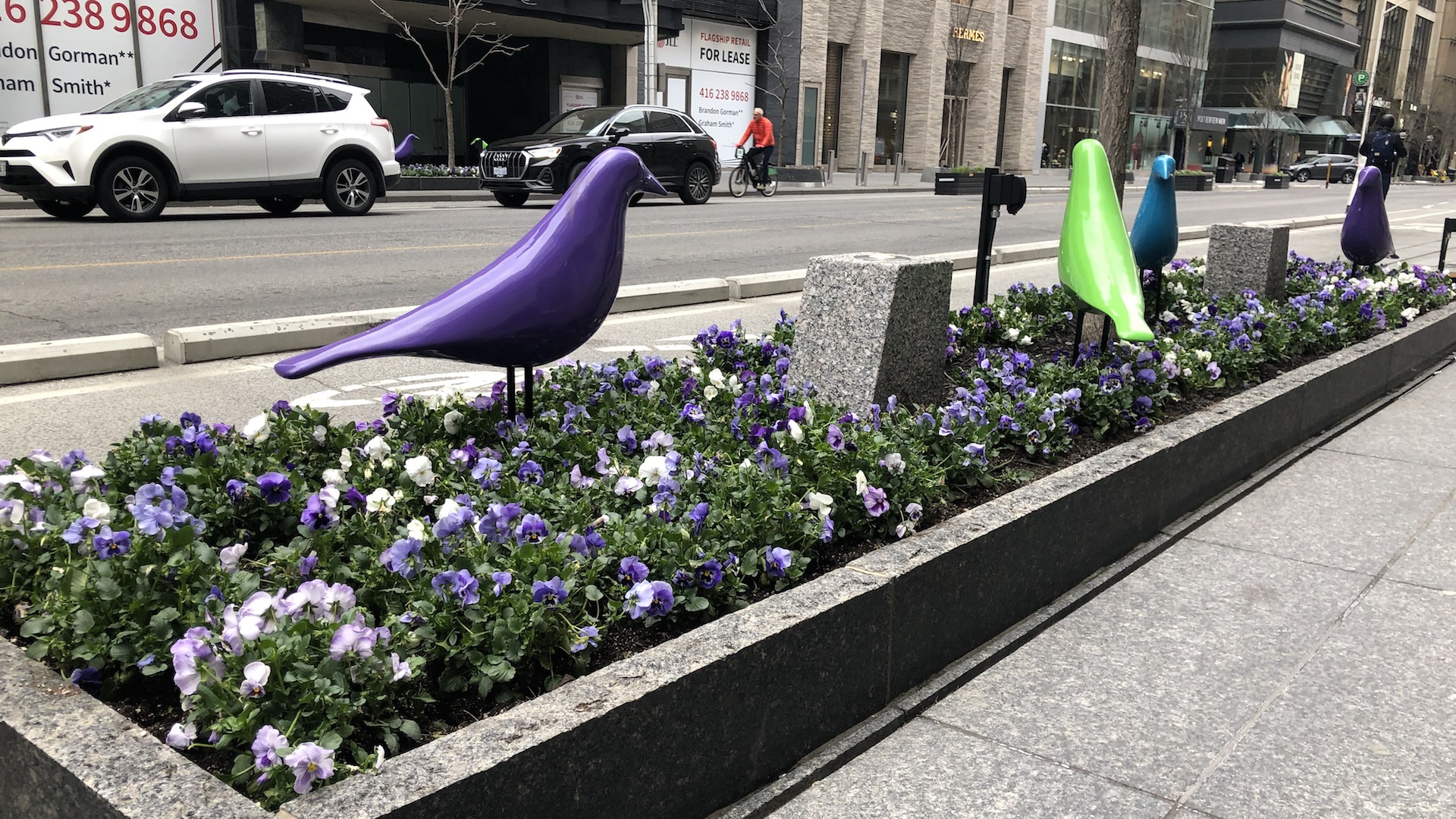 Are they there to scare away other pests looking to eat or make a home within the new flowers? Are they a Pride installation?
According to the Bloor-Yorkville BIA, the answer is even simpler – the weather.
"We came up with the idea of adding the birds to our spring garden theme, after experiencing a number of springs when we did not get the tulip display that we desired," executive director of the BIA, Briar de Lange, said over email. "Polar vortex and extensively cold winter temperatures continued to take a toll on the tulip bulbs, so we came up with the colourful bird display to complement our pansies, which are a hardier springtime flower."
With warmer weather having arrived, the birds are chirping with excitement on Bloor street. Stop by to check out our new installations on Bloor street ✨❤️🐤#BYTime #Yorkville #TorontoArt pic.twitter.com/nNEZu6NkkY

— Bloor-Yorkville BIA (@BloorYorkville) April 28, 2022
De Lange said the birds, which have been around since May, won't be there forever. "We will change over to our summer garden program soon and the birds will migrate to storage and will return again next spring."
Take a stroll down Bloor Street over the next few weeks for a glimpse of the colourful display and larger-than-life birds!