One of C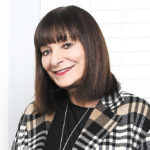 anada's most trusted authorities on style and fashion, Jeanne Beker has covered the industry for more than 30 years. Now watch her in her current style editor role on TSC's Style Matters with Jeanne Beker or tune into her new podcast Beyond Style Matters, available wherever you get your podcasts.
---
Wedding season is in full swing, and it might be time to refresh your wardrobe. Jeanne Beker has selected six of the best and most versatile dresses and clutches for you. Whether they're tying the knot on a beach or at city hall, you'll be dressed to impress!
A. CITY HALL
DRESS
"This has that great zap of colour that I think would look fantastic with black or white accessories." LoversLand, $669, 215 Ossington Ave.
CLUTCH
Intermix, $238, Intermixonline.com
B. OUTDOOR
DRESS
"Some people love linen on a hot summer's day. This is a great price as well, and you can dress it up or down." Hillary MacMillan, $215, Hilarymacmillan.com
CLUTCH
Archives, $900, Archivestoronto.com
C. CEREMONY
DRESS
"I love that colour: it's very warm, and the styling is very elegant. It's versatile depending on the accessories you wear." Holt Renfrew, $1,275, 3401 Dufferin St.
CLUTCH
L'intervalle, $139.99, 220 Yonge St.
D. COTTAGE
DRESS
"This would be great for a cottage wedding. It's elegant, it's feminine, and it just looks nice and cool and easy to wear." Want Boutique, $539.95, 1788 Avenue Rd.
CLUTCH
Holt Renfrew, $3,830, 3401 Dufferin St.
E. BLACK TIE
DRESS
"It's elegant, it's modern, it's very sleek, and it's got a minimalist element to it along with this very strong graphic element." Esti Boutique, $1,140, 1982 Avenue Rd.
CLUTCH
Saks Fifth Avenue, $498, 176 Yonge St.
F. DESTINATION
DRESS
"This dress is sensual, flirty and fresh with this colour combo and the perfect length to walk along the beach." Freda's, $808, 45 Elm St..
CLUTCH
John Fluevog, $249, 686 Queen St. W.