One of C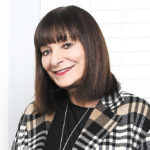 anada's most trusted authorities on style and fashion, Jeanne Beker has covered the industry for more than 30 years. Now watch her in her current style editor role on TSC's Style Matters with Jeanne Beker or tune into her new podcast Beyond Style Matters, available wherever you get your podcasts.
---
The perfect thing for everyone from moms and grandmas to kids and pets (and even your bestie!): Jeanne has selected the city's best gift-ready finds from this season's biggest fashion trends.
FOR MOM
"Plaid is huge this season, and this is a beautiful colour combination. It's huge and could be worn almost as a shawl! It looks absolutely sumptuous and I love the coloration in it." TNT, $410, 394 Eglinton Ave. W.
FOR GRANDMA
"This is beautiful. It's got a bold graphic design, really luxurious. And it just looks comfy, cosy and really chic. Any stylish grandma would love that, I'm sure!" Freda's, $430, 45 Elm St.
FOR DAD
"This spiderweb design is really unusual and different from a typical puffer. You know you're getting incredible quality with Moncler. If you're going for a high-end jacket that can be worn skiing, this is the one." Moncler via Holt Renfrew, $2,240, 50 Bloor St. W.
FOR YOUR BESTIE
"It looks absolutely cosy and is a timeless piece that you will always have in your wardrobe. Sweater vests might be a trend, but this doesn't look trendy. It's a classic with this fine merino wool." Judith & Charles via Nordstrom, $484, 260 Yonge St.
FOR THE DOG
"It's classic chunky knit, like the old sweaters that your mom or your grandmother used to make — a real homemade feel. With the reindeer on it, it's so seasonal. I just think it's adorable." Dogfather & Co., $56, 1007 Yonge St.
FOR THE KIDS
"This is great to wear après-ski or just hanging out. It's a pullover and it's fleece, so it's nice and cuddly. I love this gorgeous, dreamy graphic scene with all those great colours in it." H&M, $32.99, 1 Bass Pro Mills Dr.