One of C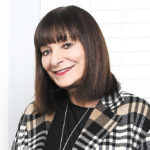 anada's most trusted authorities on style and fashion, Jeanne Beker has covered the industry for more than 30 years. Now watch her in her current style editor role on TSC's Style Matters with Jeanne Beker or tune into her new podcast Beyond Style Matters, available wherever you get your podcasts.
---
Subhead: This May, we're packing away the heavy coats and boots and pulling out the spring accessories — including the perfect purse to add a little something extra to your outfit. Jeanne Beker shares some affordable and luxury options for bags that are both functional and on trend this season.
Going green
SAVE
"I really like this purse because we're all talking about a pop of colour this season that will last into the fall. The colour is so rich, and I can vouch for Ai bags — the quality is there and they look so good." Ai, $150, Tsc.ca
SPLURGE
"This bag is quite chic, very elegant hardware with this beautiful chain handle. This bag also comes with a crossbody strap, so you can wear it both ways. It has such a sophisticated style punch." Strathberry, $870, Nordstrom.ca
Beachside tote
SAVE
"This is a great bag to have during the warmer seasons, and to get it for $59 from a Canadian company is amazing. I think it looks equally cool compared to other more expensive designs!" Poppy and Peonies, $59, Poppyandpeonies.com
SPLURGE
"A straw bag, you can take it to the market, you can take it to the beach — it's a great casual bag, but you can also dress it up. Obviously, you can fit a lot of stuff in there, and it would still be nice and lightweight, so it's great for travel." Isabel Marant, $725, Farfetch.com
The bigger the better
SAVE
"Here's a bag that would be handy any time of year, and it's so rich looking considering the price. I really love Ela. It's another great Canadian brand." Ela Handbags, $98, Elahandbags.com
SPLURGE
"This croc print purse is great. It's a crocodile effect but made from leather. It's such a different bag with such a different colour, a really beautiful shade of brown. And again, it's a really great year-rounder of a bag."
For more trend picks from Jeanne, read here.