One of C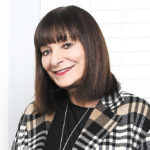 anada's most trusted authorities on style and fashion, Jeanne Beker has covered the industry for more than 30 years. Now watch her in her current style editor role on TSC's Style Matters with Jeanne Beker or tune into her new podcast Beyond Style Matters, available wherever you get your podcasts.
---
Heading to one of these sunny destinations this summer? Jeanne Beker has the best swimsuits for your vacation, whether it's in the French countryside or an Ontario beach town. Pair it with one of these stylish hats, and you'll be ready to relax to the max!
A. MORITZ
FUN WITH FRINGE
"This hat has a lot of attitude, a lot of whimsy. It has that artisanal feel; it would really get heads turning." Archives Toronto, $268, Archivestoronto.com
YES TO MESH
"This one is fantastic. It's so sexy and it almost looks like a three-piece. This is the coolest, most innovative suit from an amazing designer." Norma Kamali, $395, 3401 Dufferin St.
B. SANTORINI
TWO-TONE
"This hat has a bit of western vibe going, and it would definitely give you a bit of height and has a great brim." Lilliput Hats, $240, 462 College St.
GRECIAN DETAILS
"This red with the wonderful Roman detailing on the shoulder is so powerful. It's such a classic suit." Versace, $325, 176 Yonge St.
C. TROPEZ
A NOD TO THE FRENCH
"This reminds me of the hat that Audrey Hepburn wore in Breakfast at Tiffany's! Very elegant, very chic." Maryam Keyhani, $668, Maryamkeyhani.com
PURPLE POWER
"These are such easy to wear pieces and very flattering; it has a nice high cut leg and a beautiful mauve colour." Beth Richards, $270, TSC.ca
D. BRUCE PENINSULA
WIDE-BRIM BEAUTY
"This is a great striking colour, very of the moment. And I absolutely love the drama of this hat." Frock, $250, 97 Roncesvalles Ave.
FROM DAY TO NIGHT
"This is a great retro look, and the top of the swimsuit looks like it could be its own summery top paired with a black skirt or jeans." Bathing Belle, $199, 355 Roncesvalles Ave.
E. AMALFI COAST
FLOWER POWER
"This hat reminds me of '60s mod fashion with this little black and white print. I love a bucket hat because you can have fun with the brim." Gravitypope, $200, 1010 Queen St. W.
FRILLS ALL OVER
"This style gives you so much more than a bathing suit; it almost looks like a playsuit. Very sassy, very sweet, very romantic." VisualMood/Etsy, $170.30, Etsy.com/ca/shop/visualmood
F.PRINCE EDWARD COUNTY
SPORTY IN THE SUN
"The brim is fairly wide, so it will offer great sun protection, while also looking sporty and chic at the same time." The Orange Room, $89.95, 63A Howden Rd.
KEEPING IT CHILL
"What a great, whimsical ice cream print. I love the asymmetry of this swimsuit, and it's so fun that it's a one piece that's kind of a two piece." Hilary Macmillan, $160, Hilarymacmillan.com