One of C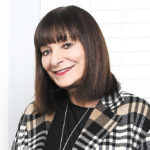 anada's most trusted authorities on style and fashion, Jeanne Beker has covered the industry for more than 30 years. Now watch her in her current style editor role on TSC's Style Matters with Jeanne Beker or tune into her new podcast Beyond Style Matters, available wherever you get your podcasts.
---
Spring is here, and there's nothing better than a new pair of shoes to kick off the warmer weather. Whether it's heels, clogs or a fresh pair of sneakers that you're looking for, Jeanne Beker has affordable and luxury options for them all.
Sling-backs
SPLURGE
"This block heel pump is to die for. It's gorgeous. It looks incredibly comfortable, very practical, very timeless. This shoe is very feminine and delicate and just classic Chanel." Chanel.com, $1,250
SAVE
Bandolino
"It's so great to see that Heel Boy has this style at a fraction of the price. It's faux leather with a little kitten heel, which is very on trend. It looks very rich, elegant and high fashion." Heelboy.com, $110
Sneakers
SPLURGE
"These have a great platform of a sole. They're very sporty, but also very artful with the detailing on the side. These shoes are built for comfort as well as style." Wantlesessentiels.com, $425
SAVE
"The mesh here is really stylish and on trend, and will make for a more lightweight shoe. I love the styling of the arched platform here as well." Callitspring.com, $44.99
Clogs
SPLURGE
"You're looking at a big fashion statement with these. They're very trendy with the big, bulky chain on the front and the studs." Ssense.com, $1,250
SAVE
"I like the modernity and the minimalism of the very sleek upper on these go-anywhere clogs, and they're handmade to order in Toronto so you're getting a really exclusive look." Runponypony.com, $280
For Jeanne's best trench coat picks for spring, read here.