One of C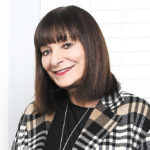 anada's most trusted authorities on style and fashion, Jeanne Beker has covered the industry for more than 30 years. Now watch her in her current style editor role on TSC's Style Matters with Jeanne Beker or tune into her new podcast Beyond Style Matters, available wherever you get your podcasts.
---
This January, Jeanne has selected the best sustainable sets and local loungewear perfect for staying in and doing absolutely nothing!
A: WINTER BLUES
"Brushed back fleece is great, it's super soft against the skin. I love this blue set, and the crop of the sweater is very nice. There's a great waistband on the pants as well, and a nice wide set to the legs." Smash + Tess, sweater: $85, pants: $95, smashtess.ca
B: COMFY CARGO STYLE
"It's all about pops of colour. I love this wonderful design on the sweater that's really fun and edgy. And these sweatpant cargo pants are a really practical pant with a nice crop and little pockets." Okayok, sweater: $168, pants: $78, 40 Sousa Mendes St.
C: WEAR YOUR HEART ON YOUR SLEEVE
"Preloved is always ahead of the curve, and really understands the importance of upcycling. Made from 100 per cent cotton — and that recycled cotton patch. It's great quality and very comfortable." Preloved, sweater: $89, pants: $89 , 138 Nugget Ave.
D: GOING FOR GOLDEN
"This set has a relaxed fit and a fabulous colour that is unusual for loungewear. It looks so comfy, so cosy and ultra relaxed. And you can mix and match each part of the set with the rest of your wardrobe!" Maylyn & Co., set: $258, maylynandco.com
E: POP OF PREP
"With a cotton and cashmere blend, this set is going to feel like a dream because of the cashmere in it. I love the idea of this classic, kind of preppy collar. It's sporty but chic at the same time." Roots, sweater: $158, pants: $198, 264-1 Bass Pro Mills Dr.
F: SNOWED IN
"Ivory is always a very luxe kind of colour, and I like these nicely fitted pants that still have a relaxed fit. And that cropped top could be worn on its own, plus it's all 100 per cent cotton, which is amazing." Kotn, sweater: $80, pants: $70, 754 Queen St. W.