Magic happens at the edge of our comfort zone. I've never shied away from a challenge, but as a Canadian who despises the cold, the concept of submerging my body in an icy pool of water has never appealed to me.
As a kid, I was a competitive swimmer. As an adult, I free dive. The water has always been a source of comfort to me. But when my editor suggested taking my safe place and making it my version of uncomfortable, I knew it was time to face my discomfort and take the plunge.
Cold plunges offer a plethora of health benefits, including immune support, active recovery, pain relief, stress release and increased dopamine, which is linked to mood-boosting benefits.

Unbounded Well is an outdoor wellness playground located in the heart of downtown Toronto in stackt market. With an emphasis on hot and cold therapies and breathing techniques, the spa features Scandinavian saunas, a geodesic breathwork dome, bonfire lounges and ice-cold plunge pools. Nick McNaught, Unbounded's founder and CEO, led me through the exhilarating experience, guiding me through breathwork preparation, before I took the plunge. 
Explaining that the first 30 seconds would be the hardest, Nick informed me that the two-minute mark is where the health benefits really come to into play. So, in my head, two minutes was my goal.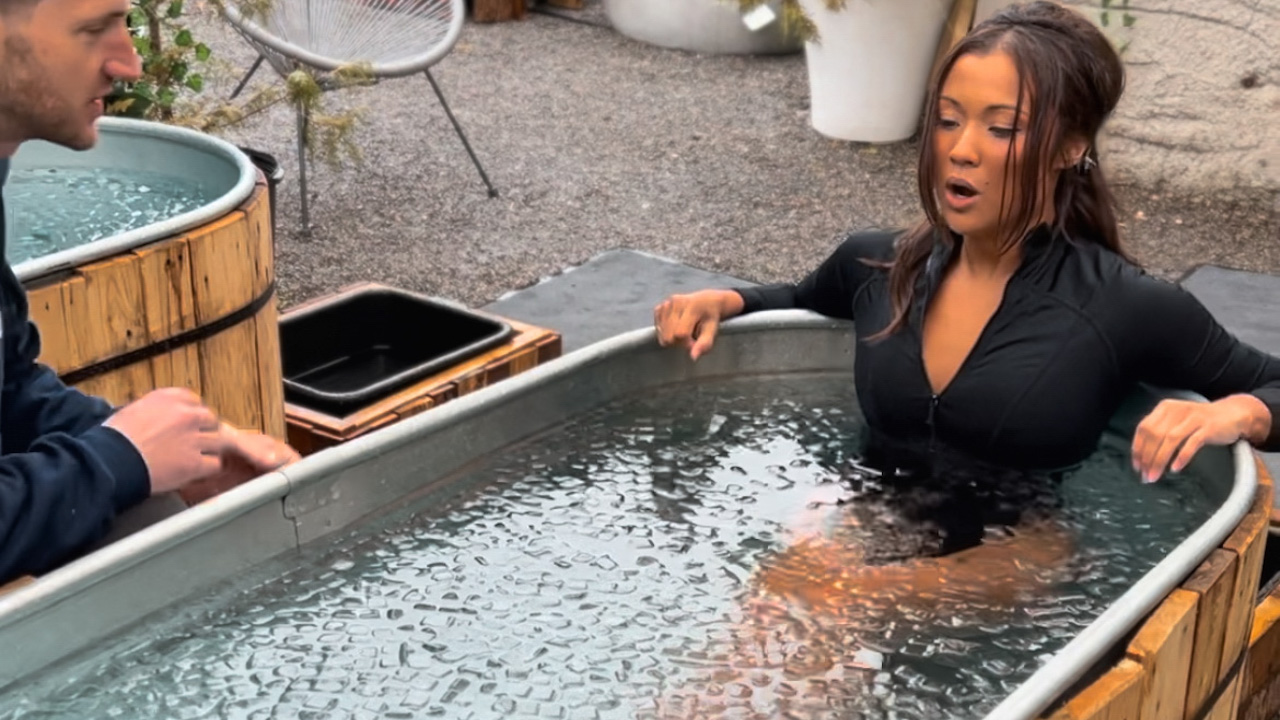 Taking a deep breath, I stepped into the water and ice. With my body tensing and my heart pounding, Nick calmly instructed me to breathe and find my heart. Through each breath, I could feel my body trying to adjust. Through shivers, my breathing began to stabilize, my heart started to slow, and my mind found tranquility.  
At this moment, Nick turned the timer to me. It read two minutes fifty seconds. Exhilaration flooded through me. I had reached my goal, completing not only the physical challenge, but the mental one. As I smiled, still shivering, I felt grounded in my discomfort, staying submerged until over the four-minute mark.
This experience showed me that our bodies are capable of so much. With the right mindset and a knowledgeable instructor, we're able to push our boundaries more than we expect — and the journey ends up being half of the fun. 
To have a chilly adventure of your own, we rounded up Ontario's best spots for cold experiences.
Scandinave Blue Mountain
The Scandinave Spa in Blue Mountain is all about the Scandinavian benefits of hot and cold circuits, and it offers everything from Nordic waterfalls to cold plunge baths to rolling around in the snow for your ice plunge experience. scandinave.com
The Spa at Q
This Niagara-on-the-Lake spa offers a unique hydrotherapy circuit. Start in the hot pool, move to the sensory showers, then enjoy the dry sauna and eucalyptus steam room before taking the plunge in the snow room. Finish off in the warm pool and pat yourself on the back! 124queen.com
Othership
Othership, at 425 Adelaide St. W., is a bathhouse experience that offers "wellness entertainment," featuring saunas, breathwork and ice baths. Book an "evening social" experience with friends, a one-on-one class or even a couples' one to try the ice bath, ranging from 0 to 4℃. othership.us