Toronto's beauty and wellness scene just got a new hub complete with its own broth bar and it's called Good Goddess: The Nest.
As city dwellers yearn for health, balance and a little magic in their lives amidst the heaviness of current events, the wellness revolution continues to gain momentum. From juiceries to meditation centres, people are increasingly turning towards health-focused businesses to stay grounded and bring some lightness into their daily routines.
The latest haven for Toronto's wellness junkies? Good Goddess: The Nest—a multi-brand concept shop combining natural spray tanning by Glo Organic, wellness, lifestyle and nutrition goodies by the Good Goddess and a brothel—yes, you read that right, and no, not that kind of brothel.
Created by Alexandra Baird of Ripe Nutrition, the brothel component of The Nest is a broth bar serving up options like super mushroom vegan broth with an adaptogenic formula, liquid gold broth made from shredded chicken bones and grass-fed pho beef broth with fresh vegetables. Whether you're sipping it from one of their stylish hot pink to-go cups or adding noodles to make it a hearty meal, the broth is rich in nutrients, minerals and protein that can help promote weight loss, glowing skin and hair, a strong immune system, improved digestion and much more.
All these amazing benefits aside, a comforting cup of broth is the perfect way to warm up as the weather cools down. But the broth bar is just one element of The Nest's unique offering—which seamlessly blends equal parts beauty, wellness, nutrition and style.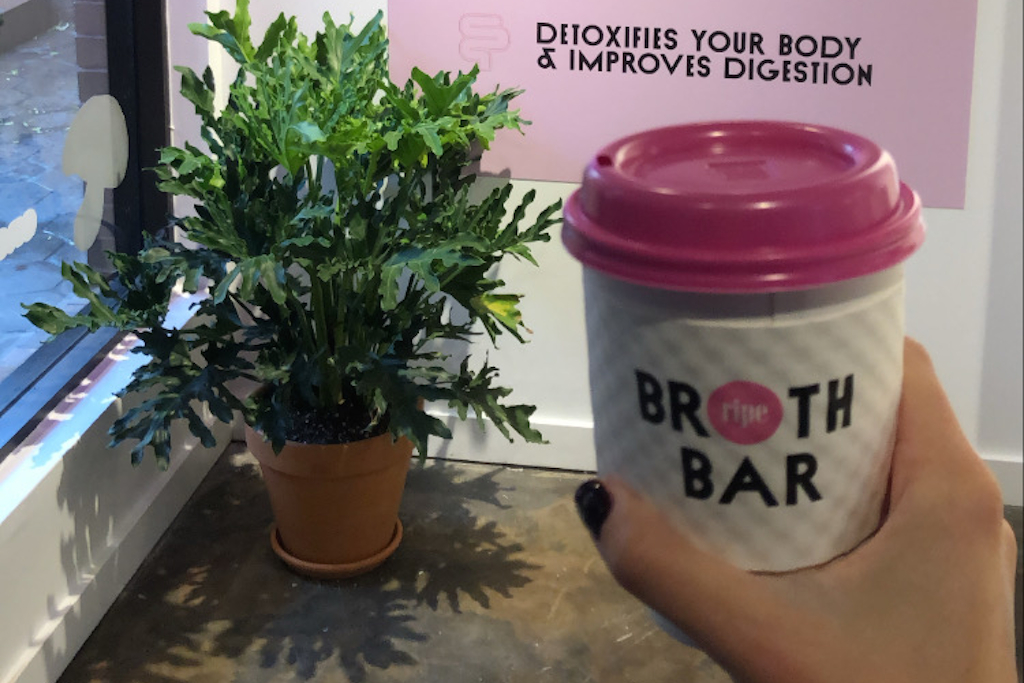 Baird says the concept for The Nest came together organically over time, but it all began after she and Natasha Geddes, the founder of contemporary wellness brand Good Goddess, met up and chatted all things nutrition and wellness over a bulletproof coffee.
"Even a couple of years ago specialty stuff like bulletproof coffee wasn't as popular, so we really bonded over that," she says. "We connected and it all just sort of came together naturally from there."
Together with Kiersten Barbara, the CEO and founder of Glo Organic, the three women closed their nearby solo locations and joined forces to officially open The Nest on Oct. 1 as a one-stop-shop for anyone looking to attain beauty from the inside out.
With its cheeky neon signs, an abundance of plants and crystals and a somewhat hidden location down a flight of stairs from Yorkville Avenue, The Nest is the secret goddess club we all need in our lives right now. Whether you're drawn in by the broth, the whimsical athleisure, or the need for a tan as fall closes in on us, you'll stay for the vibes.