Toronto seems forever stuck in a housing crisis. There isn't enough housing supply, the homes aren't affordable enough, they aren't green enough to deal with the climate emergency, there aren't any purpose-built rentals to add balance to the market. To that end, Post City took a look to find a number of key developments on the horizon north of Bloor that will revolutionize that part of the city in a myriad of ways.
A rental community with vision
Neighbourhood: Mirvish Village
Stats: 900 rental units, 100 affordable
Developer: Westbank
In the works since 2015, Mirvish Village is Westbank's massive redevelopment project located at the former site of Honest Ed's at Bloor Street West and Bathurst Street.
The large-scale project will completely transform the area and includes six residential buildings, townhomes, 21 heritage buildings peppered throughout the site and a new public park. The good news is that it is a 100 per cent rental development and will provide nearly 900 units of much-needed housing, 100 of which will be affordable, secured at 80 per cent of average market rent for the City of Toronto.
The development, which includes a 13,000-square-foot park and other pedestrian and public space amenities, is the first rental community of this magnitude in the city for a long time.
World-class architecture north of Bloor
Neighbourhood: Deer Park
Stats: 44 storeys, 293 unites
Developer: Slate
If someone tells you all the good design and architecture in the city can be found downtown, just point them to the stunning work at One Delisle coming soon to Yonge Street and St. Clair Avenue. A building that should be held up as an example to every developer across the city to make buildings that matter, not just ones that turn a tidy profit.
For the building at One Delisle, Slate Asset Management, which owns 10 properties in the area, brought in renowned architectural firm Studio Gang and turned in a design for a mixed-use condominium tower that has the entire city buzzing.
A unique piece of architecture, the 16-sided building is designed to reduce shadows on the surrounding neighbourhood and focuses on increased outdoor living spaces for its inhabitants with large balconies or terraces for each unit.
The team said this tower is a new model for sustainable urban growth. We hope others are taking note.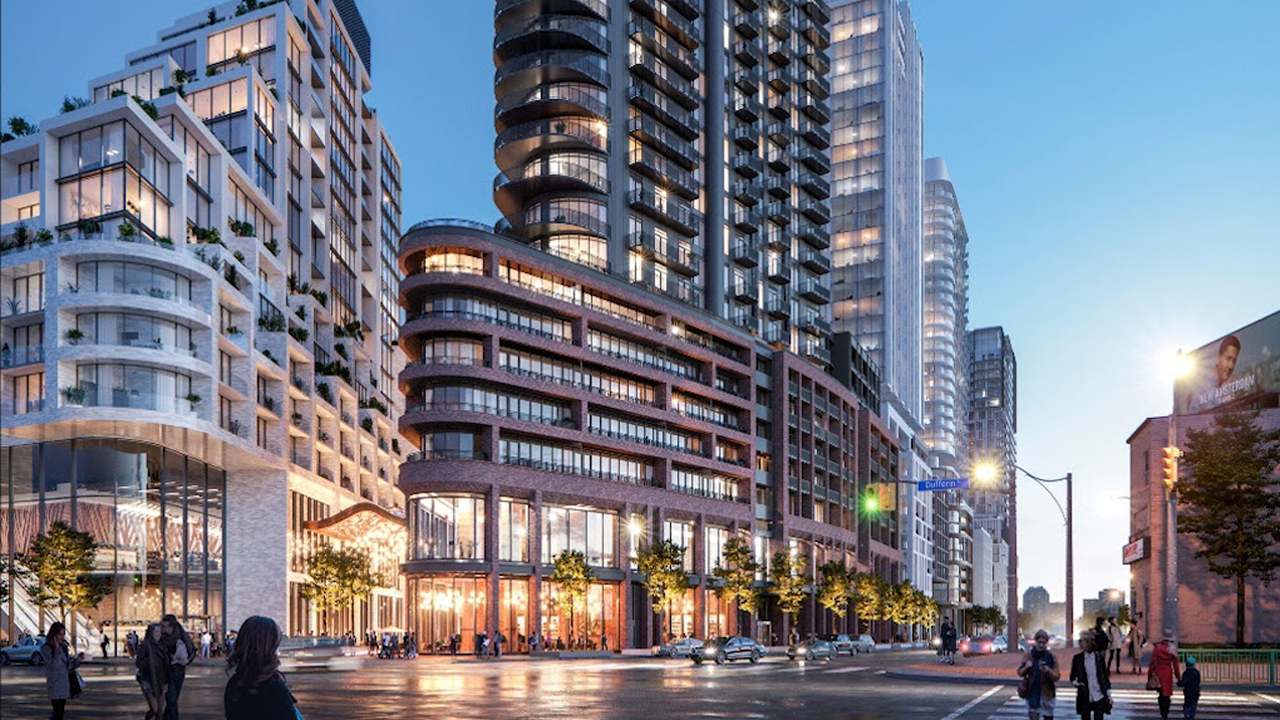 Creating complete communities connected to the past
Neighbourhood: Annex
Stats: 3 towers, 426 condo units
Developer: Elad Canada
A third condominium has been revealed for the Galleria on the Park super-development at Dufferin Street and Dupont Street. The dramatic tower features a flatiron design in a nod to the area's unique industrial heritage.
At 31 storeys, the flatiron building is the tallest of the three planned residential buildings — Galleria I and Galleria II stand at 29 and 24 storeys respectively.
In total, the three condominiums will host up to 2,900 residents. Galleria III, for its part, has 426 condo units, ranging from studios up to three-bedroom units.
Galleria III will act as the entryway to the master-planned community that includes a new eight-acre city park, a revamped Wallace Emerson Community Centre and up to 300,000 square feet of retail space.
The biggest development in North America?
Neighbourhood: Downsview
Stats: 528 acres
Developer: Northcrest and Canada Lands
Local residents have gotten the first look at a potential entirely new community just east of Downsview Park that is shaping up to be one of North America's largest development projects.
A framework plan for Downsview Parklands was released in early October, which shows how developers Northcrest and Canada Lands hope to build the project over the next 30 years.
Downsview Park is a large urban national park located in the Downsview neighbourhood near the intersection of Keele Street and Sheppard Avenue West.
The site was home to a Canadian Forces base and a former airport as well as an airport manufacturer. The idea is to develop on the Bombardier airstrip, which will be vacated in about 18 months, in addition to federally held land in the adjacent area, totalling about 528 acres.
The project would consist of up to 12 million square feet of commercial land, 100 acres of new parkland that would be added to Downsview Park and a large residential component of which the details have yet to be hammered out.
Keesmaat's big North York move
Neighbourhood: Bayview Woods
Stats: 15 buildings, 1,504 units
Developer: Markee
One of the keys for the growth of the city of Toronto is to create complete communities outside the downtown core, and that is exactly what former chief city planner Jennifer Keesmaat, has in store for the community in northeastern North York.
Keemsaat, co-founder of Markee Developments, has revealed the details for her new community development in North York on the site of historic Tyndale University on Bayview Avenue.
The project on the 22-acre site includes 15 buildings (with 19 building components). Most of the buildings range in height from five to eight storeys, with three buildings from 12 to 20 storeys. These buildings will accommodate 1,504 units, comprising 752 affordable units (the remaining at market rates) that will remain affordable in perpetuity.
There will be a slew of neighbourhood amenities built into the site with everything within walking distance. There is rapid transit nearby on Sheppard, and the hope is that a separated bicycle lane on Bayview will usher people down to the subway line to be whisked off to work.
The twin pillars of the plan are affordability, with 50 per cent market rentals, as well as sustainability.