With indoor dining opening in the city again, and the culinary scene returning to its former glory, there are plenty of new restaurants opening in the city that are worth trying. Check out these five restaurants in the city that should be at the top of your must-try list.
Nuna
Peruvian-inspired dining is the name of the game at this new Queen West spot. Think Southern American takes on tuna tartare, shrimp bites and marinated octopus, alongside adventurous offerings like duck green rice that combine local and imported ingredients. The new spot also offers an extensive, Latin-inspired cocktail menu and a newly launched brunch, all of which can be enjoyed on the cute, Instagram-worthy patio.
The Kettle
The Kettle is a new Halal restaurant serving up everything from kebabs and curries to wings and pies. The name is meant to represent the very important Chai tea culture in India which, known as chaat, is often purchased and enjoyed alongside street food eats. The upscale vibe of the new spot melds Indian street food with Canadian comfort food classics in a cool interior typical of Queen West haunts – think exposed brick, shiplap-lined walls, low light and leather bench seating.
Tenny's
Parkdale is home to a new/old friendly neighbourhood dive bar, ideal for music lovers looking to cool off with good drinks and some Southern-inspired comfort foods. Housed in the former Gianna's space, Tenny's is a landmark live music venue, exuding the homey vibe of a tried-and-true local watering hole, typical of spots in the cool and gritty west Toronto neighbourhood. Officially opening its doors on June 10, the spot has already hosted a slew of local musicians and cover bands and is looking forward to eventually securing some original bands and even hosting an open mic. Stop by for the live music and stay for the food and drinks, with a menu offering everything from small plates and sandwiches to fully-loaded burgers and desserts. Pub food favourites include nachos, ballpark pretzels, wings and for all the Tennessee Tavern stans: pierogis.
Happy Sundae
Toronto entrepreneur Angela Phung took ice cream season to the next level with her latest venture, Happy Sundae. Phung, who also operates aka.the store, recently debuted her new dessert boutique to the King West crowd, serving up farm-to-table scoops with fresh and unique toppings. "Happy Sundae is a little happy place located at 85 Portland St. Toronto," the website reads. "AKA, King West's newest ice cream dessert heaven, specializing in soft serve ice cream and a wide range of toppings.  Whether it's in a cone or cup, our Sweet Artists are ready to create your next dessert masterpiece because everyday [sic] is a Happy Sundae."
Aunty Em's Deli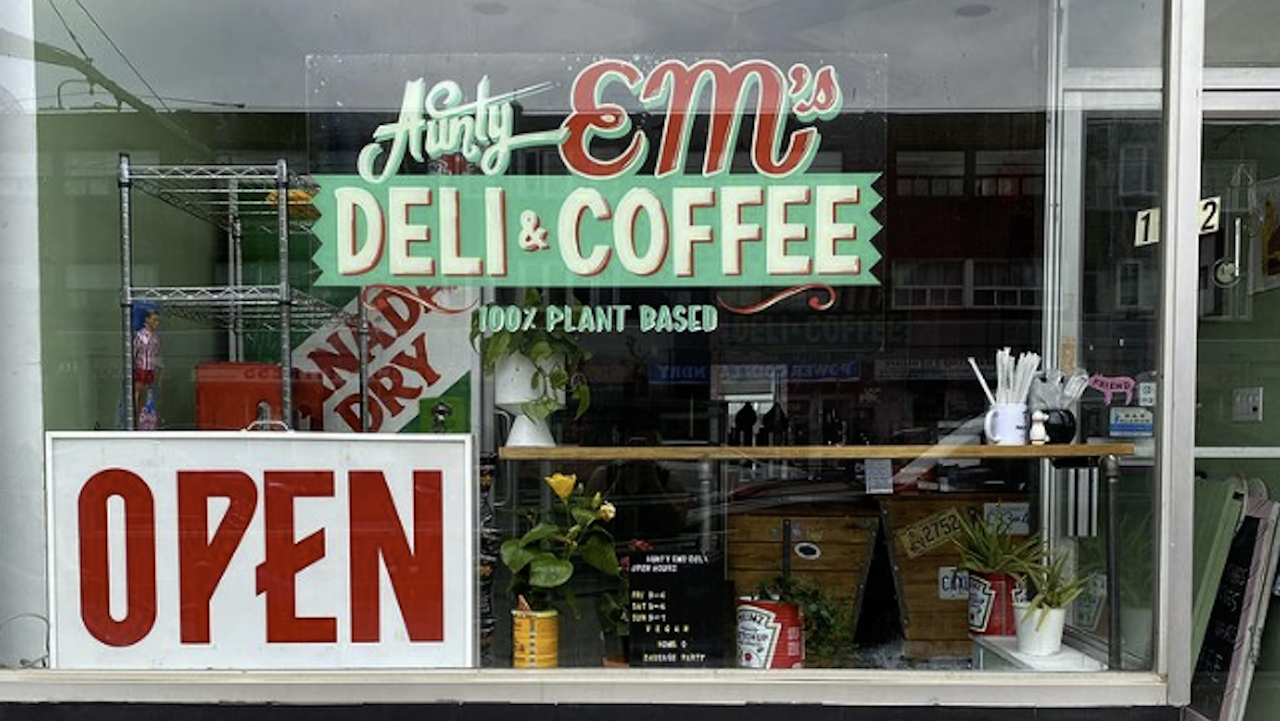 Plant-based eater or not, you'll find it tough to turn down Aunty Em's Deli's dense and flavourful sweets, like chocolate banana muffins, Portuguese tarts or the fan favourite: Nutella cream pie which features a gluten-free almond cake base, topped with a generous cloud of cashew cream and torched marshmallows, drizzled with vegan Nutella. There are also sandwiches and packaged meals available. The deli started as a pop-up and was so popular that the owner decided to open a permanent location, which was officially unveiled back in May. The owner herself is a well-known name in Toronto's food scene, too. Aunty Em's is owned and operated by Emily De Beus, who also runs the vegan comfort food restaurant company Sausage Party.