With snow on the horizon, holiday movies flooding cable television, and Mariah Carey on repeat, (and coming soon to Toronto), we all know a long, cold Canadian winter is imminent. But that's not stopping Toronto's tropical oasis, Paradise Grotto, from keeping the heat going all season long.  
Crafted by the creative minds behind Toronto's liveliest establishments like St. John's Tavern and Melrose on Adelaide, Paradise Grotto has emerged as the newest addition to the scene.  The spot has taken over the whole corner at Adelaide and John with a stunning space offering private events, a rum-forward cocktail list and a range of Polynesian and South East Asian dishes.
The restaurant features a spacious back patio, nightly live DJs, a menu of share plates and platters and one-of-a-kind vibes.
"We just wanted to do something that was a getaway from Toronto something that brought you outside the city and made you feel like you're being transported to some other place that was tropical," says Phillip Allain, one of the owners, adding that once you're out on the back patio, it doesn't feel like you're in the city any more. "When you're back there you just feel like you're at someone's backyard party, or it feels like a cook-out."
Though the beach theme put Paradise Grotto on the map as a go-to summer restaurant, the restaurant is proving they can be a year-round destination with a hearty new winter menu and a line-up of nightly events to look forward to.
"You can expect a lot more spicier options to add some heat to the cold," says chef Mark Owen, of the new menu, which will launch on November 12.
While Owen remains tight-lipped about other new menu items, he does share a sneak peek. Get ready for additions like Szechuan noodles, lamb noodle dishes, and locally crafted dumplings, made just under two kilometers away from the restaurant.
Before the menu launch, however, guests will have to settle with the current dishes — though they likely won't be too disappointed. Some of the most popular items for the warmer months included the chicken katsu curry (made with carrots and potatoes in fun shapes like stars and hearts) and the papu platter (which includes coconut shrimp, baos, kalua pork sliders, crispy karage, and yaki skewers).
"Everything is very balanced and still good for the winter," says Owen.
"There's definitely some hardier dishes that will leave you feeling full," adds Allain. "It's designed to be shared amongst friends and I think the best thing to do is come in with four or five friends, get a large format cocktail, order a platter, and maybe a couple dishes on the side, and you'll get a variety of everything that we have to offer."
In addition to the updated menu, Paradise Grotto will be launching an all new brunch menu. Keeping the Polynesian and Filipino-forward influence on classic dishes, items on the brunch menu include eggs benny with spam and, on the side, the restaurant's "notorious" Paradise fries, but re-vamped as hashbrowns.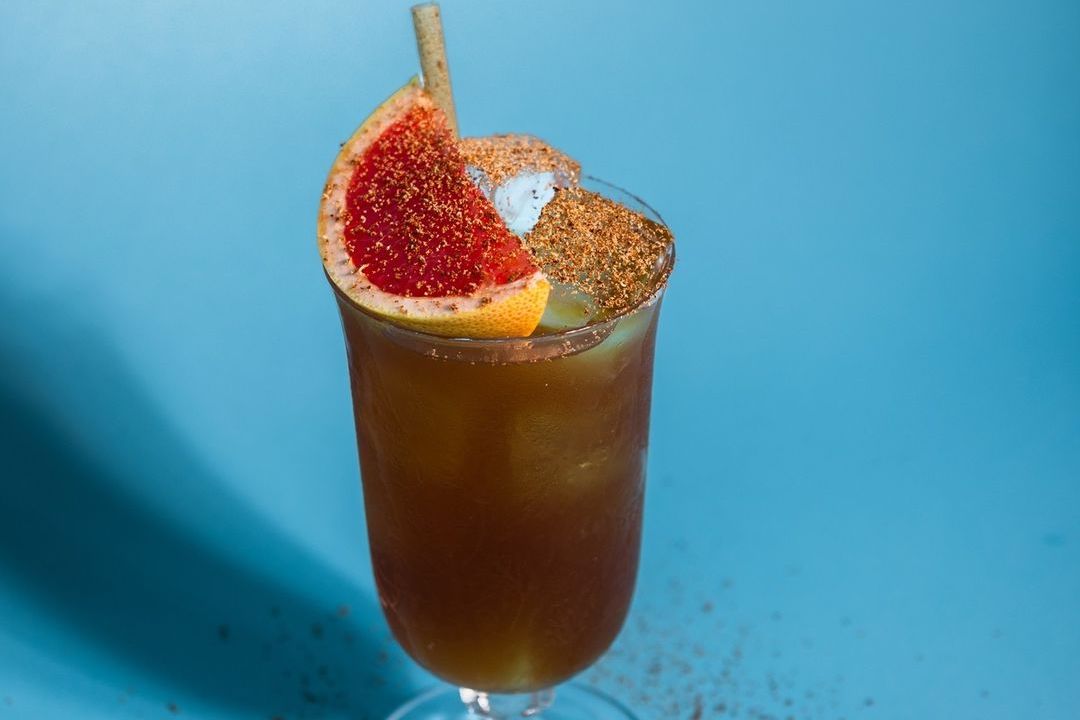 "We're very much trying to funk it up," says Owen "but also stay true to the flavours of those regions."
Owen adds adds that there will also be chicken with waffles, adding a play on the scallion pancake (a Chinese dish) but in a waffle form.
"Everyone expects a lot from brunch, and I think this is the newest brunch I've seen in the city," says the chef. "And I eat a lot."
Paradise Grotto regulars may be feeling the absence of Sundays in Paradise, featuring a lively DJ lineup on the patio each week. But fear.
"Hopefully, that will get the same amount of excitement that we did from our backyard parties and just give something for people to do on Sundays in the city," says Allain. "It's going to be a worthwhile event."
Following the two rounds of bingo, the afternoon will progress into an evening of R&B slow jams, for a laid back Sunday evening.
"We still want it to be a fun, sexy event," says Paradise Grotto's Director of Operations, Jenny Ly. "We have the back room which is absolutely gorgeous, and it will have more sitting in your seat, swaying with the DJ music."
Before the night heats up, Paradise Grotto's happy hour, available every day (except Sunday) until 6 p.m., offers $12 daiquiris, $6 Red Stripe and Coronas, $12 appetizers, and a 50 per cent discount on over 60 diverse rum bottles