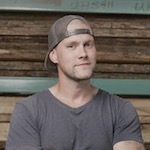 Mark is a craftsman, woodworker, and social media personality with a passion for empowering others to "Do It Themselves." He has catapulted his way into the DIY/home reno world, becoming a credible online content creator known for sharing the creative tips and tricks he has picked up throughout his carpentry journey. Follow him at @remarkableworks to discover new ideas and inspiration.
---
The warmer weather is upon us and, with that, a few crucial months where us Canadians like to get outside and embrace the sunshine and warmth. This summer, many may have plans to visit a cottage in Muskoka, hang out by a community pool or take a hike through one of Ontario's beautiful provincial parks. Now, I love to do these things too, but what if I could offer you some DIY tips to make the most of your backyard space at home? This summer let's focus on making your home the ideal vacation destination.
Create zones based on your hobbies
When you are looking at your outdoor space – regardless of if it's big, small, backyard or front yard – it's important to put some thought into how you are going to use it and if it aligns with your favourite pastimes. When I am getting to know my clients, I explore their favourite hobbies and how they intend to use the outdoor space and then create "zones" that represent those activities. 
In my backyard, I have a kids zone with an outdoor chalkboard (details on how to make this below) and a trampoline. We also have a lounging zone with a pergola and two chairs. I intentionally shaded this area with a pergola as this is where we like to lounge on sunny days. Lastly, we have an entertaining zone. This doesn't need to be shaded, though it does need to have a lot of seating to draw people in. 
I have limited space, so I need to work with what I have – or as I like to say, "you get what you get, and you don't get upset!" Establishing zones in advance allowed me to create a backyard oasis that is multi-functional and makes the most of my outdoor space. 
Enter: The humble fence! Make use of vertical spaces 
Many think of a fence as a simple privacy structure, and you're not wrong. But it's also the perfect canvas for you to elevate your backyard. Here's a few ways you can do that:
If you have a fence relatively close to your barbecue, consider putting a sturdy hook on it that you can use for your barbecue cover. Not only does it keep it off the ground, it looks neat and saves you from having to put a big, space-killing storage container in your backyard.

Add solar lights to your fence to create a sense of ambiance when the sun goes down. 

Don't underestimate the power of adding more nature into your space. Consider hanging plants along the fence or raised garden beds.  
Do it yourself
I think we can all agree that the cost of just about everything has skyrocketed over the last little while. If you look at the price of buying versus building something like a piece of furniture or an outdoor lawn game for your backyard, you'll quickly find that DIY is your friend! When I'm building outdoor projects, including fences, decks, pergolas, outdoor games and planters, I always opt for pressure treated wood because it is durable and versatile. You also can't beat the warm, brown colour… it truly elevates the look and feel of your outdoor space and bodes well with furniture. 
Here's a few you can try out this summer.
Planter boxes
If you're planning to grow your own veggies or herbs this year, check out this guide to building your own fun and easy planter boxes. These are another great way to make use of your vertical space. 
This is one of my favourite family-friendly builds – it was the first thing I made with my daughter! 
What you need:
Tile backer

Chalkboard paint 

Pressure treated wood

Cut-N-Seal 

Exacto knife  

Speed square

Screws/screwdriver 

Drill 

Circular saw 

Tape measure 

Pencil

All your favour safety gear 

Level/straight edge

1 box of 1 5/8 inch cement board screws 

2- and 3-inch deck screws
How to make it:
Using your Exacto knife and straight edge, score the tile backer and break it down to your preferred size for the face of the chalkboard.

Apply chalkboard paint onto the tile backer. This is a fun one for the kids! Make sure they are wearing goggles and gloves. 

Measure and cut four pieces of pressure treated wood to your desired size.

Don't forget to seal the cut ends with Cut-N-Seal to protect it from rot and decay!

Using a speed square, you can measure to make sure your frame is square. 

Once the frame is cut, lay it out on the floor. Place the tile backer on top and screw the 1 5/8 inch screws through the tile backer to the wood. This will secure the pieces together. 

Now, you are ready to screw the chalk board to a fence post using 3 inch deck screws, at a desired height that works for your kids, or you! 
Have an incredible summer!