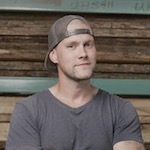 Mark is a craftsman, woodworker, and social media personality with a passion for empowering others to "Do It Themselves." He has catapulted his way into the DIY/ Home Reno world, becoming a credible online content creator known for sharing the creative tips and tricks he has picked up throughout his carpentry journey. Follow him at @remarkableworks to discover new ideas and inspiration.
---
Winter is in full swing, and while you look for family-friendly outdoor activities, why not tackle an outdoor rink in your very own backyard to make the most of the last few weeks of winter? Of course, working with a backyard ice rink manufacturer is always an option, though, with the right advice and materials, anyone can build their own and enjoy the season in style. Here are my tips and steps for building an outdoor rink.
Location, location, location
It is key to find a perfect location before building a backyard ice rink. Look for an area close to a water source while being mindful of how the water will melt away from the surface in the spring. Ensuring the water can drain away from houses or other structures can help avoid possible flooding or water damage. The surface should be as flat as possible – check for any slopes that may impact the surface of your rink.
It's all about that base
Your rink will need a solid base to hold the water and the weight of skaters. Try to fill any low spots or depressions with gravel or dirt to avoid excessive amounts of water pooling. Be sure to remove rocks, leaves and sticks as they can create a rough surface and could potentially rip the tarp that you will need to place before starting your rink (more about that later…).
The frame game
While many like the aesthetic of rounded corners – like you see on a professional ice rink – a square structure is stronger and ensures an easy to maintain and clean surface. Once you have landed on a size for your ice rink, place four stakes in the ground and attach a string between each to form a rectangle or square. This will allow you to visualize the rink in its true shape before moving on to the next step. From there, use 90-degree corner brackets – or triangular wood corner brackets – to create square corners and strong joints.
One of the most important things to consider when planning your frame is the material. Opting for a pressure treated wood like MicroPro Sienna not only creates a strong and resistant frame, it uses an eco-friendly treatment process that ultimately reduces the environmental footprint. The best part? The warm, brown colour complements the snow perfectly. Opt for 16-foot 2×12 boards that you can cut into smaller pieces depending on the final size of your rink.
Hot tip: Ensure you use exterior screws to join the wood together and place support stakes along each side of your square/rectangle to stop the frame from bowing out.
Placing the tarp
Did you know that a coloured tarp will retain heat on sunny days and potentially damage the ice? With this in mind, use a white tarp to ensure the ice freezes properly and maintains its quality. The tarp should be larger than the rink, as this will allow you to drape the tarp over the frame and secure it on the exterior. Once the tarp has been stretched over the rink frame, place a holding tack in each corner. From there, add a layer of warm water, being careful not to surpass three inches at a time. After the first layer is frozen, attach the tarp firmly around the entire frame with staples spaced six to eight inches apart.
The finishing touches
Once the tarp is secure, continue to add layers of water – two to three inches at a time – until it gets to your desired thickness. Keep in mind that the rink will need a minimum of six to eight inches of ice to support skating. So be sure to wait until the ice is solid before adding the next layer.
Maintenance is key
To avoid an uneven, rough surface, shovel snow off the ice rink after a snowfall and add thin layers of warm water after you're finished skating for the day.
Now that you've got a rink, make it extra special by adding fairy lights, benches or even a fishing net between two beams for some pick up hockey.
Happy skating!