With spring finally in the air, Toronto's many vibrant neighbourhoods, including the Mount Pleasant Village BIA, are full of life and ready for exploration. From art crawls and patios to boutique shopping and family fun, this part of midtown has a little bit of everything for everyone. Conveniently located between Davisville and Eglinton, Mount Pleasant Rd. is a delight!
See and do:
Stroll through Mount Pleasant Village on a sunny day and admire the many public art projects that dot the area, such as the two massive floral murals at the Manor Road and Mount Pleasant intersection. Painted by street artist Bacon, these large-scale blooms will win your heart.
Not to be missed are the colourful street poles that line the avenue. Part of the "I Heart Main Street" art initiative, the 37 Poles, 37 Artists project features hand-painted murals wrapped around dozens of lamp posts. Spot purple clematis, ice cream cone and more — each pole is uniquely beautiful.
Get pampered:
A great haircut can make you feel like a million bucks. With loyal customers visiting from right across the city, The Manor Salon is known for providing stellar service. From perfect updos and blowouts to colour treatments and trendy cuts — this team of exceptional stylists has you covered.
Look no further than Elly & Amar Studio for indulgent beauty services that will leave you feeling glam. Enjoy a lavish facial, relaxing mani-pedi or opt for brow and lash enhancements to help you feel your best. Also, check out their professional make-up tutorials, entrepreneurial guests and pop-up events.
Keep the kids entertained:
Help your kids discover a new skill that might one day become a passion — like learning the art of cooking! From preparing international dishes to bread making and more, The Chef Upstairs offers immersive culinary experiences to kids and teens through various weekend, after-school and summer camp programs guided by a team of pro chefs.
Operated by an award-winning choreographer and professional dancer, Happy Feet specializes in top-quality dance instruction for children through play-based learning. Help grow your little one's dance technique and confidence by exploring creative movement, hip hop fundamentals or jazz and ballet classes.
Shop:
Offering books of all sorts for young and curious minds for 35 years, Mabel's Fables Children's Bookstore has remained a cherished community landmark. Explore endless story titles, check out the authors' wall of signatures, and say hi to Mabel — the bookstore cat.
If you're searching for the perfect gift, or perhaps something special for yourself, drop by Jacaranda Tree & Co. Owned and run by a family of women entrepreneurs since 1984, this delightful shop features a curated selection of vintage curiosities, home decor items, stationary, accessories and more.
Indulge your sweet tooth:
Drop by Ambiance Chocolat and discover some of the best small-batch chocolate in Toronto. Each hand-made treat is crafted on location using the finest locally sourced and fair trade ingredients. Try their highly-rated hot chocolate, savour gorgeous singular chocolates or purchase a confection box for someone special.
Four-ounce cookies, you say? How about a s'mores cookie cake? No, you're not dreaming — they exist, and they're at Foxies Bakeshop. With cookie combinations of all kinds, from Skor Butter Tart to Red Velvet Oreo Cheesecake, the cookie options here are nothing short of magical.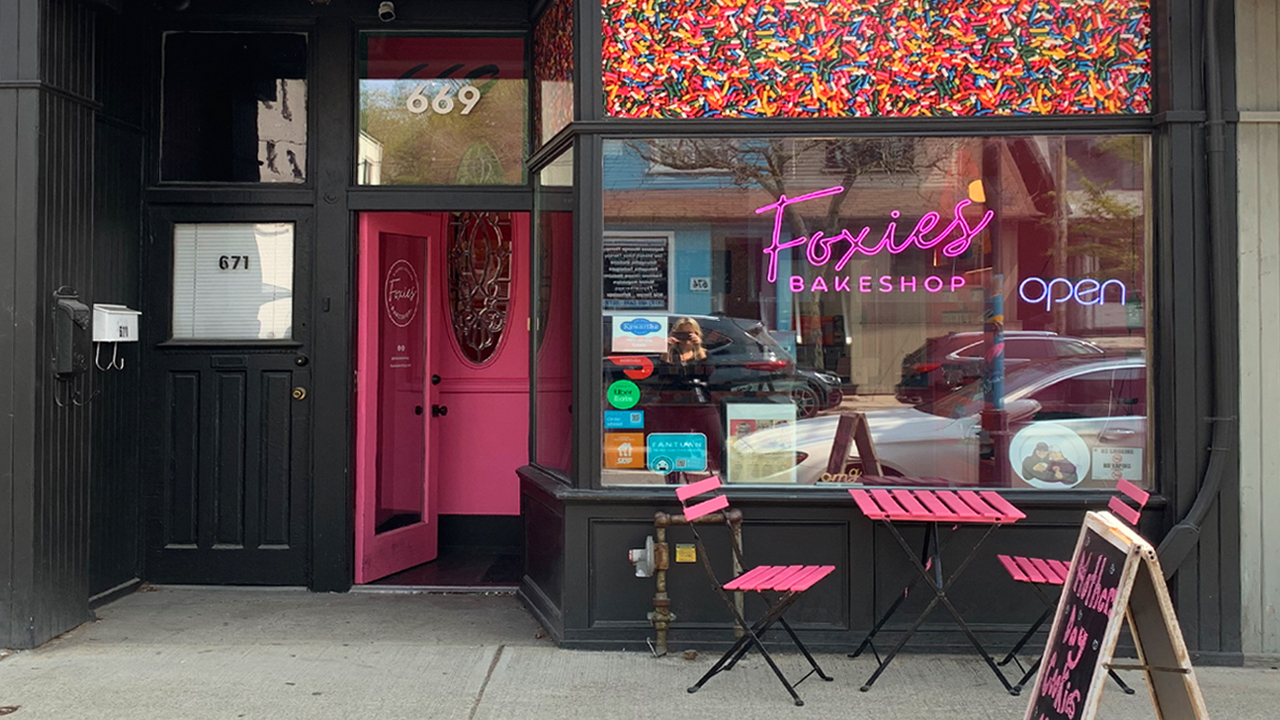 Eat:
Rated as a Michelin Star restaurant, visit Yukashi Japanese Cuisine, where celebrated Chef Daisuke Izutsu wows guests with a seasonal, hand-selected menu of Japanese dishes. Served in true kaiseki style, expect to enjoy a multi-course experience with every plate as beautiful in flavour as it is in presentation.
For a saucy, laid-back meal, check out Smokeshow BBQ and Brew. Owned and operated by two brothers, this energetic BBQ joint has quickly become a local favourite. Offering live music, plenty of beer on tap and delicious slow-smoked meats and BBQ fare, you won't be disappointed.
Drinks and brunch:
One of the first brewpubs in Canada, Granite Brewery has remained a family-owned establishment for more than 30 years — with two generations of brewmasters at the helm. From its beginnings in Nova Scotia serving traditional English ale, to becoming a midtown mainstay, their selection of craft beers and weekend brunch isn't to be missed.
Promising single-origin beans roasted directly in-store, you'll be hard-pressed to find fresher coffee than At Origin Coffee. Buy some beans for home, or stay a while and try Turkish-style coffee alongside a baked treat. With local artist exhibits and on-site workshops, like mosaics making, this coffee shop is more than your run-of-the-mill cafe — it's an experience.
To learn more about Mount Pleasant Village BIA, or plan your next visit, follow along on Instagram or check out mountpleasantvillage.ca.