With affordability continuing to be a critical issue in Toronto, developers are scouring the city for sites to create more housing supply. One of the largest remaining sites to create large-scale developments is surface parking lots, especially those found at shopping malls.
In addition to replacing a space waster in surface parking lots, these large sites offer the added bonus of community amenities that didn't exist with a one-dimensional mall.
City councillor John Filion said the repurposing of malls has been done for decades.
"Wherever you have big parcels of land, you have developers buying the land and redeveloping it," he said.
The latest is a development plan submitted to the City of Toronto that would level North York's Centerpoint Mall and in place of the aging shopping centre would be 22 condo buildings.
Two decades from now, most if not every shopping mall in the city will either be replaced by a housing development or at minimum have substantial on-site housing.
Here is what we know so far:
Reimagining Galleria Mall
2,835 residential units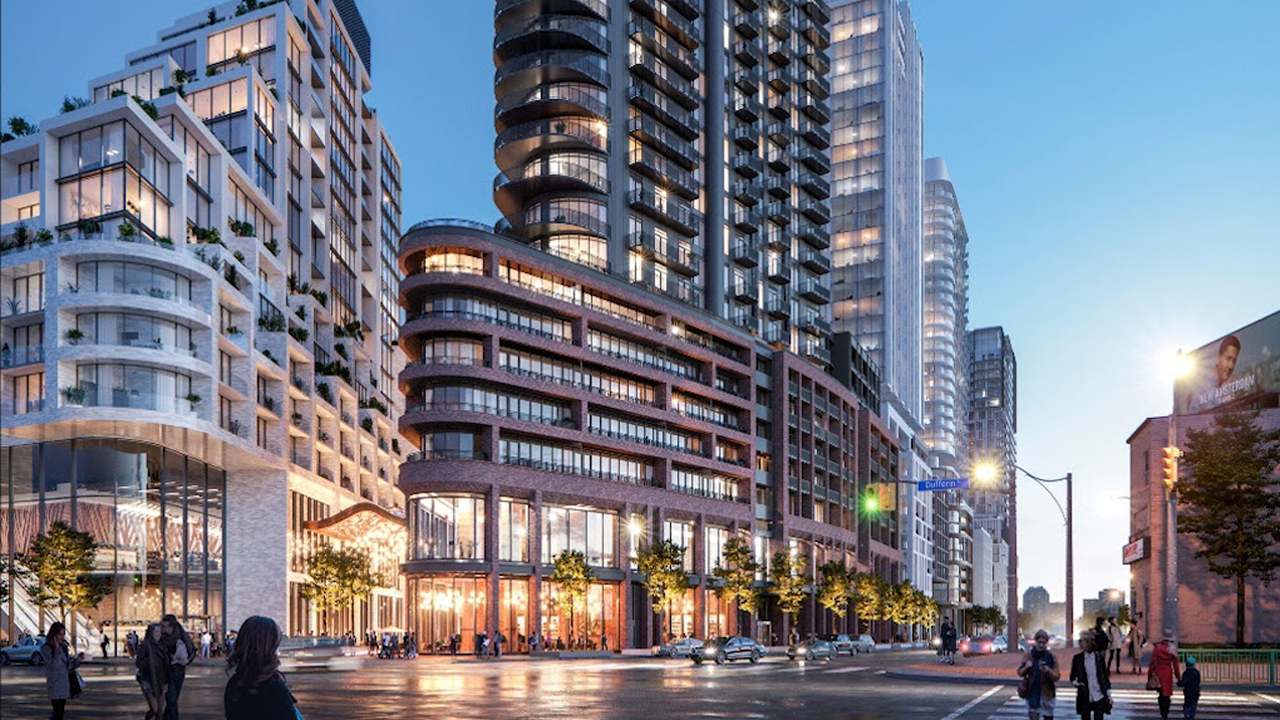 Construction is well underway for the eight-building Galleria on the Park.
It will open in phases, beginning with Phase I, which includes Galleria I and the new Wallace Emerson Community Centre. The 21,000-square-metre project is replacing the Galleria Shopping Centre that opened in 1972 and has been partly demolished.
In total, the three condominiums will host up to 2,900 residents. Galleria III, for its part, has 426 condo units, ranging from studios up to three-bedroom units. Units have already sold out for Galleria 01.
According to developer Elad Canada, Galleria III mall development will act as the entryway to the master-planned community that includes a new eight-acre city park, a revamped Wallace Emerson Community Centre and up to 300,000 square feet of retail space.
Remaking Sherway Gardens in three phases
1,578 residential units
Cadillac Fairview announced plans for a massive redevelopment of the parking lots around Sherway Gardens mall late last year.
Plans that have been submitted to the city for the first of three phases include four new buildings, two condominiums and two CF rental residential buildings, with retail and amenities. A new public park is proposed as well as a pedestrian urban plaza and a large landscaped zone along The Queensway, which will include a multi-use path, planting and seating opportunities.
A major new mall development project is being proposed to replace Centerpoint Mall at Yonge Street and Steeles Avenue ahead of a new Yonge North subway station coming to the area.
The application from developer Revenue Properties Company proposes 22 buildings ranging from two towers that reach 50 storeys to a mix of highrises, mid-rises and townhouses.
City councillor John Filion said the density being proposed is not too much and was to be expected given the new Steeles subway station slated for the area. The province has mandated greater density in transit zones to create more housing supply as the market faces a shortage that has helped prices skyrocket.
Filion expects this development to be done in phases and take over 20 years to complete.
Yorkdale Shopping Centre redux
737 to 1,496 residential units
Yorkdale Shopping Centre is one of the biggest and busiest shopping centres in Canada. It's perched on a subway line, an expressway and a provincial highway. So a residential component makes a lot of sense.
If the proposal for long-term intensification proceeds, additions to the plan may include several 30-storey residential condo towers, offices, and an eight-storey hotel — potentially over a dozen new buildings over a 20-year growth phase. The plan also includes parks and green space for the neighbourhood.
Bayview mall creating a village
1,030 residential units
A proposal to redevelop the surface parking area of Bayview Village Shopping Centre at Bayview Avenue and Sheppard Avenue East was first submitted in 2017, although nothing has been firmed up yet.
A revised application submitted to the city in January 2020 proposed two south towers of 30 and 29 storeys, a north tower of 20 storeys and three additional six-storey buildings. The revised application also increases the amount of proposed parkland to 4,746 square metres. The application has been submitted to the Local Planning Appeal Tribunal.
From Golden Mile to golden opportunity
3,770 residential units
The coming Crosstown LRT is ushering in a new era of development along Eglinton Avenue, and nowhere is that more clear than at the corner of Eglinton Avenue East and Victoria Park Avenue.
Here, the 7.7-hectare site featuring a one-storey mall and extensive surface parking lots will be levelled to make way for a large-scale development that includes seven buildings between six and 50 storeys. Also included in the plan is a large central park, additional open space, office space, retail and more.