After waiting a whole extra year for the 2020 Tokyo Olympic Games, it's heartbreaking how quickly it came and went, leaving cars and balconies stripped of the flags that donned the streets of Toronto (even though the Paralympics have just begun). But, that just means there's more time to tune into a new sport, cornhole – one that's growing so quickly in popularity, it might one day make it to the Olympics!
This coming weekend, Barrie will be hosting Cornhole Canada's 2021 Inaugural Canadian Cornhole Championship. This tournament will see the best cornhole players from across the nation coming to Ontario to compete in this delicious-sounding sport that's becoming all the rage in rural areas across Canada.
While this is a game for anyone no matter your age or level of fitness, don't be fooled by its simple rules. It might be easy to grasp, but it's hard to master. Jorge Vargas began playing three years ago and has even started his own league in Toronto called Baseline Cornhole, yet even he admits he's got a lot to learn compared to some enthusiasts of the sport. Vargas gives us a run down on how to play to help you prepare for this weekend's championship tournament.
How to play cornhole
You might think you've never heard of it, but if you've played bean bag toss at your cottage or even at the CNE, you've played cornhole. While it's hard to determine how the game originated, it did begin with participants throwing bags filled with corn kernels into boards with holes. Cornhole no longer uses kernels, but, for true enthusiasts, the name has stuck.
To begin, each player or team gets a cornhole board that is two feet by four feet in length. Nine inches from the top of the board is the hole participants are aiming for. This hole is six inches in diameter. The boards are placed 27 feet away from each other, with opponents on opposite ends of the lane.
Each player will have a set of four 1-pound (16oz) bags and will take turns tossing, aiming for the holes. Despite what they look like, these aren't actually bean bags, but are bags filled with a plastic resin. They might look simple, but these bags come in a variety of different shapes, forms, and styles.
"There's a lot of technology in the bean bag," says Vargas. "There's also proprietary sewing. There are different types of materials. And there's a lot of strategy as well; one side of the bag might be sticky. Or you might want to throw the bag to block your opponent. There's quite a bit to it."
Any bags used in the Championship this weekend need to be approved by Cornhole Canada prior to the start of the tournament. Cornhole Canada and Vargas recommend Legend Cornhole for the best Canadian-made cornhole equipment.
Scoring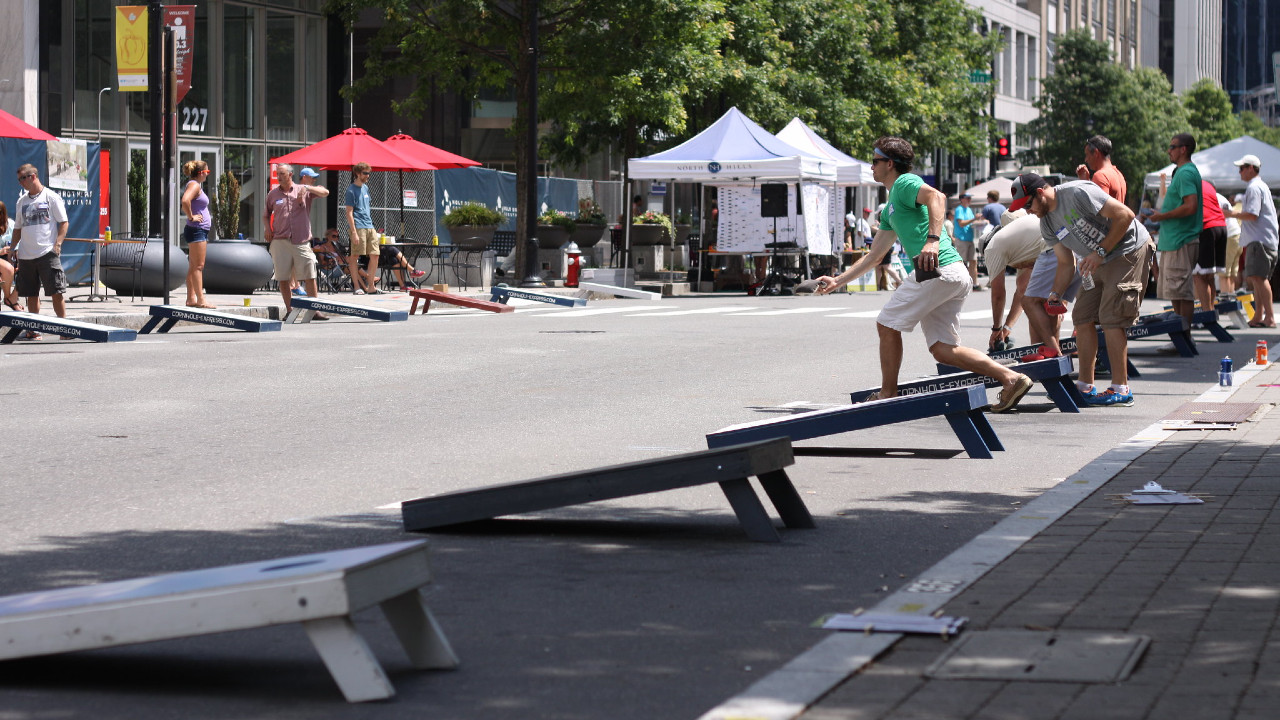 Players, whether playing singles, doubles or in teams of eight, take turns throwing their bags at the opposing boards. If the bag lands in the hole, it's three points to the player; if it lands on the board, it's one point.
The point cancellation scoring is used in cornhole. Like in curling, this means only one team gets points in each round. If one team gets one in the hole and one on the board to collect a total of four points, but the other team's points add up to six, the winning team gets two points. This is because players only counts the differential between the points collected. The game continues until one player or team reaches 21 points.
Where to play
View this post on Instagram
Possibly the best way to relax and learn any game is to have a few drinks while meeting fellow players. That's why Bangarang Bar in Toronto is the best place to go. Grab a few friends, buy a beer, and start up a game at one of the cornhole lanes.  Bangarang Bar offers free cornhole lanes that are first-come first-serve, as well as ones that are available for reservation at a price. Located at 552 College Street, Bangarang Bar also provides crokinole tables and a patio open from Thursdays through Saturdays.
Vargas' Baseline Cornhole League runs on Fridays at Baseline Sports near Keele and Finch at 4 Ashwarren Rd. in North York. This league welcomes all players to come out and have fun, no matter the skill level. It's a great way to learn the game while meeting fellow enthusiasts.
The Canadian Cornhole Championships
With singles, doubles, mixed and blind partner matches, there's no shortage of games to watch this weekend at Cornhole Canada's Nationals.  Players are coming from as far as Alberta and British Columbia to compete, says Vargas. He compares some of the best cornhole shots to the stone curls in professional curling matches.
"Beanbags are the same way," he says. "These guys throw them so that they go around an opponent, or from left to right and right to left. They go up in the air and right in the hole." Some players can even roll bags over an opponent's bag and into the hole.
But, Vargas says, it's certainly not an easy game and takes lots of practice.
"There's a lot of muscle memory involved. You also have to throw the bag flat so that it rotates and lands flat on the board so that you can make it do what you want it to do. There's a lot of science behind it as well."
Vargas will be competing in the championships. Also making a celebrity appearance on Saturday to compete in the blind draws will be Brandon Brown. He's a local player who just became the Competitive Blind Draw Champion at the World Championship in South Carolina a few weeks ago.
"It's like a whole culture, a whole brotherhood of cornhole players," Vargas says about the tournament.
If you think you've got what it takes, there's still time to sign up to play in the Blind Draw tournament at the Nationals. The tournament runs all weekend long from August 27 to August 29 at the Southshore Centre in Barrie. The full schedule can be found here.
With the growing popularity of the sport and sanctioning bodies like Cornhole Canada, maybe one day we'll be watching cornhole through our television screens at the 2022 Summer Olympic Games!