Every year, we take a look back at the Toronto crime statistics for the last 12 months to see where things are getting better and, more often than not, worse. Here is a look at five key crime areas.
BREAK AND ENTERS
GTA break and enters on the rise
In September, Toronto Police Service released images of a suspect in a series of break and enters in the city. The suspect, according to Toronto police, allegedly was breaking into mailboxes. Earlier this year, a man was arrested after a series of break-ins in York Region during the month of May.
Jewelry, clothing and accessories were stolen, police said in a news release. The jewelry included watches and rings.
According to a media report on CBC, Police identified the man after reviewing video surveillance footage.
The trend illustrated by these incidents is not a good one.
According to York Regional Police statistics, residential break-ins are up 21.8 per cent from last year. Since the beginning of 2022, the city of Toronto has experienced a five per cent increase in break and enters across all divisions.
A total of 1,673 B and Es have been committed in York Region since the beginning of 2022, whereas 4,793 have occurred since the beginning of 2022 in Toronto — a number that already exceeds the total from 2021.
Over the last few years, the trend has been downward since a peak in 2019 of 6,755 break-ins in Toronto.
York Regional Police encourages owners to take proactive steps to help keep their homes safe.
"Break and enters are often crimes of opportunity, so the less appealing and the more difficult you make it for thieves to break in, the more likely they are to move along," YRP stated, in a media release.
AUTO THEFT
T.O. car thieves continue to target vehicles with keyless ignition
Despite ongoing car theft busts in Toronto, vehicles continue to increasingly be stolen in the city due to international organized crime that knows it can get away with it, according to officials.
"We can't control the situation," city councillor Mike Colle said.
According to Toronto police data, there were 6,572 auto thefts in 2021, up nearly 14 per cent from the year before. Colle said that car thefts are still rising this year in the city and a car is stolen every hour.
That is in spite of a number of large-scale busts. In July 2022, more than 200 cars were reported recovered as police made 28 arrests and dismantled three auto theft-based criminal organizations that operated out of Ontario and Saskatchewan. The bust was a result of a 22-month investigation called Project MYRA, which found Service Ontario employees were aiding in the illegitimate registration of stolen vehicles, according to police.
In January 2022, 217 vehicles were recovered in connection to a "prolific auto theft ring," police said at the time, according to Global News, which resulted in more than 300 charges. And in February 2022, 28 cars were seized and seven suspects were arrested after an eight-month investigation, with two of the cars found off the coast of Italy and Malta and four others at ports in Montreal and Halifax, destined for the United Arab Emirates, CBC reported. The group allegedly responsible for the high-end car thefts had no distinct ties to local gang activity but was a part of a complex organization, Toronto Police Service's Supt. Lauren Pogue said in the media report.
Exporting cars nets criminals the biggest profit, TPS said in a statement.
In response to the increase in car thefts, Colle helped create the auto theft task force last year to dedicate resources to the issue, and Toronto police also created the Organized Crime Investigative Support Team in 2022 with a budget of $2.3 million to help with larger scope probes.
HOMICIDE
Still no arrests in Forest Hill murder case
Friends and family are holding out hope for justice for Ikechidiadi 'Ike' Kaja, who became Toronto's 10th homicide victim after he was gunned down outside his Forest Hill home (Yonge & Eglinton district of 53 Division) in January. "I will not give up hope," Katia Millar, a friend of Kaja's, said. "We are very eagerly awaiting answers."
Just after 10 p.m. on Jan. 23, 2022, Toronto police responded to a call at 916 Avenue Rd. and discovered Kaja had sustained life-threatening injuries. He was rushed to hospital, where he died on Jan. 26. Investigators are looking for witnesses who were in the area between 8 and 11 p.m. on Jan. 23 or anyone who might have footage of the scene.
Millar, of North York, remembers Kaja, a financial analyst who would have turned 50 this October, as a "great friend," noting his ambition and drive, among many other standout qualities. "Ike was incredibly bright, highly articulate. He had wonderful energy about him that everybody could sense; a mile away he would light up the room."
There have been 56 murders in Toronto this year, of which 35 have been shootings. In 2021, the city saw 85 homicides, including 46 shootings, according to the Toronto Police Service (TPS) data portal. Overall, in Toronto in 2021 and 2022 there have been 324 shootings to date, and 162 related deaths or injuries. Last year, shootings totalled 409, with 209 deaths or injuries.
Ahead of the election, a Forum Research survey conducted for the Toronto Star suggested that 11 per cent of Torontonians considered gun violence the most important election issue.
Edwin Farley Alvarado Quintero, 49, is the city's latest homicide victim. On Oct. 9, police say they responded to a shooting call at an indoor soccer field around Dufferin Street and Finch Avenue West. There they discovered three men, including Alvarado, had been shot. All three were transported to hospital, including one with life-threatening injuries.
Alvarado was later pronounced dead.
ROBBERY
Carjackings still a big problem in the city as numbers spike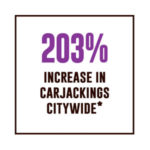 With two months remaining in the year, carjackings across Toronto have almost doubled from last year's tally. As of Oct. 14, Toronto police said 190 carjackings have taken place since the beginning of January, compared to 102 for the entirety of 2021.
"Every investigative avenue is being taken in our efforts to identify and arrest the perpetrators of these crimes and put them before the courts," reads an email statement to Post City attributed to Toronto Police Service inspector Rich Harris.
On Oct. 6, Toronto and York Regional Police arrested three 14-year-old boys and a 16-year-old boy, according to a news release. The arrests were in relation to three carjackings and eight pharmacy robberies that allegedly occurred between Sept. 19 and Oct. 4. A slew of charges were laid, including multiple counts of robbery with a firearm, disguise with intent and conspiracy to commit an indictable offence.
At a news conference two days prior, on Oct. 4, Harris, of the TPS Hold Up Squad, called the carjacking increase "concerning," noting the issue extends outside the city's borders.
"These robberies are not only happening in our city but are also taking place across the GTA," he said. He added that many investigations were ongoing, noting 56 vehicles had been found.
In response to this year's sharp increase in carjackings, the TPS launched a special carjacking investigative team in June. "Uniformed and plain clothes officers are patrolling hot spot areas citywide and continue to make arrests," the statement reads. These hot spots include the Yonge Street corridor, the city's west end, as well as in York Region in areas of Markham and Vaughan. Carjacking-prevention tips include keeping your cell phone within reach and steering clear of dark, secluded places. "If someone attempts to steal your vehicle, please give the vehicle up. Do not argue or fight. Your safety is worth more than a car," TPS advises.
SEXUAL VIOLATIONS
Sexual assault in Annex example of citywide issue
An investigation into a sexual assault that took place around Bloor and Dufferin this summer is "active and ongoing," according to Toronto Police Service.
At 9:30 p.m. on July 29, a woman was walking near the west end intersection when, investigators allege, a man approached her from behind and sexually assaulted her before fleeing the scene.
In October, police released eight seconds of footage of a similar man captured on security video. "Anyone with information is asked to contact police," said a TPS spokesperson in an email to Post City.
The Toronto Police Service defines sexual assault as any unwanted sexual contact: "It includes, but is not limited to, unwanted kissing, touching, oral sex and penetration."
According to the TPS's data portal, there have been 1,974 sexual assaults reported for the year ending Oct. 16, up 20 per cent from 1,645 in 2021. "It's important to consider the effects of the pandemic in 2020 and 2021 when looking at the increase," explained the TPS spokesperson of the data.
Sexual assaults plunged by 17.7 per cent in 2020 but had been steadily increasing in the years before. "In many ways, 2022 could be considered the year where things got back to 'normal', and that applies to these stats as well," the spokesperson said. Putting the sharp fluctuations in a broader context, the spokesperson noted that the sexual assault crime rate has risen seven per cent between 2018 and 2022.
Police are reminding the public that there are resources available for anyone who has been sexually assaulted. "If someone has been sexually assaulted, we would recommend they contact police or visit the website YourChoice.TO," said a TPS spokesperson in an email.
*Year-over-year variance stats from the TPS Open Data Portal