The conversation inside Superette on Yonge Street south of Macpherson Avenue, in the heart of Rosedale, is emblematic of the new type of cannabis consumer and the new type of cannabis store. "I want to get high before tennis, but I don't want my tennis friends to know I get stoned. Can I get some pre-rolls?" says Mimi Lam, recounting a recent customer's story. Lam is the 28-year-old Superette CEO and co-founder along with Drummond Munro who is also the chief brand officer. The shop, which represents a trend in legal marijuana, was designed by Munro and Design of Brand and is chic, airy and bright, with attentive service that differentiates it from other dispensaries.
When Superette opened on Yonge, Munro — who has lived in Rosedale his entire life — sent flowers to the neighbouring businesses and joined the local BIA with Lam. Lam believes that Superette — made to resemble an old school deli and flower bodega with a direct line to the Rosedale Diner to order emergency hamburgers for when the munchies strike — increases the value of the neighbouring retailers and will help everybody increase sales during the pandemic.
She has a distinct upscale value proposition for Rosedale shoppers and dreams of distinguishing herself by making window displays to rival Christmas at the Bay.
"People walking by look into our store, and they don't even know what's going on. We don't look like a typical 'cannabis store,' but as we've grown and become distinctive, we've seen people make the trip from all over to see what we've got," says Lam, who along with Munro was instrumental in helping launch the Tokyo Smoke nationwide cannabis retail strategy. The pair left Tokyo Smoke when it was sold to Canopy Growth.
"A lot of our retail vision is about 'normalization' and having fun with cannabis and being bold. I think an authentic cannabis store can resonate across any and all demographics."
This has certainly been the summer of cannabis retail location expansions, including into neighbourhoods like Yorkville and Leaside where one would more likely expect to see Cartier than cannabis and Maseratis instead of marijuana.
When cannabis was initially legalized on Oct. 17, 2018, one big hindrance to economic success for legal cannabis licensed producers with billion-dollar valuations, like Canopy Growth and Aurora, was the limited brick-and-mortar locations to buy legal cannabis in Ontario.
There are currently more than 100 legal cannabis retailers in Ontario — there are almost 500 in Alberta — and some experts believe there will be more than 1,000 legal cannabis retailers in Ontario come next fall.
Along Eglinton Avenue, between Avenue Road and Chaplin Crescent, four legal cannabis shops are opened or opening, and there are three currently in Leaside.
Still, Brad Poulos, a cannabis business expert at Ryerson's Ted Rogers School of Management, says it's not enough. He also thinks that in a crowded marketplace it's the shops that offer a unique retail experience that will last.
"We're not even close to capacity," says Poulos, who uses alcohol retailers as a proxy for cannabis outlets and believes that, even if cannabis attracts half the consumers as spirits and beer, there's still room for hundreds of more legal retailers in Ontario.
"There is an existing blueprint for 'vice' retailers, so it's not like we're making this stuff up from scratch. If you look at the numbers of liquor stores, you see we're not even close to the amount of access points for a similar need state, and just like with anything retail, it's the best of the best who will survive."
Poulos goes even further in his belief that certain distinct cannabis retailers will boost local retail sales, like the Friendly Stranger on Queen West or the Neighbourhood Joint in the Beaches, which ships its product in the original pneumatic tubes once used for copy by the Toronto Star. At the 42-year-old Rosedale Diner, manager Gil Filar says he hasn't had a better neighbour in years.
"Superette seems to be doing more to support local businesses than many of our other neighbours, and I find it refreshing, especially at a time like this," says Filar, adding that, although he doesn't smoke cannabis, he personally has no moral qualms about the product. He likes that Superette wants neighbourhood partners and thinks the retailer is offering a blueprint that other retailers — across any sector — should follow.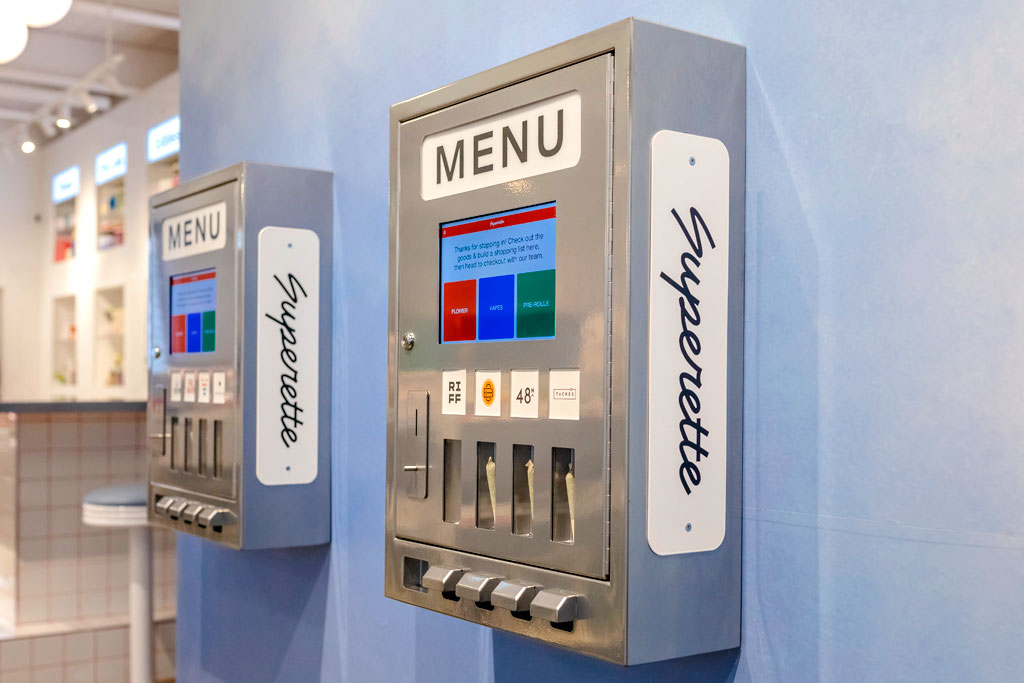 "If you offer more products to more people and it's done tastefully and with respect, both to local businesses and consumers, it works on behalf of the entire neighbourhood," says Filar.
To him, the math is simple: having a fancy cannabis shop next door is a good thing because it increases his bottom line.
"Superette has definitely brought us more customers," he says.
Lam says she's seeing a new type of customer in Rosedale, and she believes business will pick up in the fall, when residents of the area return from the cottage.
Thus far, Lam and Munro have received no push back from any of their neighbours, and they think cannabis and upscale neighbourhoods — as we've seen in Denver and Los Angeles — can certainly get along.
In the end, that Rosedale tennis player bought a one-gram pre-roll and a Houseplant cannabis beverage. She was able to get high before playing her match, and her neighbourhood friends never had any idea.