One of Toronto's best French restaurants, Café Boulud, has appointed a new Chef de Cuisine.
The announcement was made yesterday (Sept. 15) during a special media event, in which Four Seasons Hotel Toronto, Café Boulud, and champagne house Ruinart toasted the return of Chef Daniel Boulud, who has been absent from Toronto since 2019 due to ongoing COVID-19 travel restrictions.
To celebrate Chef Boulud's return, a special one-night only, four-course prix-fixe menu dinner, curated by Boulud, and featuring dishes that highlighted Ontario's spectacular harvest vegetables and French classics.
"It is an honour to finally be back at Café Boulud, raising a toast to this wonderful Toronto community," says Chef Daniel Boulud.
Each expertly prepared dish was paired with a selection of Ruinart Blanc de Blancs or Ruinart Rosé Champagne, as part of the new partnership between Café Boulud and Ruinart.
"We're still very new in reopening Café Boulud here in Toronto, but of course we still have all of the classics, like the beautiful rotisserie chicken and rotisserie duck," Chef Daniel told Post City. "We also want to focus on the great seafood from the northeast, the great local meats available here, and vegetables; that is how I enjoy cooking, with the compliment of a garnish. We always want to make sure that the DNA of the dish is French, but the execution is local."
The Food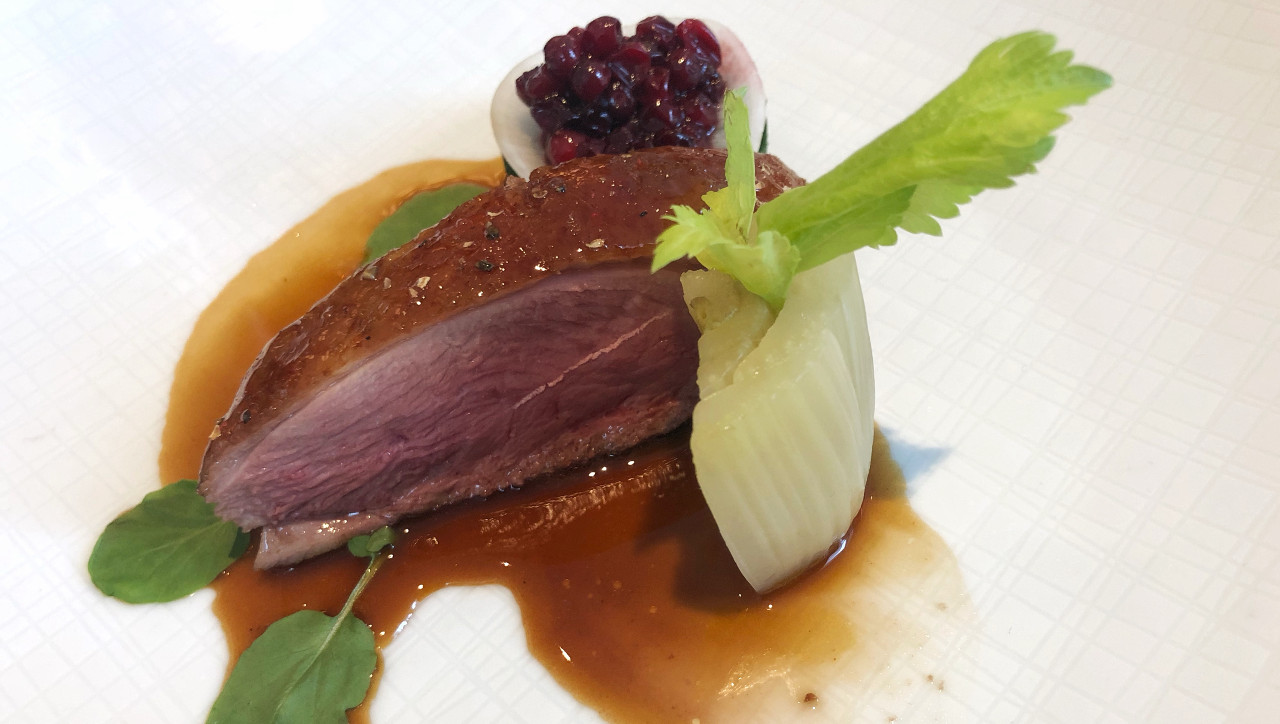 About Chef Colin Henderson
Chef Colin Henderson most recently held the position of Sous Chef, beginning his tenure with Four Seasons at the brand's global flagship property in August of 2018.
Chef Colin spent years carefully mastering the artful and rich dishes Café Boulud has become renowned for, which always honour French culinary tradition.
Prior to assuming his position at Café Boulud, Chef Colin joined Ottawa's Beckta Group as Sous Chef and later aided in the opening of Toronto restaurant Lena also in the position of Sous Chef.
"Chef Colin has been an integral part of the Café Boulud team for the past three years," says Chef Daniel Boulud. "I am very excited for our guests to experience his deep passion for seasonal dishes and fresh  ingredients as he continues to lead our dynamic team."
"It is an honour to be recognized and appointed to this exciting position," says Chef Colin. "I am grateful to assume the role of the many great chefs who I had the privilege of learning from. I look forward to guiding the menu and to leading this team that truly feels like a family."
D|Bar, located in the lower level of the cafe, is also preparing to launch a new menu this October, Chef Daniel says.
"We really want to do a combination of food that goes well with the offerings at the bar; more shareable foods," Chef Daniel says. "Once the terrace goes away and we resume only indoor dining, that will be the new lounge."
Café Boulud is currently open for breakfast, lunch, and dinner.