While there's nothing wrong with running to the grocery store or chasing down a neighbourhood ice cream truck for a quick fix, specialty creations that blend small-batch ice cream flavours with the ingenuity of some of the city's most talented bakers take one of summer's favourite cool treats to the next level. These are the best ice cream sandwiches in Toronto.
Ernie's Ice Box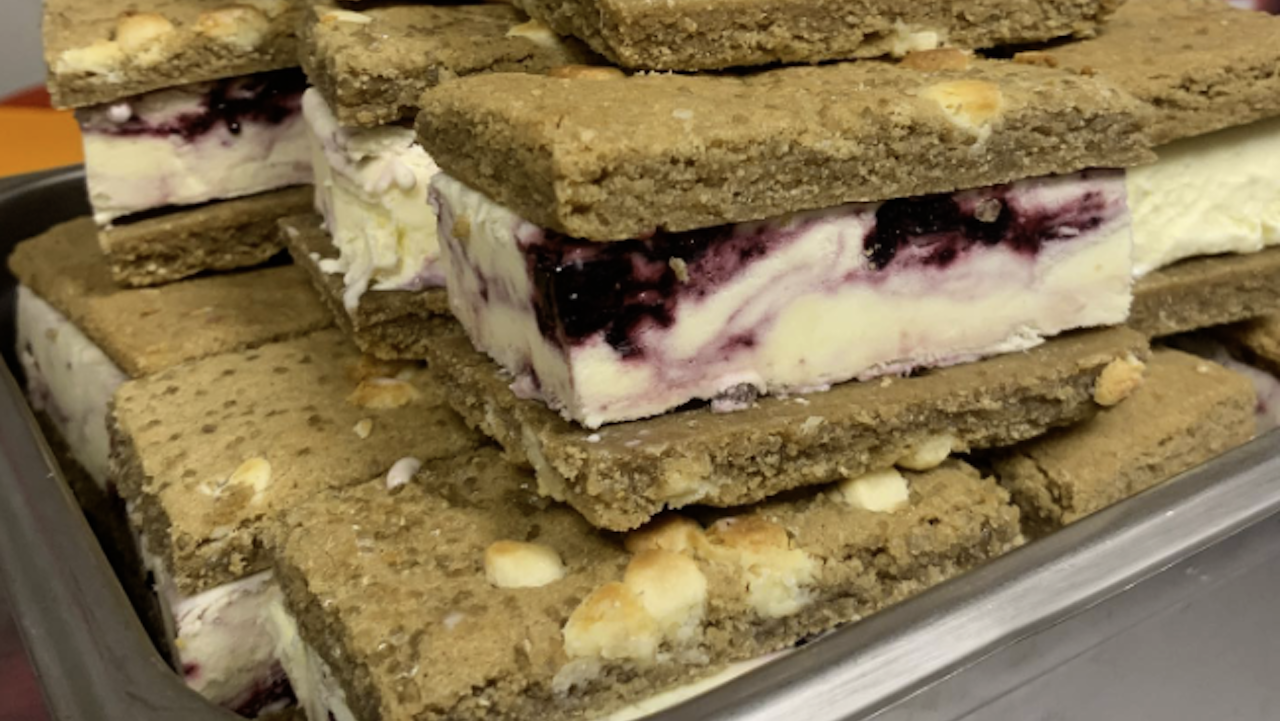 Out with the vanilla soft serve enveloped by two chocolate cookies and in with the peanut butter and jelly ice cream wrapped in oat bars! Ernie's Ice Box is a local ice cream shop that specializes in making the perfect ice cream sandwich from scratch. Ernie's is a relatively new ice cream joint, opened by owner Julia Haist during COVID-19. Long-running flavours and fan favourites include the peanut butter and jelly ice cream sandwich, which uses soft and chewy homemade peanut butter cookies, vanilla ice cream, and raspberry jam.
Tom's Dairy Freeze
Since 1969, Tom's Dairy Freeze has been offering authentic soft serve ice cream from a humble service-style counter in south Etobicoke. Think of Tom's like a stationary ice cream truck: here, you'll find the classic chocolate and vanilla swirl soft serve, more than 20 soft-serve sundaes, like the hot fudge with peanuts, towering banana splits with maraschino cherries and rainbow sprinkles, milkshakes, ice cream floats and, of course, ice cream sandwiches. All use Tom's signature soft serve, with some rolled-in toppings like sprinkles or peanuts. Tom's also opened up a second ghost kitchen near Queen and Ossington. And, the business started posting some of its secret menu items on Instagram, so remember to check there for the latest flavour updates.
Bang Bang
Ice cream sandwiches served on homemade, chewy cookies are the signature item at Bang Bang, which is known for its addictive small-batch ice cream. While the menu changes daily, Bang Bang typically offers several stuffed ice cream sandwiches like the Crackpuff, a soft profiterole served with any of the nearly 40 ice cream flavours on the menu; and the Warm Cinnibun Sammie, also served with your choice of ice cream.
Bakerbots Bakery
Started by the same team behind Bang Bang, Bakerbots Bakery has multiple options when it comes to ice cream sandwiches. All of the sandwiches can be created from their nearly 30 ice cream flavours, including refreshing options like lychee rosewater and London Fog, or richer treats like burnt toffee, or pb-chocolate. The full ice cream sandwich and the half ice cream sandwich can be ordered using any of the freshly-baked cookies on the menu. A specialty version of the ice cream sandwich, the ice cream puff, wedges ice cream between two fluffy croquembouches.