One of C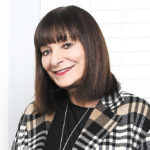 anada's most trusted authorities on style and fashion, Jeanne Beker has covered the industry for more than 30 years. Now watch her in her current style editor role on TSC's Style Matters with Jeanne Beker or tune into her new podcast Beyond Style Matters, available wherever you get your podcasts.
---
This season, we're taking our fashion cues from cowboys! Jeanne Beker has selected the coolest boot cut and boot-friendly jeans in Toronto to pair with a selection of cowboy-inspired boots that will earn you major style points.
A: THE PERFECT PRINT
"There's something very vintage about these, and they're both feminine and edgy. Very romantic and sexy and an unusual kind of jean." 7 for All Mankind, $258, 1 Bass Pro Mills Dr.
B: BRIGHT AND BOLD
"This nice cream wash is very elegant. Why not lighten your look with jeans of this nature in the fall and winter." TNT, $450, 55 Avenue Rd.
C: RODEO READY
"These are classic, faded jeans that look like you've had them in your wardrobe forever. They're '70s style and would look good any time of year." Over the Rainbow, $298, 55 Bloor St. W.
D: STYLIN' HIGH RISE
"What a great colour option for those that are tired of their black and blue jeans. The high waist is really nice; there are so many ways to wear these." Nordstrom, $273, 260 Yonge St.
E: MIX AND MATCH
"You'll definitely get comments on these! Such fun, statement jeans and really on trend with the patchwork style." Rock 'N Karma, $285, 789 Queen St. W.
F: ADD SOME FLARE
"These are a no-nonsense jean that are a great wardrobe staple. Very practical and a nice cross between a stovepipe and a boot cut style." Yoga Jeans, $138, Yogajeans.ca
G: STUDDED STYLE
Browns, $149.98, 110 Bloor St. W.
H: CROC PRINT
George C., $958, 21 Hazelton Ave.
I: MADE FOR WALKIN'
Heel Boy, $160, 773 Queen St. W.
J: LOOKING FLY
Farfetch, $1,398, Farfetch.com/ca
K: FIRE FASHION
John Fluevog, $499, 4 Trinity St.
L: FUN FLORALS
Bootmaster, $799.95, 609 Yonge St.
For Jeanne's top picks for aviators and bomber jackets, click here.