Looking for a homey café spot for quality coffee, baked goods and delicious lunch hour eats? Then Aunty Em's Deli and Café is the St. Clair Avenue W. spot you have got to try.
Oh, and did we mention it's 100% vegan? Plant-based eater or not, you'll find it tough to turn down their dense and flavourful sweets, like chocolate banana muffins, Portuguese tarts or the fan favourite: Nutella cream pie which features a gluten-free almond cake base, topped with a generous cloud of cashew cream and torched marshmallows, drizzled with vegan Nutella. There are also sandwiches and packaged meals available. 
The deli started as a pop-up and was so popular that the owner decided to open a permanent location, which was officially unveiled back in May. The owner herself is a well-known name in Toronto's food scene, too. Aunty Em's is owned and operated by Emily De Beus, who also runs the vegan comfort food restaurant company Sausage Party. Her first venture shot to local fame for its veggie hotdogs and other plant-based meats, like salt-cured "lox" made from Jackfruit. The offerings from Sausage Party also include Herby Seitan Roast with Sourdough Stuffing, plant-based Fennel & Ale Sausage, Maple Fakin' Bacon, and whole plant-based Salami. All of it is available at Aunty Em's.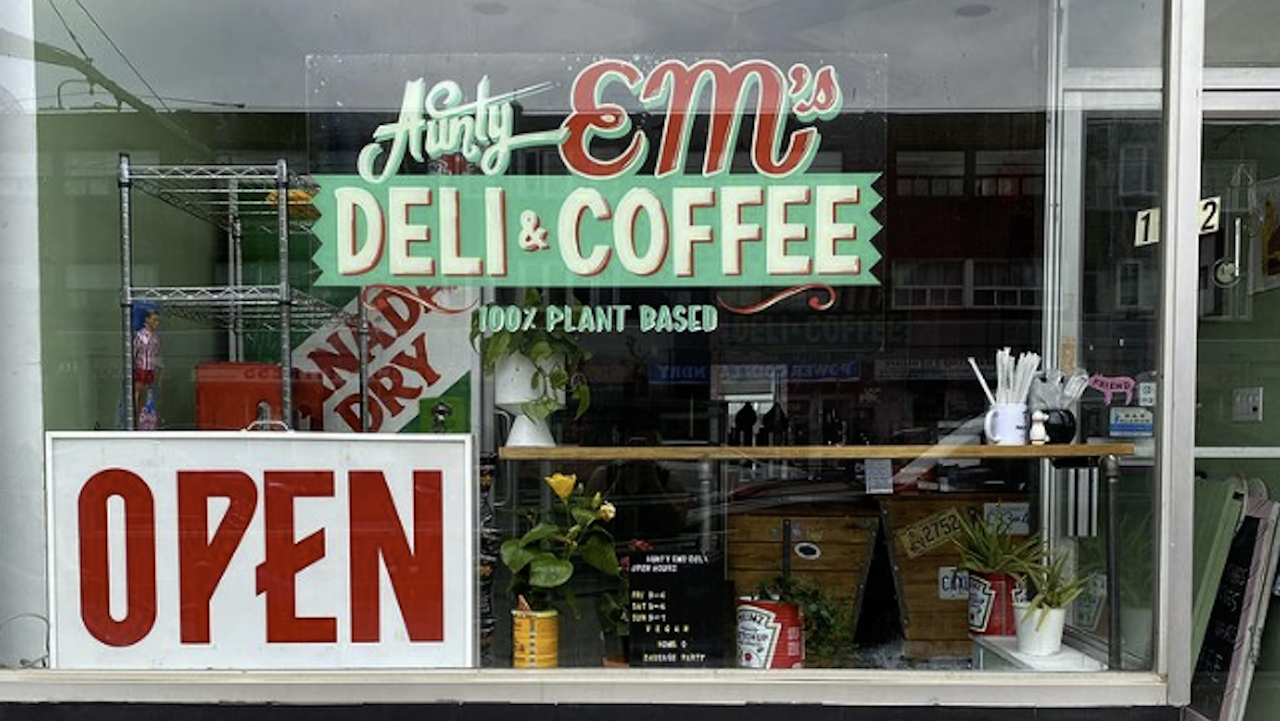 Aunty Em's is as inviting and homey as the name suggests, with mad curb appeal that strikes the kitschy-and-cute balance in its branding and intimate interior. Once inside, the options are endless. Whether you're looking for a quick latte or strolling by in desperate search of sustenance, Aunty Em's has got you covered with a menu that features brunch, sandwiches, cookies, cakes and espresso-based drinks. The spot also sells a curated selection of local grocery items including vegan cheeses from Green Goddess Fromagerie, kombucha from Pudgy Pigeon and candy shop favourites like sour patch kids and fuzzy peaches. All coffee is from local, award-winning roaster Java Roasters.  
The 1672 St. Clair West spot is only open Thursdays through Sundays for lunch and brunch.