An Italian restaurant and popular events venue in Toronto's historic Distillery District has transformed itself into a cozy and picturesque après-ski lounge. Now, you don't have to board that expensive flight for an authentic Switzerland-inspired experience.
Archeo, beloved for its sprawling cobblestone patio, has created its own slice of wintry bliss with an après-ski backdrop that looks ripped from a Swiss Alps travel guide. The bitter cold and excessive snow over recent weeks in Toronto has forced many people indoors, but Archeo is leaning into this exceptionally Canadian weather, creating a space that will have even the most winter-averse people pining for a spot near the open air fire pits.
The patio officially launched on January 13th. With it comes a menu featuring rich and hearty eats like ooey-gooey grilled cheese, schnitzel served on pretzel buns and a French-Canadian fave: poutine. Patrons can also sweeten their visit while unleashing their inner child by roasting marshmallows, washed down with spiced mulled wine and spiked hot chocolates.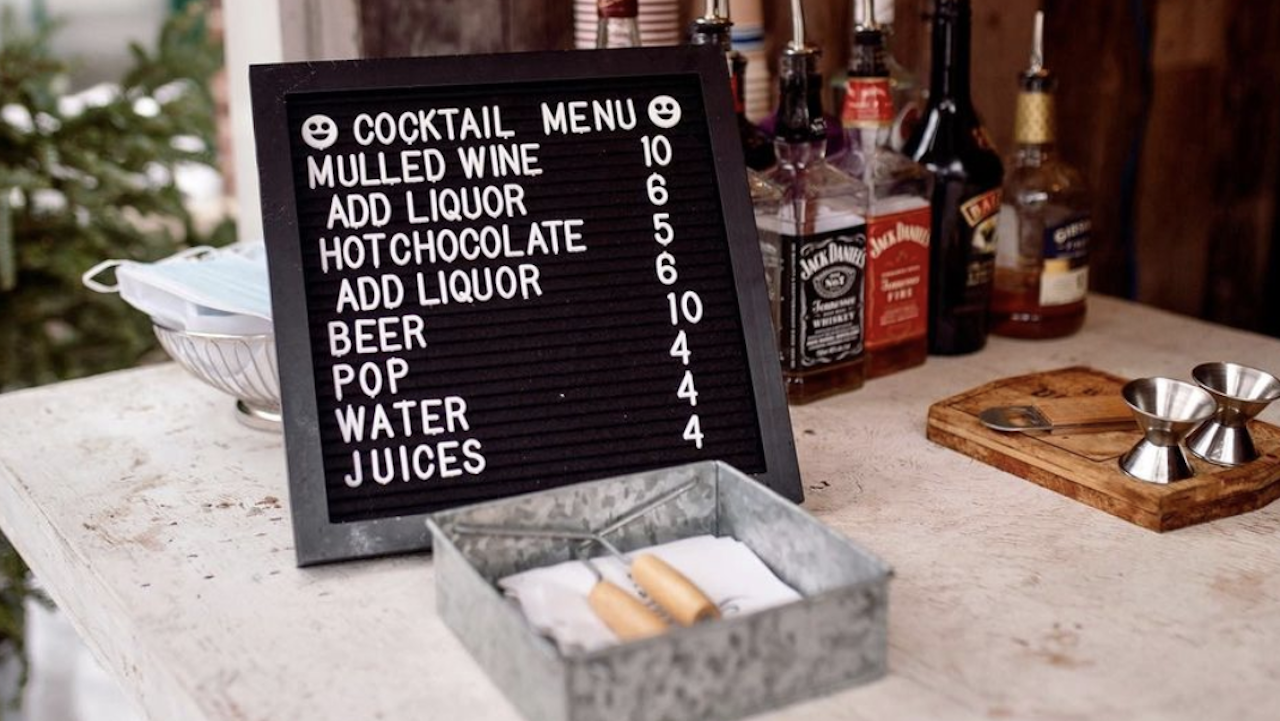 The vibe itself echoes the same classic cozy Canadiana of the menu. The space complete with comfy chairs draped in blankets and organized around individual fire pits dotting the patio, surrounded by the ultimate in cottage-core décor like kitschy faux taxidermy, vintage skis and fragrant greenery. The playlists are also exclusively Canadian, featuring some of the country's most iconic artists. You can jam out to the likes of Drake, Justin Bieber, Joni Mitchell, Shania Twain and more.
"Our inspiration came – surprisingly – from a dreaded week stuck in isolation when our Vice- President, Rik Ocvirk, was sick with COVID-19. He used his quarantine time to think about what our guests might love over the chilly winter season, amidst another round of pandemic restrictions," says a rep from Archeo.
While researching menus from across the globe, Rik came across a tidbit about Switzerland's historic Kulm Hotel. As the story goes, in 1864, the Swedish Hotelier Johannes Badrutt sat around an autumn fire in St. Moritz's Kulm Hotel, with four guests from England. Badrutt entertained his guests with stories of the landscape in winter. He wove tales of softly falling snow, refreshing sunshine and near-perfect mild temperatures during the day. He called St. Moritz in the winter "paradise on earth."
His English guests were not convinced – they were more than familiar with the damp, gloomy wintertime of their own country. Badrutt and the guests struck a bet: if the Englishmen returned to St. Moritz in December and did not enjoy their visit, Badrutt would compensate them for their travel costs. In December, the four returned. They loved it – and stayed until April! Badrutt was proved right, and both winter tourism and travel were born.
"Rik was really inspired by this hospitality history," Archeo's team says. "He thought: we have the outdoor space, we have amazingly talented staff and all the culinary ingredients. Why not remind folks how great it can be to spend time together, outdoors?"
And so, the first-of-its-kind authentic après-ski experience in Toronto was born. The best part? Admission to the chalet-inspired lounge is free. Bundle up and swing by the 27 Trinity Street spot for a little slice of Switzerland.
Archeo will be hosting a few themed events throughout the season, too. The next is a Onesie Themed Patio Party, happening Thursday, February 3rd from 5:00p.m. – 10:00p.m. Show up in your coziest onesie and receive a complimentary marshmallow for roasting.
"We've all been through a lot over the past two years," Archeo's team remarks. "We hope we can offer an experience that helps us all get our collective spirit back."